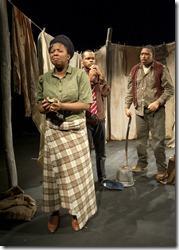 Cadre 
Written and Directed by Omphile Molusi
at Chicago Shakespeare Theater, Navy Pier (map)
thru March 23  |  tickets: $20   |  more info
  
Check for half-price tickets 
  
  
   Read entire review 
  
---
Weaving a harrowing story of life amidst apartheid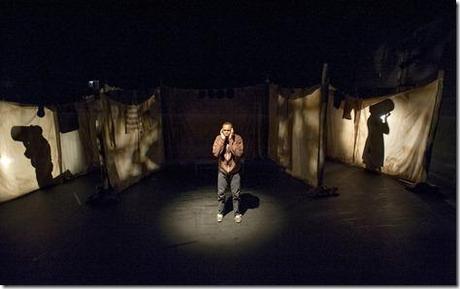 Market Theatre at Johannesburg i/a/w Chicago Shakespeare presents
Cadre
Review by Catey Sullivan
With Cadre, a trio of actors potently weave a story of life during and in the aftermath of Apartheid, crafting a harrowing, heart-rending tale that ranges from the 1960s through 1994, when the country's brutally racist policy of oppression ended.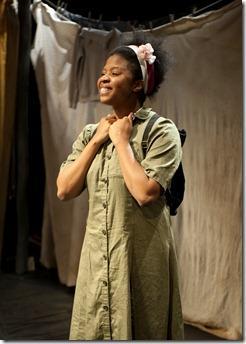 Directed by
Omphile Molusi
, who also stars,
Cadre
is a love story as much as a scathing commentary on South Africa's decades-long system of institutionalized persecution, It is equally powerful in both its depiction of innocent, hopeful romance and of life under – and after – the country's systematic brutality toward Blacks.
Molusi plays Gregory, who we first meet as a young boy in the first blush of love. The object of his chaste ardor is Sasa (Lillian Tshabalala). Their prepubescent courtship is sweetly endearing, as Gregory celebrates Sasa's birthday with small gifts and surprises in a scene that deftly shows both the power and the innocence of the couple's affection. But the young couple's adorable bliss is soon dashed, when Sasa's parents decide to move away from South Africa in hopes of finding a place to live where they don't have to endure the inhumane strictures of apartheid. Gregory is crushed, and the balance of Cadre shows his perilous, complex navigation through life under a murderous regime and his attempts to procure justice for the murder of his beloved older brother.
Molusi does an excellent job in showing the devastating moral dilemmas Gregory finds himself trapped in as he works within the Apartheid system in order to get close to the man who shot his brother. He's forced to kill or be killed, and the all but unbearable anguish he faces when confronted orders to carry out executions is palpable. He could refuse to carry out his orders, Gregory agonizes, but then the warlords would only kill him and his would-be victim. In the end, he has to become a killer himself in order to exact justice from the killers of Apartheid. It's under these hellish conditions that he is ultimately reunited with Sasa, and faced with the sort of horrific, Solomonic choice that nobody should have to make.
Cadre plays out on Scott Davis' at once bleak and beautiful set of burlap-colored drapings, a set design that allows for several impactful scenes in silhouette as well as a bit of shadow puppetry to indicate the passage of time. While Molusi is undeniably the star of Cadre, both Tshabalala and Sello Motloung provide chameleonic like supporting work, each playing half a dozen roles ranging from white policemen to anti-Apartheid activists.
Cadre was developed at Chicago Shakespeare Theater, and following its world premiere here will travel to the actors' homeland of South Africa and then on to Australia. It's a piece that's well worth such world wide exposure.
Rating: ★★★½
Cadre continues through March 23rd at Chicago Shakespeare Theater, 800 E. Grand, Navy Pier (map).  Tickets are $20, and are available by phone (312-595-5600) or online through their website (check for half-price tickets at Goldstar.com). More information at ChicagoShakes.com.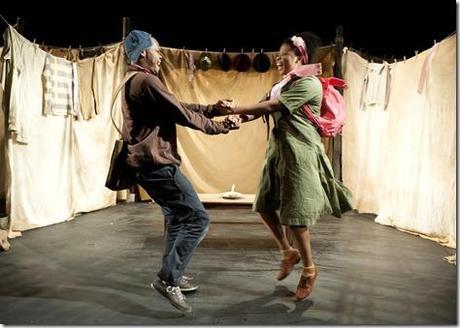 Photos by Michael Brosilow 
---
artists
cast
Omphile Molusi, Sello Motloung, Lillian Tshabalala 
behind the scenes
Omphile Molusi (director, playwright), Lillian Tshabalala (music director), Scott Davis (set design, costumes), Jesse Klug (lighting), Matt Hawkins (fight choreography), Ari Clouse (production stage manager), Michael Brosilow (photos)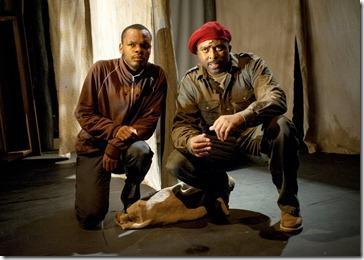 13-0238