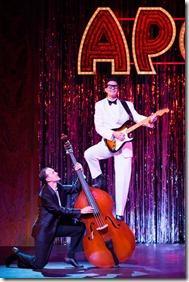 Buddy: 
   The Buddy Holly Story 
Written by Alan Janes  
Directed by Norb Joerder
Cadillac Palace Theatre, 151 W. Randolph (map)
thru June 30  |  tickets: $22-$85   |  more info
  
Check for half-price tickets 
  
  
   Read entire review
  
---
Could I ever hate this show? That'll be the day!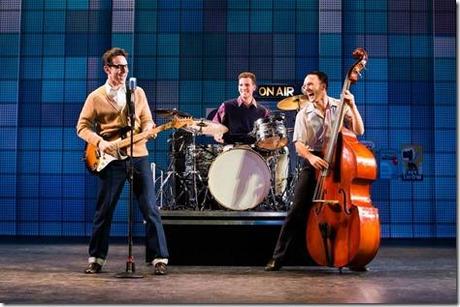 Broadway in Chicago presents
Buddy: The Buddy Holly Story
Review by Lawrence Bommer
Well…all right. Alan Janes' rocking retrospective was a huge hit over a dozen years ago when this blast from the past played both the then-Shubert Theatre and Pegasus Players. After that L.A. Buddy Productions and JAM Theatricals delivered a boffo revival that played the Apollo Theatre for several seasons.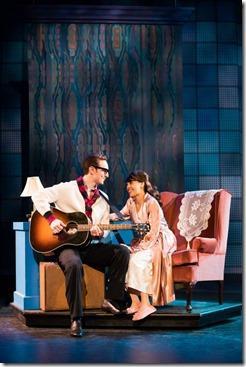 Lightning just struck a fourth time. Cooked to a crisp,
Broadway in Chicago
's tour of the Broadway production is a surefire sensation. Downhome decent and unashamedly nostalgic, it retells the 18-month saga of rock 'n roll pioneer Buddy Holly, from his balladeering beginnings in Lubbock, Texas to the fateful "Winter Dance Party" in Clear Lake, Iowa on February 3, 1959, after which Buddy, Ritchie ("La Bamba") Valens, J.R. ("Chantilly Lace") Richardson (a.k.a., The Big Bopper) and the pilot died in a plane crash. They call it "the night the music died," but this crowd-pleasing rouser is proof that that just ain't so.
Celebrating what didn't die, Buddy conjures up the easily upset Eisenhower Era when rock 'n roll triggered a culture clash. Holly had to overcome both the pressure to stick to safe country/western rhythms and the bias against the "Negro music" that he borrowed from. Stubborn as if he knew how little time he had to mark his music, Buddy and his short-lived Crickets combo poured pure youth (and corny lyrics) into the bouncy beat of "That'll Be The Day" and "Peggy Sue." These Southern white boys even wowed Harlem's Apollo Theatre to the delight of its soul-stirring headliner (terrific Lacretta Nicole).
With talent to spare, Buddy presents you with a past that's suddenly astonishingly present. The heart of Norb Joerder's feel-good staging, Andy Christopher's Buddy (alternating with Kurt Jenkins) captures the Texas beanpole's geeky charm, reedy drawl and guitar gutsiness. Christopher's diction may obscure some of the lyrics but that smile can cover a lot of crimes. Polished to a first-time finish, gems like "It's So Easy," "Oh Boy," "Not Fade Away," and "Johnny B. Goode" make 40 years fade away in a flash. A fave rave goes to Ryan Jagru's torrid Valens, Ryan G. Dunkin's sap-happy Big Bopper, and Steve Gagliastro as the deeply Texan narrator.
It's shocking to think that Buddy Holly would have been 75 today. Had he lived a full life, he might have become much more than a harbinger and an influence. He might have blown Elvis out of the firmament, the more so because he wrote his own songs that fit his homespun talent like a second skin. The original jukebox musical, Buddy, even more than Jersey Boys, puts us present at the creation as a nerdy Texas teenager found his sound. It still rolls and rocks, becoming a veritable Fountain of Youth for a suddenly young, middle-aged audience in downtown Chicago.
Rating: ★★★½
Buddy: The Buddy Holly Story continues through June 30th at the Cadillac Palace Theatre, 151 W. Randolph (map), with performances Tuesdays at 7:30pm, Wednesdays at 2pm and 7:30pm, Thursdays and Fridays at 7:30pm, Saturdays at 2pm and 8pm, Sundays 2pm.  Tickets are $22-$85, and are available by phone (312-977-1710) or online through Ticketmaster.com (check for half-price tickets at Goldstar.com). More information at BroadwayInChicago.com.  (Running time: 2 hours 20 minutes, includes an intermission)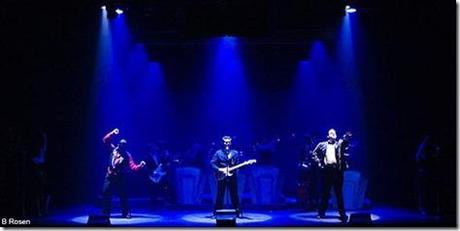 Photos by Hilary Camilleri
---
artists
cast
Andy Christopher, Kurt Jenkins (Buddy Holly), Joe Cosmo Cogen (Jerry Allison), Ryan G. Dunkin (The Big Bopper),Ryan Jagru (Ritchie Valens), Sam Weber (Joe B. Mauldin) with Eric Scott Anthony, Greg Bosworth, Jennifer Drew, Steve Gagliastro, Noellia Hernandez, Carrie A. Johnson, Carolyn Malfa, Sean McGibbon, Lacretta Nicole, T. Scott Ross.
behind the scenes
Norb Joerder (director), Kevin Foy (set design), Ken Billington (lighting design), Peter Fitzgerald (sound design), John Banister (muscial supervisor), Hilary Camilleri (photos)
13-0628