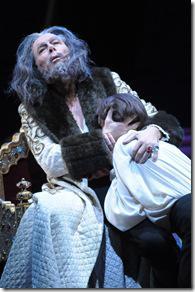 Boris Godunov 
Composed by Modest Mussorgsky
Conducted by Sir Andrew Davis
Civic Opera House, 20 N. Wacker Drive (map)
thru Nov 29  |  tickets: $49-$254   |  more info
Check for half-price tickets 
  
  
   Read entire review
  
---
Lyric serves a pure testosterone tonic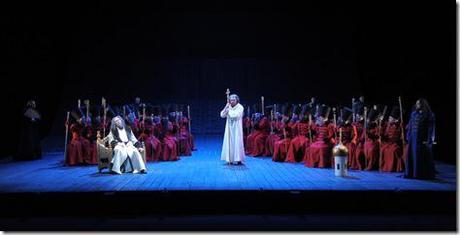 Lyric Opera presents
Boris Godunov
Review by Katy Walsh 
What is the difference between lust and love?  Lust is the desire for something.  Love is the devotion to someone.  After opening the 2011/2012 season with a light-hearted love quest and a passionate love obsession, the third offering is a lusty tale of world domination.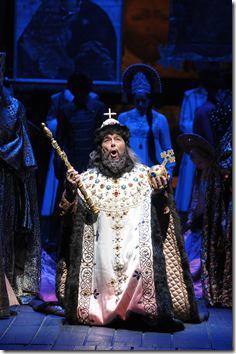 The Lyric Opera of Chicago presents
Boris Godunov.
  It's Russia 1598-1605.  The second son of Ivan the Terrible has been assassinated.  Boris Godunov is suspected of instigating the ruler's demise.  At first, he denies it and the throne.  Eventually, he accepts it and the throne.  Becoming Czar is the beginning of the end for Boris Godunov.  His satiated lust leads to his disintegration.  Under his reign, the people suffer through poverty and famine.  They blame his crime for God's punishment to them.  Boris is overcome with guilt, paranoia and madness. In seven scenes sung in Russian (with English supertitles),
Boris Godunov
commands attention by dominating the stage.  
This is a guy-guy opera.  There is no real love story.  It's all about men.  And the stage is full of them…bushy-bearded men.  As is the Lyric hallmark, if you want to dominate, you need people to do it.  I'm estimating this cast is around 200 people.  Costume Designer Kari Gravklev dresses them in exquisite finery.  The coronation scene is an amazing spectacle of bringing together a variety of the well-dressed.  Nobility in plush robes.  The religious faction in ornate vestments.  The common folk modest but still stunning in muted shades.  The sea of colorful people is just an elaborate showcase.  The set, designed by Goran Wassberg, looks stark.  The floor slants into the backdrop like a wooden wave.  Throughout the production, multiple trap doors open on the floor and the wall. Tapestries, lights and people merge and descend.  With this massive cast, the set works particularly well for displaying all the motherload of Russians.  
But opera is all about singing and these manly men get it done. A conflicted Ferruccio Furlanetto (Boris) leads his men with a strong stage presence. His excruciatingly beautiful "Proshchay moy syn" is something to die for. At the curtain calls, individual and collectively, Furlanetto is adored with a standing ovation and 'bravos.' The Russians may have found fault with Boris but Chicago has nothing bad to say about Furlanetto. Under the baton of Sir Andrew Davis, all the male bonding is actualized as a powerful musical roar. Additionally, bass Andrea Silvestrelli (Pimen) delights with deep, booming storytelling of his pre-monk days.
Not to be confused with a chick-flick, Boris Godunov is a man's man's opera. There are no star-crossed lovers. No ripped-bodice romance. The ambiance oozes sweaty battlefield triumph and defeat. Boris Godunov is a pure testosterone tonic. One sip of it and I'm ready to stop shaving my legs and start building an empire.
Rating: ★★★