I can't stop yawning today, and I can't figure out if it's a "I-wanna-fall-asleep" yawn or a "I-can't-wake-up" yawn. Ah well, I'd better make sure that I cover my mouth when I do, and if I forget to do so, my lips better be adorned with a pretty lip colour. Today's choice of lipstick – Bobbi Brown Rich Lip Color which I received when I attended their Kbeauty workshop a couple of weeks ago.
Bobbi Brown Rich Lip Color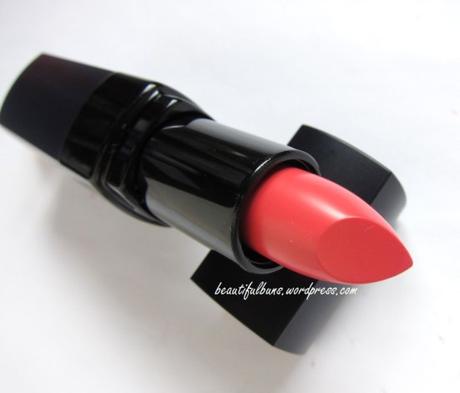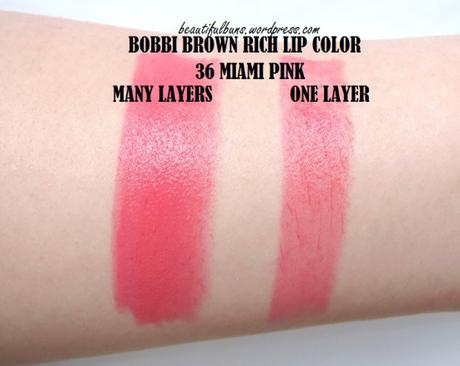 I say….
The Packaging: It comes in an angular tube (that prevents unwanted rolling off) with a click-on cap. The overall lipstick is lightweight cos of its plastic material, and has a matte frosted + glossy combination finish.
The Application: It glides on relatively smoothly enough – although it's not as smooth or as moisturising as other lipsticks I've tried. When applied onto bare (somewhat dry lips), it doesn't quite sit properly – it can highlight/emphasise the lines of the lips or sink into the crevices. However, if you apply some vaseline/lip balm prior to the lipstick, it glides on more smoothly, and the colour comes out more evenly. The colour payoff is almost true to the bullet -perhaps 5-10% less vibrant than the lipstick bullet. The finish isn't particularly glossy nor is it a matte finish – kinda an in-between. When it wears off, it leaves a nice tint but it also leaves flaky bits that aren't pretty (especially if you've got dry/chapped/flaking/peeling lips).
The Verdict: I was really excited when I first saw this colour, cos hello, who doesn't like hot Miami Pink (that's vibrant coral-pink)? I'm slightly let down by the texture though – it's not particularly rich/creamy/moisturising enough to justify the "rich" in its name. It also doesn't sit too well with my dry lips, so I had to make it a point to apply vaseline/lip balm/MAC Lip Prep (review coming soon!) to ensure that I got a nice finish. Overall, a lipstick that has an average colour payoff that's more suited for those with normal lips. For those who are just as unfortunately cursed as I am with shitty smoochers, try MAC's Mineralise Rich Lipstick in Be A Lady that has a similar colour tone.