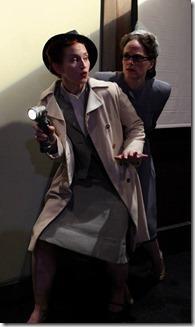 Bo Thomas and the
   Case of the Sky Pirates 
Written by Eric Simon
Directed by Leigh Barrett
Raven Theatre West Stage, 6157 N. Clark (map)
thru Sept 21  |  tickets: $12-$20   |  more info
  
Check for half-price tickets 
  
  
   Read entire review
  
---
Funny noir with fabulous lead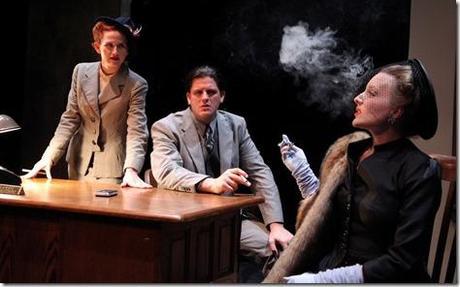 Babes With Blades Theatre presents
Bo Thomas and the Case of the Sky Pirates
Review by Lauren Whalen 
I'm a sucker for old-school detective stories: hardened PI's, devious dames and copious amounts of banter (even when lives are at stake). It's a challenging genre, requiring scrupulous attention to detail and a certain style absent from many contemporary genres. Babes With Blades, a Chicago ensemble focusing on strong women and their stories, gives the old form a new spin with enjoyable results. Despite a few flaws, Bo Thomas and the Case of the Sky Pirates brings a noir-ish good time thanks to a strong script and a stellar lead performance.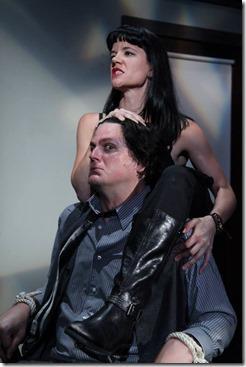 It's 1947, and the Sam Lowell Detective Agency is handling nickel-and-dime crimes until reclusive heiress Lydia Day (
Jennifer L. Mickelson
) enters in the proverbial cloud of cigarette smoke with a juicy mystery. Of course, Sam himself (
Mark Lancaster
) is a total lightweight behind closed doors, leaving the real detective work to his trusty Girl Friday, Bo Thomas (
Megan Schemmel
). Bo's a fiery redhead with razor-sharp instincts and combat expertise – but this case of orphanage arson may be more than even she can handle.
Eric Simon's script is pure '40's fun, peppered with witty retorts and just enough suspense to keep things interesting. The play's so snappy and fast-paced, in fact, that it might have worked better as a 90-minute one-act. Director Leigh Barrett keeps up the momentum for the most part, only lagging a bit in the play's second half (yet more evidence that a one-act format could be more effective). I've only reviewed one other Babes With Blades production, last season's Trash, in which I found the company's signature female-driven fighting inorganic and uncomfortable. In Bo Thomas, the violence (intelligently designed by JKChoreography) feels natural within the plot, adding a spicy element of danger to the crackling dialog and sharp story. Lauren Angel-Nichols' simple set accurately portrays Lowell's detective agency and does a fair representation of an aircraft, and Michael Kunc's sound design, which includes original music, adds sexy suspense. Kimberly G. Morris' costumes are inconsistent, sometimes excellent (Bo's pencil skirts and garter belts – ever convenient for storing weapons!) and sometimes unbelievable (Sam's hair is too long and modern for the time period).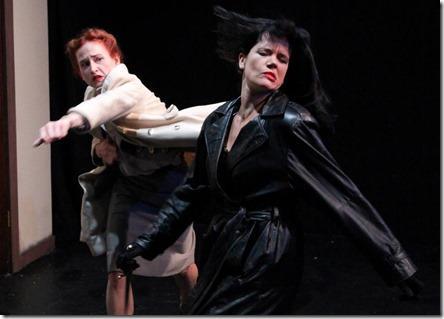 The cast is mostly strong: hair notwithstanding, Lancaster's Sam is nebbish, whiny perfection, and Mickelson a believable femme fatale (every detective story needs one). As the dastardly Minerva Myklos, Maureen Yasko resembles a scarier Bettie Page and delivers some truly impressive stage combat. Only Kelly Yacono seems out of place, as a mousy orphanage staffer with a secret: her characterization is inconsistent and fails to convince. But Schemmel is a star in her own right, conjuring a feisty heroine for the ages. Spouting droll bon mots while fending off villains, she captivates from start to finish.
Bo Thomas and the Case of the Sky Pirates isn't perfect: a slightly restructured script and more consistent costume design would make a significant difference. However, it's still a winner: a rollicking ride with smart wordplay, fantastic action and a snappy leading lady. A sequel is implied, and I hope it happens: Bo's got a lot more adventures in her.
Rating: ★★★
Bo Thomas… continues through September 21st at Raven Theatre West Stage, 6157 N. Clark (map), with performances Thursdays-Saturdays at 8pm, Sundays 3:30pm.  Tickets are $20 ($12 for students and seniors – Thursdays are pay-what-you-can), and are available by phone (773-904-0391) or online through BrownPaperTickets.com (check for half-price tickets at Goldstar.com). More information at BabesWithBlades.org.  (Running time: 1 hour 40 minutes, includes an intermission)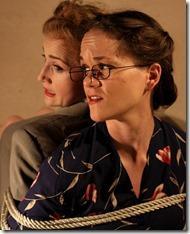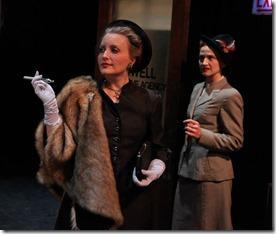 Photos by Johnny Knight 
---
artists
cast
Mark Lancaster (Sam Lowell), Jennifer L. Mickelson (Lydia Day), Megan Schemmel (Bo Thomas), Kelly Yacono (Sally), Maureen Yasko (Minerva Myklos)
behind the scenes
Leigh Barrett (director), JKChoreography – Jay Burckhardt and Kim Fukawa (violence design), Lauren Angel-Nichols (set design), Rachel Ellis (asst. stage manager), Diane Fairchild (lighting design), Ticha Guillaud (props design), Kjerstine Humiston (asst. director), Michael Kunc (sound design, original music), Kimberly Logan (production manager), Lindsey Miller (stage manager), Kimberly Morris (costume design), Megan Turnquist (asst. to lighting designer), Jon Woelfer (technical director), Johnny Knight (photos)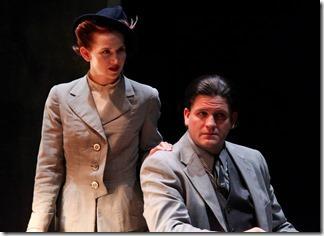 13-0820