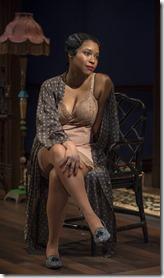 Blues for an Alabama Sky
Thrilling story, unforgettable characters and ensemble at top of its game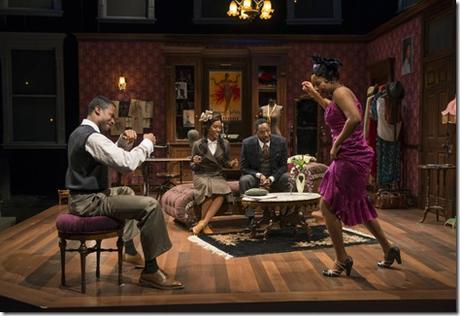 Review by Catey Sullivan
It's hard to overstate the vibrance or the enduring significance of the Harlem Renaissance. The era was dizzying: African American artists and entrepreneurs including Langston Hughes, Billie Holiday, Marcus Garvey, Zola Neal Hurston, Madam CJ Walker and Louis Armstrong made Harlem the epicenter of the cultural universe during the early decades of the 20th century. As everywhere, there was poverty, but alongside it were riches to feed your very soul. You could be stone broke Friday morning and you could find yourself stomping at the Savoy Friday night.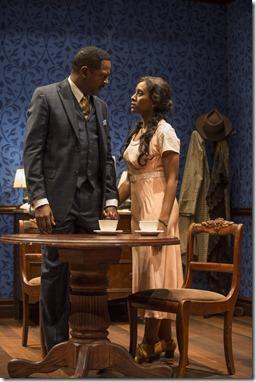 Playwright
Pearl Cleage
has done the near impossible with
Blues for an Alabama Sky
- she's captured the heady dazzle of the time and the place. The 1930-set drama only has six characters, but it immerses the audience in a world that is deep, complex and searingly vivid. Directed by
Ron OJ Parson
for Court Theatre,
Blues for an Alabama Sky
is one of those rare shows that makes the real world outside the play melt away and has you leaving the theater a slightly different person than you were when you entered
Cleage's first act feels almost leisurely as she introduces the audience to the five unforgettable characters who provide our lens into Harlem. Angel (Toya Turner) is a nightclub singer, drunk, just fired and just dumped by her gangster boyfriend when we first meet her. Guy (Sean Parris), is a couture designer with dreams of creating gowns for Josephine Baker. Delia (Celeste Cooper) lives across the hall from Guy. She's buttoned-up social worker whose prim suits belie the unshakable passion she has for establishing a family planning clinic in Harlem. Sam (James Vincent Meredith) is a hard-working, hard-playing doctor with a serious crush on Delia. The newcomer to the group is Leland (Geno Walker). He's come to Harlem from back-of-beyond Alabama in an attempt to move on from personal tragedy.
The sixth character (Al'Jaleel McGhee) shows up in the final moments of the final act, and while he doesn't say anything, his presence provides a near-perfect ending to the emotional epic that's transpired before.
Parson's cast delivers Cleage's dialogue like poetry. It's not the poetry of heightened purple rhyme schemes or mathematically precise meters. Instead, the words come with a cadence that feels like heart beats. The vernacular is gorgeous and intricate, and it serves as a map straight to the core of the characters on stage. Parson paces the production impeccably - the first act is dialogue-laden, and deceptively lacking in big, fiery action-packed plot developments. Such tricks aren't needed. The words alone make lives unspooling on stage fascinating, and you may well find yourself on the edge of your seat so that you don't miss a single moment what transpires.
It's in the second and final act, Cleage starts to inexorably tighten the screws. There's a sense of impending doom that's barely perceptible at first, just a small, needling feeling that something isn't quite right. Everything seems splendid on the surface: Guy struts out in top hat and tails, Delia's clinic becomes a reality, Angel and Leland embark on a sweet, old-fashioned romance.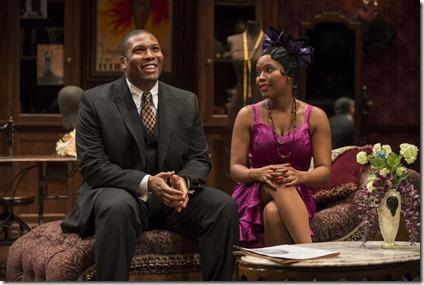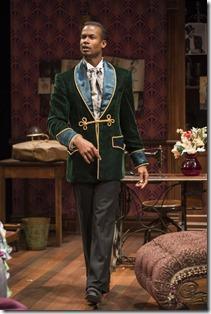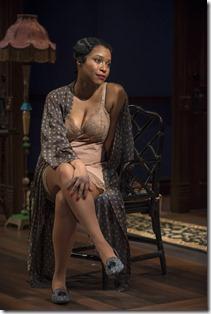 Yet throughout, Cleage inserts an inexorably intensifying sense of dread. It's relentless undercurrent that thrums like an oncoming train moving toward loved ones standing obliviously paralyzed on the tracks. Even so, when violent tragedy finally explodes, it has the impact of a devastating surprise you never saw coming.
Parson's cast is a wondrous crew. Angel wields her sexuality like a 20th Century Cleopatra, with Turner giving the character the slither, slink and heat of molten gold. But Angel is no mere sexpot - she's a woman as resilient as she is radiant, and that strength shines through when the outward show of sex appeal is snuffed out. Angel gets the final words of the drama, and she instills those scant five-or-so syllables with the power of a lioness fully equipped to go into battle.
As Guy, Parris is every inch the Continental gentlemen - but with the edge of a man who knows enough to carry a switchblade and isn't afraid to use it. Guy's Parisian dreams will have you rooting for him, and his triumph will make you believe that, sometimes, the best guys do in fact finish first.
Cooper's Delia is a powerful dichotomy: On the one hand, she's as proper as a nun, buttoned up to form neck to shins in the kind of colorless clothes that are the polar opposite of Angel's flapper-chic glitziness, But Delia is also a revolutionary, and she backs down for nobody.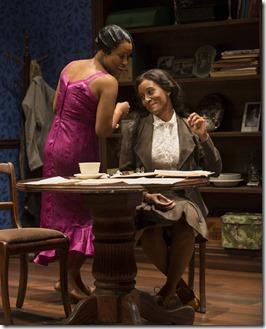 Meredith's fiercely intelligent Doctor Sam has the dignity of a monument - unless he's off-duty, in which case he becomes a one-person Mardi Gras, pulling everyone round him into the party. Watch for a scene deep in the second act, when Sam has a reckoning that forces him to rethink some deeply embedded attitudes about women. It's a two-person dialogue with Angel, and it beautifully, forcefully shows how deeply patriarchy runs, even in the most progressive of the good guys.
Leland is the character that many will grow to hate. He believes homosexuality is a one-way ticket to hell and that homosexuals are deviant freaks rather than real men. He believes that "the solution for mothers who don't want babies is fathers who do." And he believes that the woman he marries will be his to keep and protect - like a porcelain doll or, more likely, beloved dog kept to breed puppies. Somehow, Walker manages to make Leland far more than an insufferably judgmental villain. When his face crumples in puzzlement that his new friends don't see homosexuality as an abomination, there's genuine confusion in his eyes. He's never known anything but the patriarchal Evangelism of the Deep South, and the attitudes in Harlem mystify him. You can't blame him for his ignorance - he's not the author of it. Then again, he shows no willingness to be educated either.
Angel's pragmatism toward Leland speaks to the stark reality of the Great Depression. When asked what she sees in Leland, Angel replies "A rent check that won't bounce." That's a sentiment that's easy to condemn, but Cleage makes it crystal clear that unless you've been in similarly desperate shoes, you have no business judging Angel.
Linda Buchanon's scenic design evokes the elegant, shabby, beautiful brownstones of Harlem. Guy and Delia's apartments reflect both their characters and the time and place. Rachel Healy's costumes do the same, from the flash and sparkle of Angel's nightclub costumes to the crisply angled slouch-brim hat that Guy perches just so atop his head.
Blues for an Alabama Sky offers pretty much everything you could want in a drama. The story is thrilling, the characters are unforgettable, the dialogue is mesmerizing, the emotional spectrum is vast. It also features an ensemble at the almighty top of its game. If you can get tickets, do.
Blues for an Alabama Sky continues through February 12th at Court Theatre, 5535 S. Ellis (map), with performances Wednesdays and Thursdays 7:30pm, Fridays 8pm, Saturdays 3pm & 8pm, Sundays 2:30pm & 7:30pm. Tickets are $45-$65, and are available by phone (773-753-4472) or through their website (check for half-price tickets at Goldstar.com ). More information at HarlemInHydePark.com/Court-Theatre. (Running time: 2 hours 45 minutes, includes an intermission)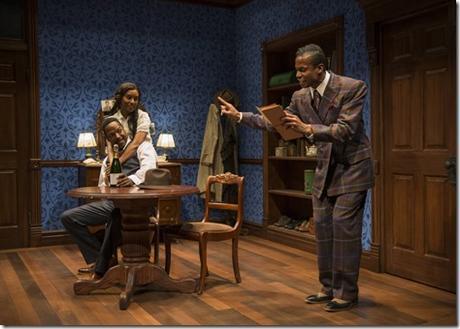 Photos by Michael Brosilow
behind the scenes
Ron OJ Parson (director), Linda Buchanon (scenic design), Rachel Healy (costume design), Keith Parham (lighting design), Joshua Horvath (sound design), Cree Rankin (casting), Martine Kei Green-Rogers (dramaturg), Amanda Werner-Frederick (stage manager), Erin Albrecht (stage manager), Michael Brosilow (photography)
Tags: 17-0129, Al'Jaleel McGhee, Amanda Werner-Frederick, Catey Sullivan, Celeste M. Cooper, Chicago Theater, Court Theatre, Cree Rankin, Erin Albrecht, Geno Walker, James Vincent Meredith, Joshua Horvath, Keith Parham, Linda Buchanon, Martine Kei Green-Rogers, Michael Brosilow, Pearl Cleage, post, Rachel Healy, Ron OJ Parson, Sean Parris, Toya Turner
Category: 2017 Reviews, Catey Sullivan, Court Theatre