Andrew Jackson: Cockfighter. Bigamist. Land acquisitor. Blood fetishist and rock star? Sure, according to Michael Friedman and Alex Timbers, the twisted minds behind the rock musical Bloody Bloody Andrew Jackson. What better way to celebrate this controversial election year than to take a hilariously irreverent look at perhaps the first controversial President? With a clever script, a loud and proud score, and a cast that's never anything less than game, Bailiwick's Chicago premiere of the off-Broadway hit is more memorable than the opening of "Stairway to Heaven".
In this version of U.S. history, "Old Hickory" (Matthew Holzfeind) sports heavy black eyeliner and often totes a guitar. After losing his entire family, Jackson grows up to become America's first political maverick. He always has an edge, whether he's displacing yet another Native American by bribing them with (smallpox-ridden) blankets or marrying the lovely Rachel (Samantha Dubina), who – oops – already has a husband. The people love Jackson and he's eventually elected the seventh President of the United States– but is popularity enough to run the country? Does it help that the President's really hot?
Friedman's rough lyrics and jagged notes leave nothing sacred and are artfully wailed by the baddest of onstage bands fronted by Matt Deitchman and soloist Patrick Rooney. Though the intermission-less show runs a little long in the second half, it's a mere blip on a sharp and satirical radar. Set designer Nick Sieben makes the most of the cavernous space (a converted ballroom with stadium-style seating) by converting the stage into a demented diorama, plastered with newspapers, Occupy posters and paper lanterns. Mac Vaughey's lighting is concert-ready, without ever overwhelming the action and Kate Setzer Kamphausen's costumes mix the old and the new while allowing the actors to fight, dance and otherwise cavort. (And I love a man in eyeliner.)
As ensembles go the men of Bloody Bloody Andrew Jackson are slightly stronger than the women, but the show itself is quite testosterone-heavy. Jill Sesso distinguishes herself as the snarling female soloist, especially on the darkly humorous "Ten Little Indians" and Dubina's Rachel Jackson has a chilling primal scream in "The Great Compromise". Harter Clingman (who was excellent in Griffin's Spring Awakening) andKyle A. Gibson camp it up as Martin van Buren and James Monroe, respectively. ButBloody Bloody Andrew Jackson belongs to its lead actor: whether he's touting the wonders of populism or finally realizing the many lives he's damaged, Holzfeind is pure adrenaline. He rages, he cackles and – like any rock star – he is utterly magnetic.
It's hard not to love a show that begins with the line: "I'm wearing really tight jeans and we're about to delve into some serious, serious shit."  Bloody Bloody Andrew Jacksonis like history reimagined by the cult 90's comedy troupe The State, with a bit of "South Park" in its heyday and a pounding hard rock score. Thanks to an astounding cast and phenomenal production values, the show celebrates the awesomely bizarre and the bizarrely awesome. Well done, Bailiwick. This is serious shit, indeed.
Rating: ★★★½
Bloody Bloody Andrew Jackson continues through November 10th at National Pastime Theater, 941 W. Lawrence (map), with performances Thursdays-Saturdays at 8pm, Sundays 6pm.  Tickets are $20-$30, and are available through their website(check for half-price tickets at Goldstar.com). More information atBailiwickChicago.com.  (Running time: 100 minutes, no intermission)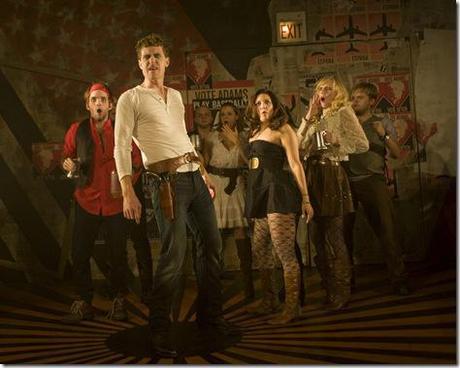 Photos by Michael Brosilow
---
artists
cast
Harter Clingman (Martin van Buren); Matt Deitchman (Band Leader); Samantha Dubina (Rachel Jackson); Luke Emano (Lyncoya); Kyle A. Gibson (James Monroe); Varris Holmes (Henry Clay); Matt Holzfeind (Andrew Jackson); Dylan Lainez (Lyncoya); Mark Lebeau (John Calhoun); Patrick Rooney (Male Soloist); Jill Sesso (Female Soloist); Tanner Smale (John Quincy Adams); Judy Lea Steele (Storyteller); Hannah Corneau, Brittany Townsley (ensemble)
jam band
Matt Deitchman (guitar 1, trombone), James Morehead (piano), Patrick Rooney (guitar 2), Cody Goose Siragusa (bass), Lindsay Williams (drums)
behind the scenes
Scott Ferguson (director); James Morehead (musical director); Christopher Pazdernik (choreography);Nick Sieben (scenic); Kate Seltzer Kamphausen (costumes); Mac Vaughey (lighting); Beau Forbes(fight choreography); Jeff Dublinske (sound design); Derek Bertelsen (asst. director, dramaturg);Heather Stuck (stage manager); Nell Thompson (asst. stage manager); DJ Reed (props); Geoff Bleeker (production manager); Christopher Kristant (tech director); Matt Tassell (sound board operator); Scott Herman (spotlight operator); Underground Professional (graphics); David Rosenberg (PR);Jonathan Verge (producer); Michael Brosilow (photos)