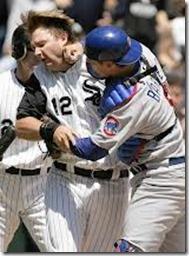 Black and Blue 
Written by Anthony Tournis and Nick Digilio
Directed by Nick Digilio
at Raven Theatre, 6157 N. Clark (map)
thru July 28  |  tickets: $10-$25   |  more info
  
Check for half-price tickets 
  
  
   Read entire review
  
---
Authentic portrayal of Cubs/Sox sibling rivalry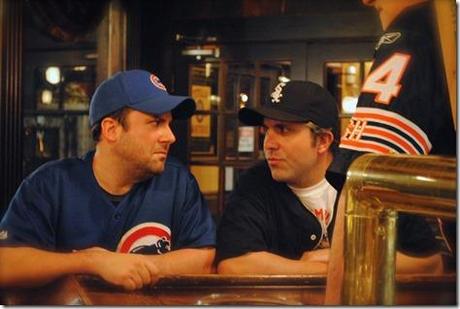 Vault 13 Productions i/a/w Raven Theatre 
Black and Blue
Review by Keith Glab
Actor Anthony Tournis got his first full-length play, Black and Blue, produced in 2011. Now remounted at Raven Theatre, the new production features most of the same cast and crew of the original. Co-writer Nick Digilio once again directs this comedy about sibling rivalry and the Chicago sports talk scene.
Cubs fan Jake (Tournis) and Sox fan Tommy (Greg Caldwell) are brothers who gather in their father's north side bar on the advent of interleague play, marking the first time a Cubs/Sox game counted for more than just pride in over nine decades. They decide to wager on which team will win more games over the following ten seasons, though whether they mean overall records or head-to-head is never made explicit. The play then chronicles the brothers' lives over that 10-year bet span.
Tournis casts himself as the brother that he afforded more character development in the script. Like his Cubs, Jake experiences an ebb and flow of highs and lows in the decade-long saga. His personal developments take a back seat to the main action of the play: loud arguments in a bar. Not only do you get some classic Cubs vs. White Sox and Wrigley Field vs. US Cellular spats, but also some typical city/suburbs and Chicago/New York debates.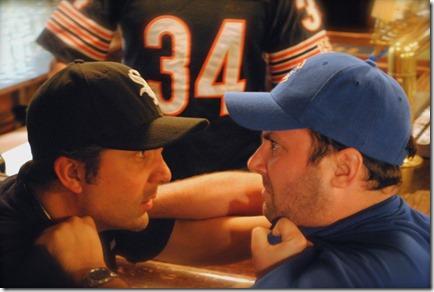 If you are a baseball fan from Chicago, you've heard most of these arguments before and aren't really seeing anything new. If you don't know much about baseball and haven't lived in Chicago very long, you may not understand the quarrels or get many of the inside jokes. As a member of the former group, I still found myself laughing at a few well-delivered lines and the occasional new spin on an old insult. But the one-note level and pace with which most of the lines are screamed out masks some of the humor and gets tiresome after a while.
Johnny Moran, who plays bar staple Mickey, generates the most laughs by varying his delivery between big overtures and understated deadpan. He seems to realize that louder does not always equate with funnier, and his Chicago accent is dead on. Stacie Barra, who plays Jake's love interest and is Tournis' real life wife, hits emotional notes more honestly than many of her cast mates do. The most successful moments of this production involve the dramatic irony of an audience who knows how events play out while the characters onstage live it, and more of these should have been included. In another highlight, a couple of girls (Robyn Coffin and Lauren Bourke) best the brothers in a Cubs/Sox trivia contest. The script gives meticulous attention to authentic detail in regards to the baseball being discussed.
Some rough edges counterpoint these highlights. Scene transitions that give us the scores of each Cubs/Sox game as time advances drag on a bit long, especially since those scores and season records do not keep a running tally of which team is actually winning the bet central to the plot. The bartender (Eamonn McDonagh) gives brief narration to the audience for the first few scenes, but this device gets dropped and forgotten. Ernie Deak doesn't appear comfortable onstage as the father and struggles with his lines.
Vault 13 Productions can continue to remount this play every few years and deliver a pretty authentic and entertaining 90 minutes of Chicago theater. But there is potential for more in this script, and putting some fresh eyes on it could perhaps elevate it to Bleacher Bums status. When the authors of a play also direct it and play the lead character, nearsightedness limits the potential of the production.
Rating: ★★½
Black and Blue continues through July 28th at Raven Theatre, 6157 N. Clark (map), with performances Thursdays-Saturdays at 8pm, Sundays 3:30pm.  Tickets are $10-$25, and are available by phone (773-338-2177) or online here (check for half-price tickets at Goldstar.com). More information at RavenTheatre.com.  (Running time: 90 minutes, no intermission)
---
artists
cast
Zach Bloomfield (Milt), Johnny Moran (Mickey), Ernie Deak (Sonny), Eamonn McDonagh (Cassell); Anthony Tournis (Jake), Greg Caldwell (Tommy), Dennis Schnell (Bar Fly/Nick), Kyle Hintz (Bar Fly, Toadie, Cubs Fan), Lauren Bourke (Rachael, Andrea, Sox Trivia Maven), James Errico (The Poser), Daniel Planz (Toadie, Blake), Stacie Barra (Liz), Robyn Coffin (Heidi, Cubs Trivia Maven), Jack Borgeois (Chris, Blake, Sox Fan)
behind the scenes
Nick Digilio (director), Anthony Tournis (set design), Shannon Evans (lighting), Stacie Barra (costumes), Chas Vrba (sound design), Jermaine Edward Thomas (stage manager)
13-0625