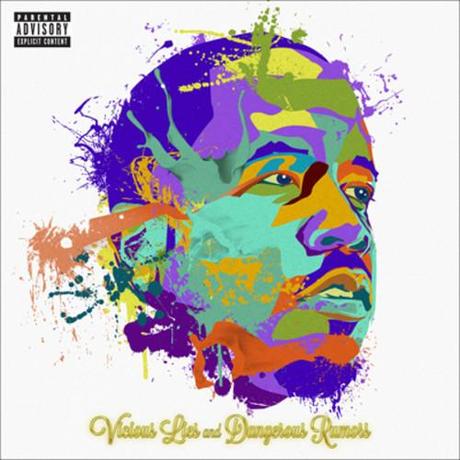 Antwan Patton – best known as Big Boi – has always seemed at odds with his own weirdness. In fact there are few hip hop artists who straddle the line between deviant artist and radio rapper so convincingly as Mr. Patton; as a member of Outkast he always seemed to play straight man to Andre 3000's more radical persona, but Big Boi was nonetheless essential to the overwhelming oddness one of the most mystifying hip hop acts the south has ever produced.
On Vicious Lies and Dangerous Rumors, Big Boi tries to prove that he's as comfortable churning out pop jams as he is name-dropping Kate Bush. The results are mixed: Big Boi remains a talented MC still in his lyrical prime, but underwhelming production and a general sense of aimlessness keep Vicious Lies from living up to Big Boi's potential. On a track like "She Hates Me" we see at least three different ends of Big Boi's musical spectrum converge, and the result is a song that doesn't really seem to know what it wants to be; in fact it almost sounds like it might be a parody of the kind of radio rap Big Boi's has flirted with his entire career. "Shoes for Running," which features both B.o.B and Wavves, takes an otherwise annoying beat and turns it around into a thoughtful and workable song.
Vicious Lies doesn't go down smooth, and its eclectic direction often comes across as mere indecision. It's as if Big Boi wanted celebrate every genre of music he could think of, but instead of a coherent album we get glimpses of a wonder which is fleeting and obscured. That said, the songs do fit together simply by being equal in their aural incoherence; instead of an album that jumps genres on a track by track basis, we have an album whose each and every song is a collage of opposed influences, and the result is a batch of songs which at least feel as though they belong together.
This album has the kind of wrap-around-your-head production that could best be described as full on liquid immersion. There are some great sounds on here, but very few concise decisions; percussion and bass feel muted and hollow, and beats which could have a lot of power behind them are shattered by a single line. Uninspired production means that at 54 minutes this album becomes sluggish for the lack of any change. Despite all of this, Big Boi is clearly giving his all, and for a rapper as talented as he is the result is fantastic at times ("Raspberries"). To put it frankly: Big Boi is a spectacular rapper, even when the decisions that he and his producers made don't pan out quite so spectacularly. Though not explicitly a disappointment, Vicious Lies and Dangerous Rumors hardly wows. It's a very fun album that you might not return to, but is worth the listen for Big Boi's exceptional lyrical skill alone.
3.5/5
Pink Matter Remix (Dirty) by Big Boi