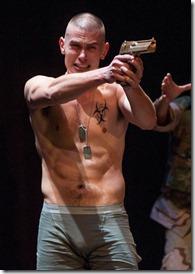 Bengal Tiger at the
   Baghdad Zoo 
Written by Rajiv Joseph  
Directed by Heidi Stillman
Lookingglass Theatre, 821 N. Michigan (map)
thru March 17  |  tickets: $36-$70   |  more info
  
Check for half-price tickets 
  
  
   Read entire review
  
---
Much contemplation, little revelation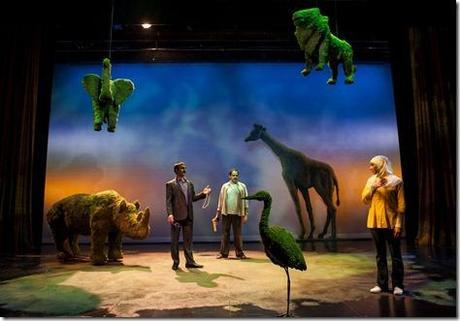 Lookingglass Theatre presents
A Bengal Tiger at the Baghdad Zoo
Review by Joy Campbell
Set in war-torn Baghdad, this drama's first casualty is the play's eponymous tiger (Troy West). He's shot by one of two American soldiers stationed to guard the zoo, when he bites off one soldier's hand. While he may be dead, the tiger still hangs around, and he's no happier dead than he was alive. With sardonic humor he serves as a kind of philosopher/narrator, wondering aloud to us why he's still there, whether there is a god ("all tigers are athiests"), and confessing his regret over two particular kills he once made before his captivity.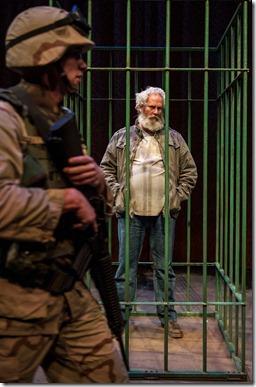 So begins a tale of interconnected guilt and self-recrimination as characters become haunted by ghosts of the dead, themselves finding as little peace as the living who see them. Soldier Tom (
Walter Owen Briggs
) loses a hand but returns for loot he's taken from Hussein's palace during the raid, setting off a chain of events that leads to more tragedy and more earthbound souls. Translator Musa (
Anish Jethmalani
) is a former gardener to the Hussein family. He is tormented by the memory of his slain teenage sister (
Atra Asdou
), who unfortunately caught the eye of Hussein's son Uday (
Kareem Bandealy
). A sadistic monster, Uday, along with his brother, killed the girl horrifically. The now-slain Uday returns regularly to taunt Musa, chatting glibly about Musa's shortcomings and torturing him about his inadvertent role in the girl's death.
As the action unfolds, relationships slowly reveal themselves among the people and the objects that drive their actions. Throughout it all, the tiger's monologues provide a poetic existential speculation on death and the afterlife, as he becomes more frustrated at what he sees as unfair punishment for behaving exactly the way he was made. His witty, straightforward observations provide much of the show's lighter entertainment and serve as a balance to its darker segments.
Daniel Ostling's minimal but visually gripping set, accompanied by Christine Binder's gorgeous lighting, strings together scenes like jeweled dioramas in a tabernacle. The abandoned topiary is particularly haunting, the animal shapes glowing ethereally as they occupy the stage and hang suspended in mid-air. The tiger tells one dead little girl that the topiary is God's garden. Perhaps a metaphor for the Garden of Eden, its beauty still persists even after its former owners have been driven out.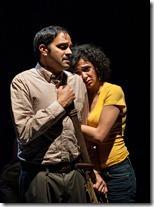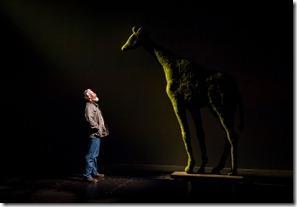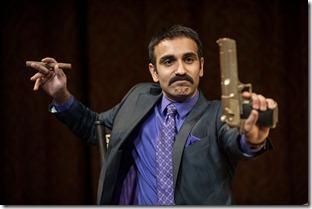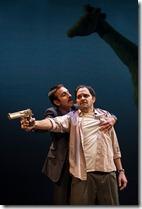 Although the performances are excellent, director Stillman does lean toward volume during scenes of high emotion, which makes otherwise powerful scenes somewhat overwrought. Standouts include JJ Phillips as Kev, the jar-headed young soldier who hides his fear and insecurity behind swaggering false bravado and insults. Phillips does an excellent job of making this a very real young man, transitioning beautifully after Kev's death from an obnoxious, ignorant goon to a wiser, more intelligent man. As Uday Hussein, Kareem Bandelay plays to perfection a pompous, mocking, butcher cloaked in gentlemanly manners and chilling casual eloquence. Kudos to cast, language coach Frank Sawa, and dialect coach Eva Breneman for the excellent Arabic and accented English spoken by many of the characters.
Visually and technically, the show is impressive. Yet, like the tiger, we find ourselves asking "Why?" with no satisfactory answer. Joseph's script presents us with a number of interactions and suggestions, but it wanders amidst sentiments and events without really pulling things together. Events occur, but they are not novel for a story set in the occupation of Baghdad: a night raid full of screaming and yelling; a soldier seeking the services of a prostitute; impulsive, irreversible acts of violence. Most of the action is pretty standard stuff, and while you get the feeling of a general theme, as a story it doesn't really draw us in. Like the tiger, we are left with the unhappy suspicion that there really is no deeper meaning.
Rating: ★★½
Bengal Tiger at the Baghdad Zoo continues through March 17th at Lookingglass Theatre, Water Tower Water Works, 821 N. Michigan (map), with performances Tuesdays-Fridays at 7:30pm, Saturdays and Sundays at 3pm and 7:30pm.  Tickets are $36-$70, and are available by phone (312-337-0665) or online through PrintTixUSA.com (check for half-price tickets at Goldstar.com). More information at LookingglassTheatre.org.  (Running time: 2 hours, includes an intermission)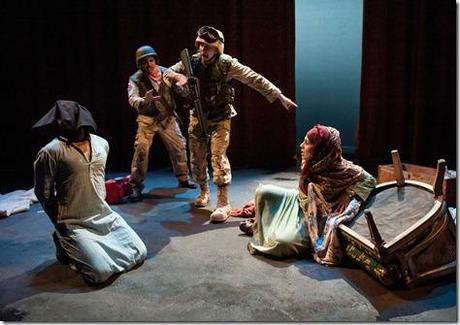 Photos by Liz Lauren
---
artists
cast
Atra Asdou (Hadia, Iraqi Teenager), Kareem Bandealy (Uday), Walter Owens Briggs (Tom), Amy J. Carle (Iraqi Woman), Anish Jethmalani (Musa), JJ Phillips (Kev), Troy West (Tiger)
behind the scenes
Heidi Stillman (director); Andrew White (artistic director); Rachel E. Kraft (executive director); Phillip R. Smith (producing artistic director); Daniel Ostling (scenic designer); Christine Binder (lighting); Mara Blumenfeld (costume designer); Matt Hawkins (fight choreographer); Meredith Miller (specialty properties designer); Sean McArdle (special effects designer); Sara Gmitter (production stage manager); Eva Breneman (dialect coach); Joel Hobson (production manager); Sean K. Walters (technical director); Liz Lauren (photos)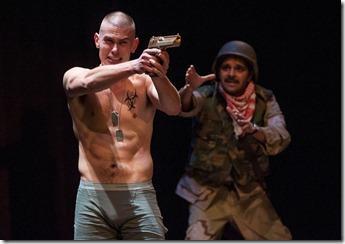 13-0216