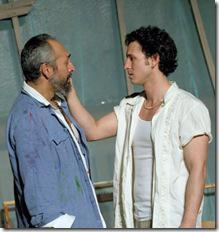 Beauty of the Father
Written by Nilo Cruz
Directed by Cecilie D. Keenan
Wicker Park Arts Ctr, 2215 W. North (map)
thru Nov 19  |  tickets: $20   |  more info
Check for half-price tickets  
  
   Read entire review
  
---
This love triangle is being kept in the family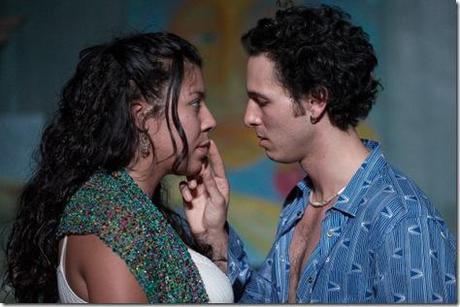 UrbanTheater Company presents
Beauty of the Father
Review by Keith Ecker 
One of the most memorable aspects of UrbanTheater Company's production of Beauty of the Father (a Midwest premier and the kick-off to the company's sixth season) is the beauty of its male co-star Nicolas Gamboa. The Columbia-born actor has the bone structure of a Roman statue and the wavy dark locks of a saucy Greek. These are not pedestrian good looks. This is a level of handsome that begs for soap opera stardom. Fitting then that Gamboa plays Karim, a nomadic Moroccan whose physical allure threatens to dash the last shreds of hope for an estranged father-daughter duo.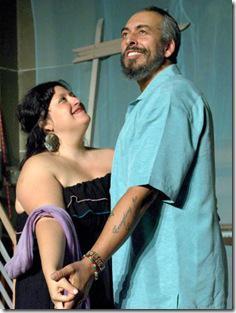 The focus of the play centers on the reunion of the young American co-ed Marina (
Jasmin Cardenas
) and her artist father Emiliano (
Madrid St. Angelo
), who resides in Spain. After the death of her mother, Marina travels to Spain to visit her father and rekindle the old relationship. Emiliano lives with his platonic female companion Paquita (
Mari Marroquin
) and the striking Karim. He also is followed by the ghost of Spanish poet Federico García Lorca, who advises him in spurts of colorful and often obtuse prose.
Trouble arises when Marina encounters Karim. The two are smitten by one another. Grieving Marina finds an escape in the wild and unbridled Karim, and Karim sees opportunity in Marina for permanent companionship. Unbeknownst to Marina, Karim has been carrying on a rather unconventional relationship with Emiliano. When Emiliano discovers Karim's betrayal, it tears a rift not just between he and the young man, but also between father and daughter.
The plot is not extraordinarily riveting. This is a character-based play that hinges on the compassion we, the audience, feel for the broken characters and their dysfunctional relationships. And although the production occasionally achieves a certain emotional depth necessary to evoke this compassion, too often the language of the play interrupts us on the path to genuine sympathy. This is a problem I encountered with the last UrbanTheater Company production I saw, Sonnets for an Old Century (my review). When the dialog of a play turns to flourishes of garish poetry, it removes the human element. Rather than drama, we get spoken word, which is an art form I appreciate immensely. But it makes characterization a challenge. It's not impossible to create relatable characters that speak like Walt Whitman or in melodramatic spurts, but. it requires strenuous use of acting muscles and a keen director. And as skilled as this cast may be, it does not achieve this degree of relatability.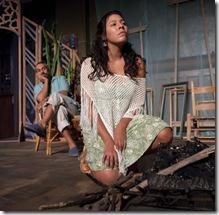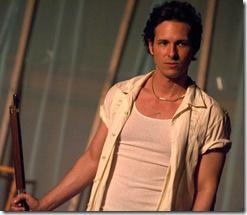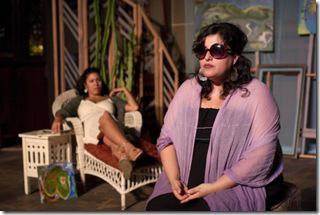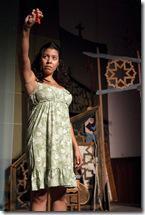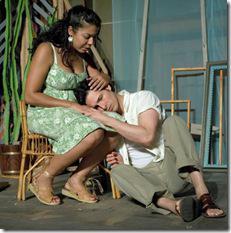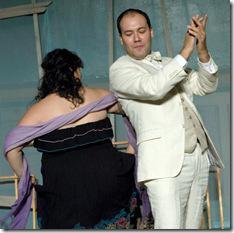 This is not to say there aren't extraordinary performances. Gamboa is one hell of an actor. I am shocked that this is only his third appearance on a Chicago stage. He is deeply committed to his character, whether showing genuine longing for young Marina or fiery fury toward Emiliano. Meanwhile, the understated Marroquin does a wonderful job of subtly exposing the psychic pain of Paquita.
Director Cecilie D. Keenan lets the play languish at moments, causing it to drag during some of the less emotionally tense scenes. And as mentioned earlier, there could be more attention paid to instilling more meaning into beautiful lines of poetry that, on their own, inhibit a connection between actors and audience.
The greatest strength of Beauty of the Father is Gamboa, of whom we'll hopefully be seeing a lot more action on the Chicago theater scene. The story of the play is hardly memorable, but there are some tense scenes that will leave an impression. And the work's language, which waxes poetic, is both one of its greatest assets and downfalls as it delivers linguistic beauty while stunting character development.
Rating: ★★½
Beauty of the Father continues through November 19th at the Wicker Park Arts Center at St. Paul's Church, 2215 W. North Ave. (map), with performances Thursday-Saturdays at 8pm (no Sunday shows – no performance Friday, Nov. 21).  Tickets are $20, and are available in advance at OvationTix.com. More information at UrbanTheaterChicago.org.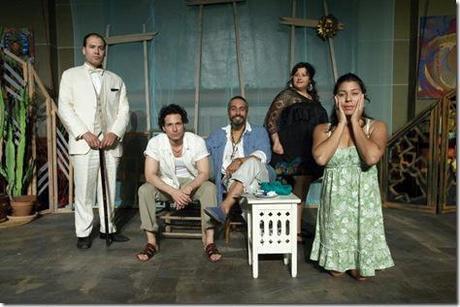 All photos by Anthony Aicardi 
---
artists