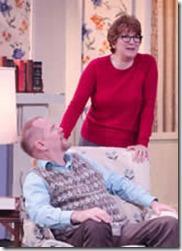 At Home at the Zoo
Written by Edward Albee 
Directed by Steve Scott
at City Lit Theater, 1020 W. Bryn Mawr (map)
thru Oct 26  |  tickets: $25-$29   |  more info
  
Check for half-price tickets 
  
  
   Read review
  
---
Albee's exploration of emotional isolation solidly delivered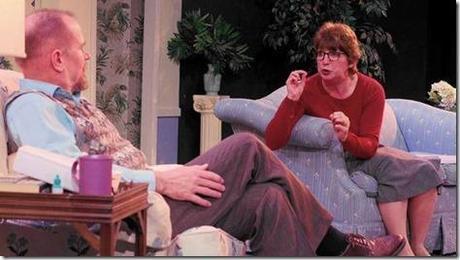 City Lit Theater presents
At Home at the Zoo
Review by John Olson
The Zoo Story was the one-act play that brought Edward Albee to the attention of the world back in 1959, when it was produced in Berlin along with Beckett's one act Krapp's Last Tape. That pairing was repeated the next year for Zoo Story's American premiere and became a common way to present the piece (the two were eventually performed as a double-bill on Broadway in 1968). In 2004, Albee wrote a one-act prequel called Homelife, which in 2009 he paired with The Zoo Story to become the two-act At Home at the Zoo. Albee requires all professional theater companies to perform this complete play – only student and amateur companies may produce The Zoo Story individually. Albee must have concluded, fairly enough, that if his play were to paired up with another it might as well be one of his own.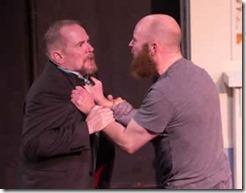 The first act, like the second, could stand on its own as a one act, but together they inform each other and at an hour and 40 minutes with an intermission, they still make a concise evening of theater. In that first act, dubbed
Homelife
, Albee's taken Peter – one of the two characters of
The Zoo Story
– and shows his "homelife" with his wife of many years in the hours before he is to meet the stranger named Jerry of
The Zoo Story
. Albee's greatest acclaim would come from his depiction of a married couple in
Who's Afraid of Virginia Woolf. Homelife
is a more benign scene of married life, but probably even more resonant. As the play opens, Peter (
Ted Hoerl
) is reading a textbook his publishing firm is about to release. Wife Ann (
Elaine Carlson
) takes a break from preparing dinner and tries to engage Peter in conversation. Peter responds politely to her comments and questions, barely moving from his chair and rarely offering any new stimuli to the discussion. This leaves most of the conversation to Ann, who gradually reveals a certain restlessness in their comfortable marriage and upper middle class lifestyle (they live in an apartment on Manhattan's Upper East Side). Things are good – but maybe too good; too predictable. Ann complains that Peter is a kind lover in bed, but wonders what it would be like if he sometimes were a little bad. This prompts Peter to reveal an embarrassing incident from his past which may have been both a cause and effect of his aversion to uncomfortable situations or conflict of any kind. At the end of this act, he retreats, taking his book to Central Park and the scene of
The Zoo Story
, hoping for a quiet place to read.
In the second act, where Dustin Pettegrew's realistic replication of a New York apartment has been stripped down and supplemented with trees to suggest the park, Peter's quiet afternoon of reading is interrupted by a scruffy man named Jerry (Mike Cherry). Sporting a long beard and grubby clothes, Jerry insists on engaging Peter in conversation – which mostly becomes a series of monologues by Jerry that Peter listens to politely. We learn that Jerry lives in a rundown rooming house on the Upper West Side and hear all about his neighbors – particularly his interactions with a mean, big-headed dog. What emerges is a portrait of a man ignored by society and badly in need of interaction. So desperate for connection is he that he seeks rapprochement with the dog and insight into the social behavior of mammals – both humans and animals – at the zoo. In this interaction between Peter and Jerry, we once again see how Peter seeks to avoid real emotional contact with another. This time, though, it becomes impossible to retreat for reasons we won't reveal here.
Director Steve Scott leads his three-person cast skillfully through Albee's rhythms of speech. Timing is everything in these conversations – whether it's Ann extemporaneously sharing her musings and fantasies, Jerry's seemingly rehearsed monologues or Peter's polite responses that escalate to exasperation. While Peter is generally static – sitting either in his armchair at home or the park bench – his scene partners are in constant motion. Ann is fidgety, flush with arm and hand motions and pacing – making small but significant movement. Jerry's movements are larger, grander and more threatening. He repeatedly invades Peter's space where Ann rarely does. Hoerl manages both the polite, reserved nature of Peter as well as showing his pain and fear at key moments. Carlson shows us Ann's sadness beneath her seemingly cheery surface and Cherry gives us a convincing and frightening Jerry without resorting to excess.
With its first act written in 2004 and its second written in 1958, At Home at the Zoo offers, all in less than two hours, a chance to view both the earliest and a much later sample of Albee's writing. The two plays blend together perfectly and if anything, The Zoo Story seems the more contemporary of the two. While the Upper West Side of Manhattan may have since been gentrified to the point where it no longer has the sorts of flophouses in which Jerry lives, those places exist within walking distance of City Lit's home on Bryn Mawr and Kenmore. People like Peter are ignoring people like Jerry every day along the streets of Uptown and Edgewater, to be sure. By pairing The Zoo Story with Homelife, Albee engagingly explores the issue of isolation in the big city – both voluntary and involuntary – on several levels.
Rating: ★★★
A Home at the Zoo continues through October 26th at City Lit Theater, 1020 W. Bryn Mawr (map), with performances Fridays and Saturdays at 7:30pm, Sundays 3pm.  Tickets are $25-$29, and are available by phone (773-293-3682) or online through BrownPaperTickets.com (check for half-price tickets at Goldstar.com). More information at CityLit.org.  (Running time: 1 hour 40 minutes, includes an intermission)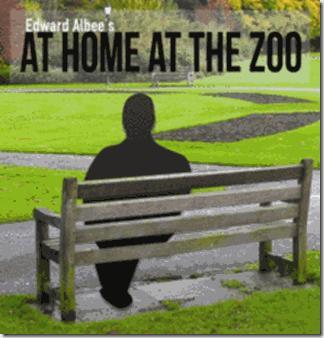 Photos by Tom McGrath 
---
artists
cast
Elaine Carlson (Ann), Ted Hoerl (Peter), Mike Cherry (Jerry)
behind the scenes
Steve Scott (director), Dustin Pettegrew (scenic design), Devin Carroll (lighting design), kClare Kemock (costume design), David Yondorf (violence design), Hazel Marie (stage manager), Terry McCabe (artistic director), Tom McGrath (photos)
14-0943