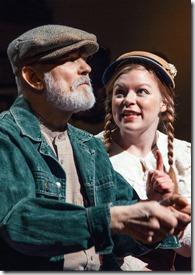 Anne of Green Gables
Adapted and Directed by Timothy Gregory 
at Provision Theater, 1001 W. Roosevelt (map)
thru Aug 2  |  tickets: $10-$15   |  more info
  
Check for half-price tickets 
  
  
   Read review
  
---
Pale adaption of luminous children's classic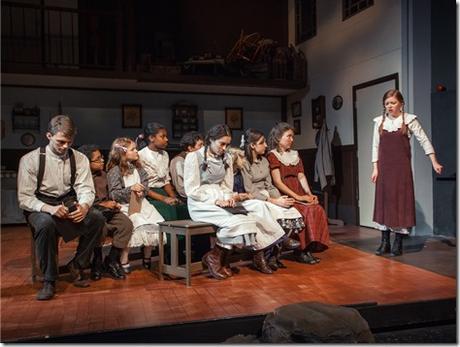 Provision Theater presents
Anne of Green Gables
Review by Lauren Whalen 
First published in 1908, Anne of Green Gables has since become a children's literature classic. Much like "The Secret Garden," the story is female-driven, centering on a young girl who possesses no extraordinary powers except her own strong spirit. Orphaned, a former nanny to six children when only a child herself, and then returned to an asylum, Anne Shirley is intelligent, capable and endlessly optimistic. While her wild imagination often gets her into trouble, Anne wins over her guardians, neighbors and town, and matures into a bright, sweet young woman. As a lifelong fan of L.M. Montgomery's novel and the seven books that followed, I was eager to see Provision Theater Company's stage adaptation of Anne of Green Gables. Sadly, I was disappointed to see Montgomery's simple, lovely story transformed into a dull sitcom.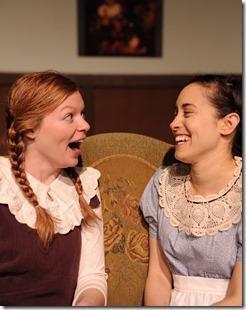 Siblings Matthew (
Mike Rogalski
) and Marilla Cuthbert (
Deanna Boyd
) live a quiet life in a small Canadian farm town at the turn of the century. The Cuthberts decide to adopt an orphan boy so he can help the aging Matthew around the land. However, fate has other ideas: due to a miscommunication the asylum (orphanage) sends a girl. Thirteen-year-old Anne Shirley (
Mary-Margaret Roberts
) is elated to be a part of the Cuthberts' family, and while Matthew is quickly won over by her joyous nature, Marilla is more reluctant to accept the girl. Anne is far from an easy charge: she challenges busybody Rachel Lynde (
Ann James
) and squabbles with classmate Gilbert Blythe (
Brando Crawford
), and those are on her good days. As Marilla slowly comes around, Anne also learns the challenges and rewards that come with finding her place in the world.
Anne of Green Gables has been successfully adapted before, in multiple forms of media. The 1980's PBS miniseries starring Megan Follows and Colleen Dewhurst was so well-received that it led to "Anne of Avonlea," a second miniseries adapted from Montgomery's sequel of the same name. At least one other stage play exists as well. If only writer and director Timothy Gregory had paid more attention when translating book to film, his script might have had more cohesion and less wacky vignettes strung together. Rather than a talkative, vibrant youngster, Anne is reduced to a screechy, often manipulative twit who doesn't appear to grow or change in the show's 70 minutes. While the character of Anne is dramatic and often finds herself over her head, she is never vindictive – quite the opposite, in fact. Even for those unfamiliar with the source material, it's difficult to like a play in which the title character is so very unlikable.
Also problematic are the elements of the story Gregory chose. At the climax of the novel, a pivotal character – someone who has become very important to Anne – dies suddenly and without warning. Anne, now sixteen years old, must reevaluate her sunny nature as she deals with the aftermath of such a tragedy. Without spoiling anything, I can assure you that said character is very much alive at the time of the play's cliché and silly ending, which is more focused on boosting Anne's self-esteem than showing her more mature and contained sense of optimism. This significant omission reads as condescending to the play's target audience: many children's books deal with death and grief in a graceful manner, so an opportunity was sorely missed here.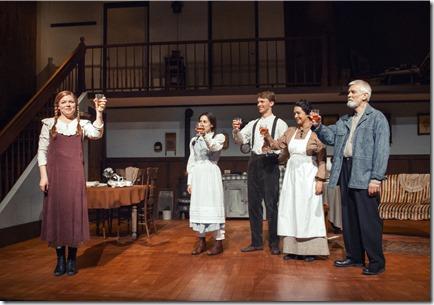 While the script needs a lot of improvement, hearing lines from the book was quite enjoyable at times. Carl Ulaszek's set design is odd to say the least (why would a Canadian farmhouse have bright pink walls?), but stage manager Erin Hoban keeps transitions smooth and Elliott Delman's original music makes scene changes pleasurable and light. Rogalski's Matthew is a gentle, steady father figure, and Jackie Richards is sweet but not cloying as Diana, Anne's best friend who finds herself in a pickle thanks to a beverage mixup. As Anne's nemesis Gilbert Blythe, Crawford is appropriately mischievous and fun.
Anne of Green Gables is a wonderful novel for all ages, that's withstood the test of time. Unfortunately, Provision Theater's adaptation is disappointing at best and borderline sacrilege at worst. I wish Gregory would have taken a few more cues from author Montgomery. Anne Shirley isn't silly pratfalls and endless mugging. She's an extraordinary girl, and should always be treated as such.
Rating: ★★
Anne of Green Gables continues through August 2nd at Provision Theater, 1001 W. Roosevelt (map), with performances Saturdays at noon and 3pm, Sundays 3pm.  Tickets are $10-$15, and are available online through OvationTix.com (check for half-price tickets at Goldstar.com). More information at ProvisionTheater.org.  (Running time: 70 minutes, no intermission)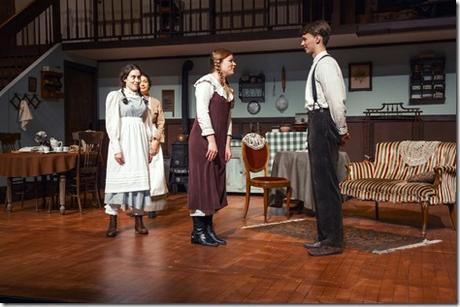 Photos by John Hockberger and Simon Sorin
---
artists
cast
Mary-Margaret Roberts (Anne Shirley), Deanna Boyd (Marilla Cuthbert), Mike Rogalski (Matthew Cuthbert), Brando Crawford (Gilbert Blythe), Jackie Richards (Diana Barry), Ann James (Rachel Lynde), Kelly Levander (Mrs. Barry), Laura Leonardo Ownby (Mrs. Blewett), Chris Daley (Station Master, Teacher, Doctor), Sage Dassinger, Sofia DeCarlo, Graceyn Dowd, Sean Thomas (ensemble)
behind the scenes
Timothy Gregory (director, adapter), Carl Ulaszek (set design), Mary O'Dowd (props design), Chazz Malott (lighting design), David Pierczynski (sound design), Michelle Dassinger (costume design), Erin Hoban (stage manager), Elliott Delman (original music), John Hockberger, Simon Sorin (photos)
15-0713