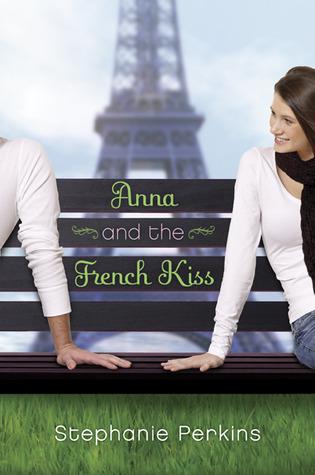 Title: Anna and the French KissAuthor: Stephanie PerkinsEdition: hardcoverSeries: noneReleased Date: December 2nd, 2010Publisher: Dutton
Goodreads

/

Amazon 

Anna is looking forward to her senior year in Atlanta, where she has a great job, a loyal best friend, and a crush on the verge of becoming more. Which is why she is less than thrilled about being shipped off to boarding school in Paris - until she meets Etienne St. Clair: perfect, Parisian (and English and American, which makes for a swoon-worthy accent), and utterly irresistible. The only problem is that he's taken, and Anna might be, too, if anything comes of her almost-relationship back home. As winter melts into spring, will a year of romantic near - misses end with the French kiss Anna - and readers - have long awaited?


I know it's been almost two years since this one came out, and I've wanted to read this one for so long but even after all of the five-star reviews, I still never picked it up! I'm very upset I didn't read this sooner, actually! One of my friends was asking for YA contemporary recommendations and I recommended this one to her, even though I hadn't read it. Once she got it from the library I knew I had to get it and once I picked it up and opened the first page, I was in love. Anna Oliphant's character is quite indescribable. Not in the way where she is all over the place. She's indescribable because she is just so amazing.  I enjoyed following her character around, and she made friends, found enemies, discovered excited places, fell in love, and most of all - find her place in the crazy world. Anna is just like any other teenager, except she's one of those girls that if you saw her, you would just have to love her because of her personality. She's hilarious, ditzy at times, sincere, and has her breaking points. She has all the qualities that most of my best friends have!  I love the fact that Etienne St. Clair isn't totally 100% the bomb-diggity. Truly, I think that's my favorite part about him. The fact that he has troubles in his life just makes him much more appealing. Most often, the hot male roles have some flaws and problems in his history, but St. Clair has much more than that. He's got his father he has to deal with, he has to deal with the fact that he can't see his mother for a couple weeks, and he's got a girlfriend that he's on the verge of breaking up with. He's not just some one-problem guy that you're supposed to feel sorry for. He's a complex character, that you really mourn for in some scenes. Also, he's not to-die for hot. Of course, he's pretty cute and has an awesome accent, but he is actually quite short. Every time they brought it up, I would chuckle to myself quietly!
Every girl has loved Paris since they were little, but after a few years I've decided to break that stereotype. Everyone wants to go there because it's 'SOOOO PRETTY' or the clothes are 'SOOOO COOL.' After reading Anna and the French Kiss, I may have gone back into that stereotype, and MAY just have fallen in love with Paris all over again. But it's not because it's so pretty or because the clothes are so cool - I've fallen in love because of the culture. The way Anna explores the hidden depths of Paris - from the movie theaters, to the actual meanings of the museums - it's more than just 'playing tourist.' It's actually feeling the city come alive. I have a map on my wall, with pushpins in all the places I would like to visit, and after reading Anna and the French Kiss, I grabbed a new pushpin and confidently put one on Paris, France. As you can tell, I truly loved this novel and everything about it. I usually don't fall in love with a YA contemporary novel unless it makes me bawl my eyes out, but this one had me laughing and smiling most of the time. I think that's what made me love it so much - the fact that it was a happy novel and Stephanie Perkins still found a way to weave in an amazing plot and setting. Everything was just done perfectly!
If you're looking for a well-written young adult novel, with great characters and a wonderful setting - I have to say that this novel is for you. This would be a perfect novel for anyone who's just starting out reading, so if you know a friend who's a little reluctant to start, you should recommend them this novel!