A few weeks ago, The Body Shop sent me some of their new makeup items. I was very excited because I planned to buy a few of these already. They have new eyeshadow palettes, eyeshadow crayons, lipstick, and an unique bronzer. These would be great for a holiday look or even New Years Eve. Some of the items will also carry you into spring and summer.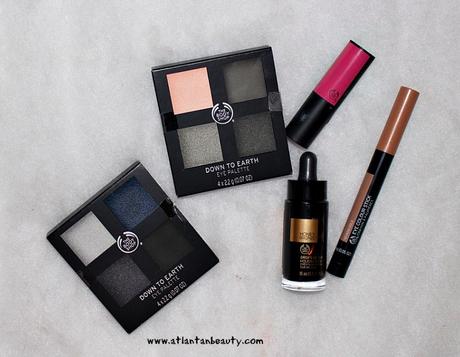 The Down to Earth Eyeshadow quads are vegan and the can be used wet or dry. Each palette has shades in three different finishes: true mattes, iridescent shimmer, and eye-catching sparkles. They sent over the black and gray shadow quads. I like these shadows, but I can't say they wow me. I don't like how the gray quad has 3 greys and the black one has all darker shades. I need to bring in another palette to use with these, which is something I usually don't like doing. But that boils down to personal preference. The pigment is pretty good. I like that the colors can be built up easily and all of the shades blend pretty easily. I have achieved some lovely looks with both palettes. I haven't experienced any creasing or fading with these eyeshadows.
Each quad costs $24 and they have an 8 pan one for $36.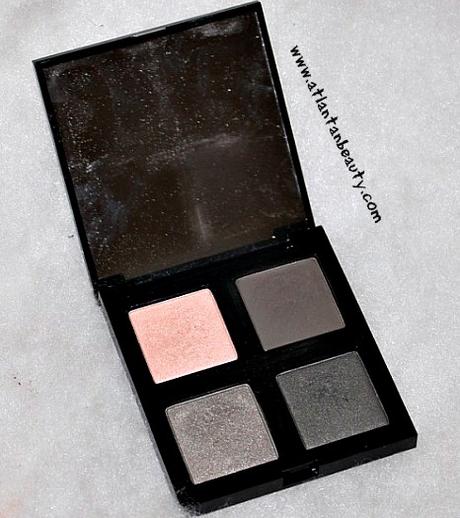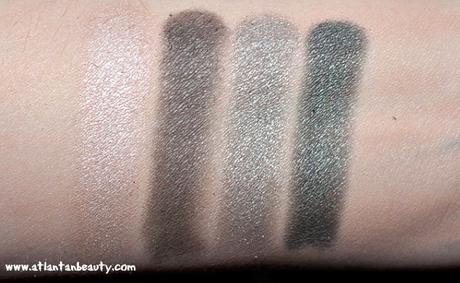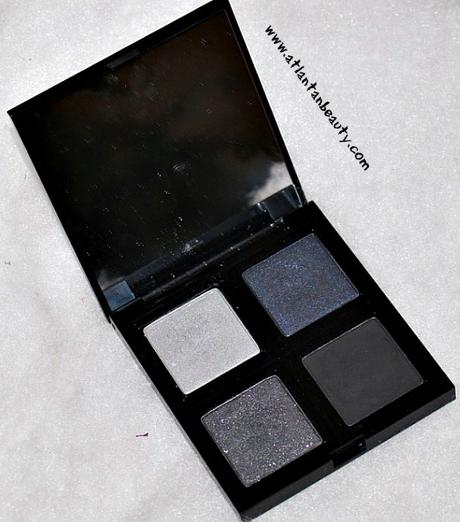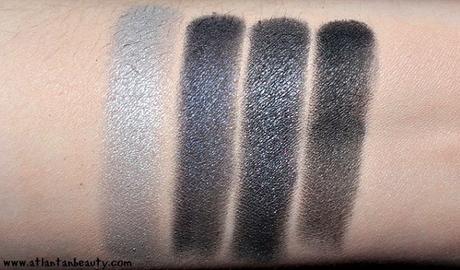 Up next is the Eye Color Stick in Nevada Gold, which is amazing. This is such a fantastic product for everyday use. The color is a lovely pinky gold shimmer that isn't too intense. You can wear this alone with just a little mascara and it also pairs really well with many other colors and products. It applies easily and it lasts all day long without fading or creasing. This is my favorite product out of the bunch. These are $15.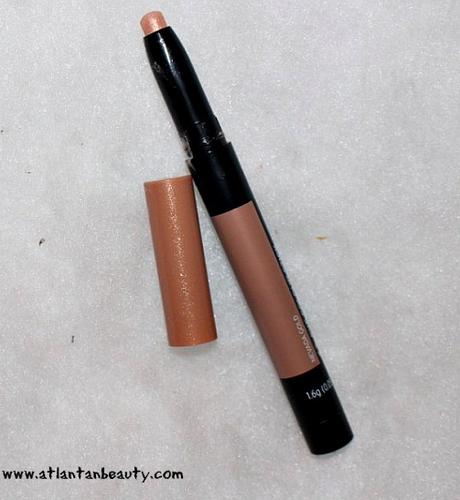 The Honey Bronze Drops of Sun Holiday Glow Creator terrified at me first. I am pretty pale, so products like this make me nervous because they can look too dark or muddy. I can't use this on top of foundation. It is too much for me and I don't like they way it looks. However, if I apply it mixed in with foundation or before my foundation, it works just fine. It dries matte and you can make it as dark as you want. You can also mix it into your moisturizer and/or apply all over your body. It is also enriched with Vitamin E.  These drops are $20.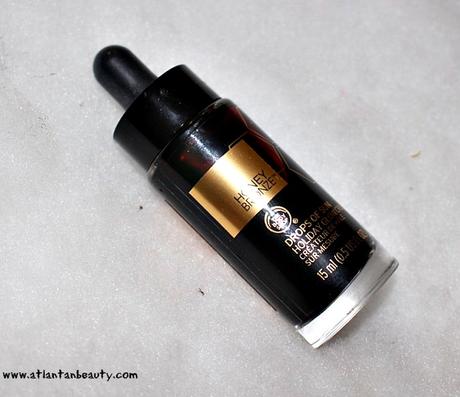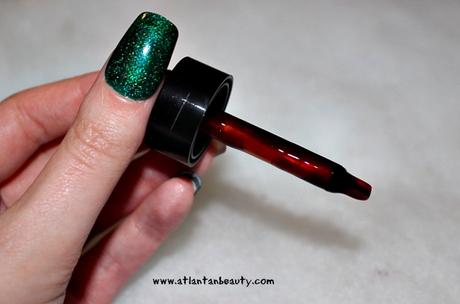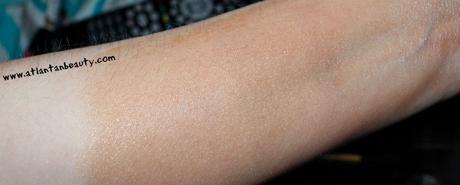 This is four drops on bare skin. 
The last product is their new matte lipstick in Honolulu Pink, which is a coral-pink. This is a great spring color! This is a true matte lipstick, which is hard to find in a regular lipstick. As a result, it does tug a little and it isn't creamy. I do need exfoliate my lips properly, otherwise it will stick to any dry flakes. The result is gorgeous and the staying power is pretty good. It doesn't feel drying, but by the end of the day, my lips do look slightly dry.   These lippies are $12.50 and come in some gorgeous colors.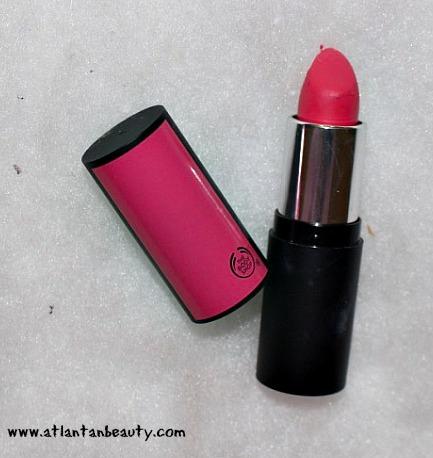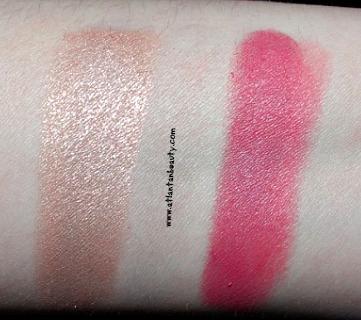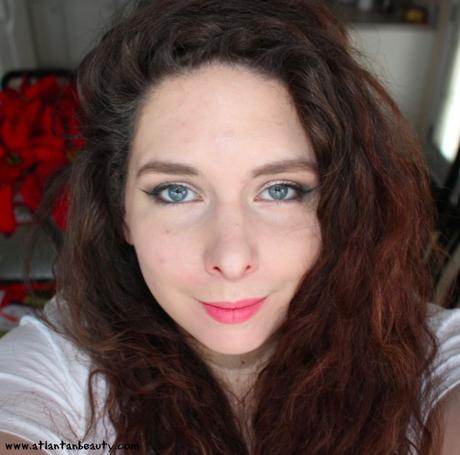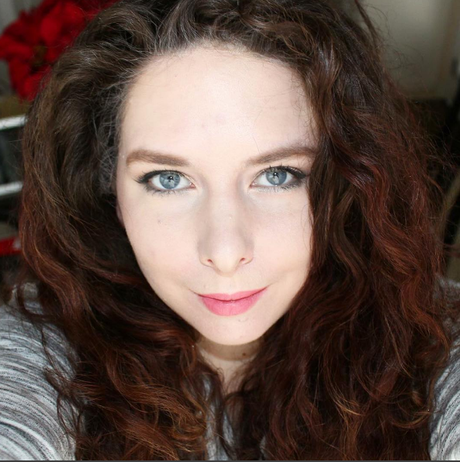 The above looks are done using the products. The Body Shop has some nice makeup and while I like everything here, I don't see myself using them all the time. Well, except for Nevada Gold and Honolulu Pink. They have great vegan options and they are cruelty free.
The Body Shop is always having sales, so be sure to wait for one. For instance, they currently have buy 2 get 1 free or buy 3 get three free. On top of that, some of their stuff is 75% off. I also recommend signing up for their Love Your Body membership because that gets you money off of future purchases. I can't remember exactly how it works, but it has helped me save a ton of money.
Oh, and don't forget to use Ebates!I started using them after hearing Leesha (Xsparkage) talk about them and its amazing.