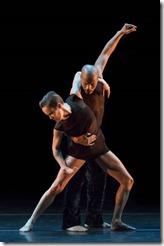 Flawless and otherworldly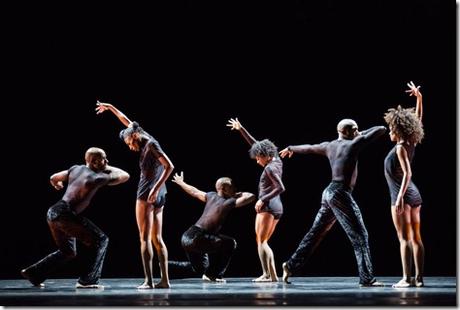 Review by Lauren Whalen
It's difficult to review Alvin Ailey American Dance Theater without stopping over-the-top adjectives and happy-crying emojis. From the company's rich history to its stunning choreographic repertoire, to the artistic athleticism of its dancers, there is virtually everything to love. Last night was my fourth time seeing the New York-based modern dance ensemble, started by Alvin Ailey at the 92nd Street Y in 1958 and now led by choreographer Robert Battle. This year, Alvin Ailey brings several Chicago premieres and two new productions in repertory, concluding every show with their signature piece, Revelations. No matter what performance you attend (the program changes each night),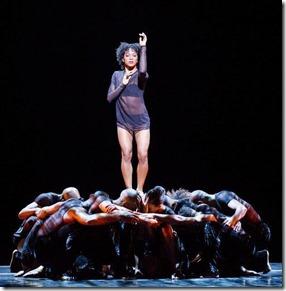 you'll walk away stunned, inspired and in awe of what the human body can do.
According to press materials, Alvin Ailey American Dance Theater has visited Chicago's Auditorium Theatre annually for 46 years. Hopefully, this is a tradition that will never cease. This year, the company performs a total of 10 pieces in repertory, with Revelations - Alvin Ailey's gospel music-set piece inspired by his church- and revival-going childhood - the only constant. As a result, I can only speak for those I saw, though Christopher Wheeldon's pas de deux is a favorite of Chicago's Joffrey Ballet and is surely just as lovely performed by Ailey dancers. The Chicago premiere of r-Evolution, Dream. features voice-over narration by Tony winner and Hamilton star Leslie Odom, Jr., reading the words of Dr. Martin Luther King, Jr.
Last night's program opened with , a Chicago premiere choreographed by Mauro Bigonzetti and set to the music of Ibeyi, twin sisters who sing in English and Yoruba. Ibeyi's songs are sometimes humorous, other times romantic, always haunting, with ethereal harmonies well-suited to Bigonzotti's athletic yet sustained choreography. One of the many wonderful aspects of Ailey is its willingness to take chances and mix the traditional and nontraditional: women and women, or men and men, partner just as much as men and women. Clad in shimmery black spandex, chiffon and velvet, the dancers are pure motion and energy, executing Bigonzetti's steps with a sensuality that's almost overwhelming.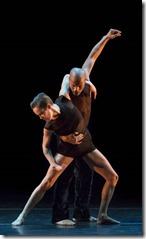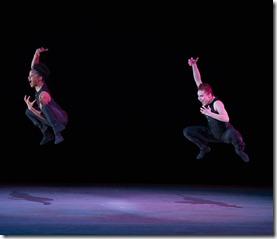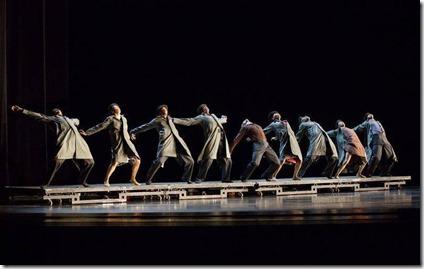 Next was Walking Mad , a 2016 Ailey premiere. Johan Ingerused the music of Arvo Pärt and Maurice Ravel - the latter of whom is famous for his circus-like "Bolero." Paired with neutral and bright colors, a large fence and many twists and turns, the effect is like a fever dream. Many moments exude frenzied happiness that borders on mania, while others are slow, like moving through mud. Walking Mad isn't a portrayal of mental illness. Rather, it's one of humanity: the highest highs and lowest lows, the fantasies and parties, and the sad but necessary struggles that make us who we are.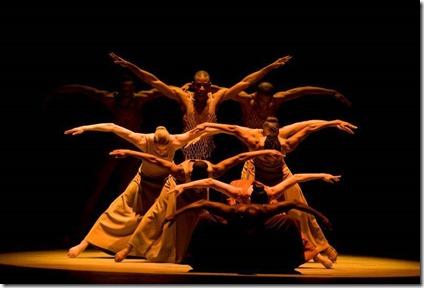 Before Revelations was Robert Battle's short duet that is alternately performed by two female dancers and two male. Set entirely to Ella Fitzgerald's scatting, Battle's choreography gives new meaning to the word "frenetic," as the two dancers literally never stop moving. There's so much unbridled joy and passion in the piece, the energy is contagious. After a brief pause, the curtain rises on Revelations . This long piece is incredibly challenging to describe, but the word "sacred" comes to mind. The score of African-American gospel songs, spirituals and blues alone, could temporarily convert the staunchest atheist into a believer. From the gasp-inducing opening moments to the rollicking closing number set to "Rocka My Soul," Revelations is the best possible form of church and must be seen to be believed.
Always teeming with enthusiastic and grateful fans, Alvin Ailey American Dance Theater is a belated Christmas gift to Chicago. Dancers who defy gravity, choreographers who make thoughtful and stirring pieces, and the masterpiece that is Revelations make for an unforgettable evening. Ailey is only here through Sunday, so reserve your tickets now and thank me later.
Alvin Ailey Dance Theater continues through March 26th at Auditorium Theatre, 50 E. Congress Pkwy. (map). Tickets star at $33, and are available by phone (312-341-2300) or online through AuditoriumTheatre.org (check for half-price tickets at Goldstar.com ). More information at AlvinAiley.org. (Running time: 2 hours, includes two intermissions)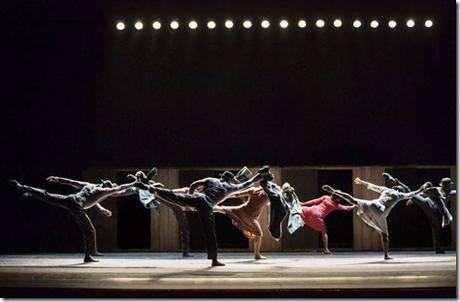 Photos by Dan Melville, Paul Kolnik and Christopher Duggan
Note: cast and program varies according to performance.
Hope Boykin, Jeroboam Bozeman, Sean Aaron Carmon, Elisa Clark, Sarah Daley, Ghrai DeVore, Solomon Dumas, Samantha Figgins, Vernard J. Gilmore, Jacqueline Green, Daniel Harder, Jacquelin Harris, Collin Heyward, Michael Jackson, Jr., Megan Jakel, Yannick Lebrun, Renaldo Maurice, Ashley Mayeux, Michael Francis McBride, Rachael McLaren, Chalvar Monteiro, Akua Noni Parker, Danica Paulos, Belen Pereyra, Jamar Roberts, Samuel Lee Roberts, Kanji Segawa, Glenn Allen Sims, Linda Celeste Sims, Constance Stamatiou, Jermaine Terry, Fana Tesfagiorgis
Additional Artists: Matthew Rushing (guest artist), Leslie Odom Jr. (voice over)
behind the scenes
Robert Battle (Artistic Director), Masazumi Chaya (Associate Artistic Director), Alvin Ailey (Founder), Judith Jamison (Artistic Director Emerita), Matthew Rushing (Rehearsal Director), Paul Kolnik , Christopher Duggan (photos)
choreography
( ( ( Choreography: Mauro Bigonzetti Deep), Johan Inger Walking Mad), Robert Battle ( Ella and After the Rain), Billy Wilson ( The Winter in Lisbon), Kyle Abraham ( Untitled America) In/Side), Alvin Ailey ( Masekela Language and Revelations), Hope Boykin ( r-Evolution, Dream.), Christopher Wheeldon
Tags: 17-0336, Akua Noni Parker, Alvin Ailey, Alvin Ailey American Dance Theater, Arvo Pärt, Ashley Mayeux, Auditorium Theatre, Belen Pereyra, Billy Wilson, Chalvar Monteiro, Chicago dance, Christopher Duggan, Christopher Wheeldon, Collin Heyward, Constance Stamatiou, Dan Melville, Danica Paulos, Daniel Harder, Elisa Clark, Fana Tesfagiorgis, Ghrai DeVore, Glenn Allen Sims, Hope Boykin, Ibeyi, Jacquelin Harris, Jacqueline Green, Jamar Roberts, Jermaine Terry, Jeroboam Bozeman, Johan Inger, Jr., Judith Jamison, Kanji Segawa, Kyle Abraham, Lauren Whalen, Leslie Odom Jr., Linda Celeste Sims, Masazumi Chaya, Matthew Rushing, Mauro Bigonzetti, Megan Jakel, Michael Francis McBride, Michael Jackson, Paul Kolnik, post, Rachael McLaren, Renaldo Maurice, Robert Battle, Samantha Figgins, Samuel Lee Roberts, Sarah Daley, Sean Aaron Carmon, Solomon Dumas, Vernard J. Gilmore, Yannick Lebrun