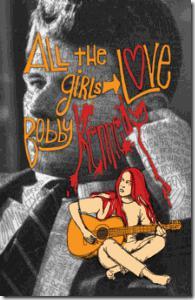 All the Girls
   Love Bobby Kennedy
Written by Kristen Palmer  
Directed by Rachel Staelens  
at Prop Thtr, 3502 N. Elston (map)
thru Nov 20  |  tickets: $15   |  more info
Check for half-price tickets  
  
  
   Read entire review
  
---
An evening of courage, inspiration and nostalgia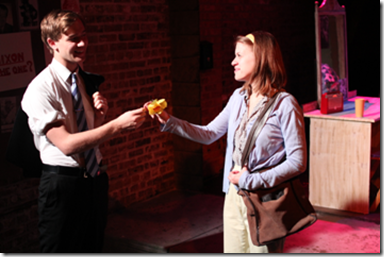 Point of Contention Theatre presents
All the Girls Love Bobby Kennedy
Review by Danielle Stack
Imagine a time when women were expected to marry their college sweethearts, but not allowed to speak their minds or even wear pants. A time where men were also supposed to be the breadwinners of the family or else they would be shipped to another country to fight a war nobody wanted. As you may have guessed this was the 1960's and that is when Kristen Palmer's play All the Girls Love Bobby Kennedy takes place.
It's the late 1960's and college student Grace Bailey's life is adhering to the stereotypical plan. Grace has just gotten engaged to her college sweetheart, she couldn't have a better friendship with her roommate Sylvie, and she is going to make a difference in children's lives by becoming a teacher. However, when a new student who's itching for a revolution arrives on campus, things begin to spin out of control for young Grace. Throughout the course of the play, numerous life-changing events are thrown her way, though she remains hopeful thanks to the presence of her idol and potential president Bobby Kennedy.
Nicci Schumacher's simple set easily conveys the various locations in the play, and makes us believe we are indeed peering inside of a college girl's dorm room in the 1960's. In addition, the production element that effortlessly brings the 60's to life in this production is Brandon Baisden's wonderful sound design. Obviously he had an amazing collection of songs from that era to choose from, but the songs he selected fit the moods of the transitions perfectly and I instantly found myself wishing there was a production soundtrack for purchase. Songs that are used include; "You Keep Me Hangin' On" by Vanilla Fudge, "Yesterday" by The Beatles, and  "I Want You" by Bob Dylan, just to name a few. Joe Cohen, who serves as the dramaturg, also brings the audience back in time by creating collages of pictures and information concerning the 1960's and filling the front of house space with them. The play's scenes flow naturally into one another under Rachel Stalens' direction, and I never found myself restless during the numerous scene changes. Stalens' direction is top-notch, even despite the fact that a few characters and plot points are not fully developed in Palmer's play.
Elee Schrock, in the role of Grace, tackles her character's emotional journey head on, delivering a genuine and heart-felt performance in the process. Schrock's portrayal of Grace demands the audience's empathy and at the end we are left heart-broken with the version of Grace left standing before us. Throughout the play, Jordan Phelps emerges as Grace's idol, Bobby Kennedy, to offer words of wisdom in her times of despair. Phelps; controlled and regal physicality is spot on in this role, which – combined with the trademark "Kennedian" accent – makes the figure of Bobby Kennedy come to life on stage. Todd Aiello also gives a sincere performance as both the frustrated student Jimmy and as Grace's brother John. Matt Tassell and Lauren Bourke round out the cast as Grace's fiancé Joe and her roommate Sylvie. Tassell and Bourke are good in their respective roles, though their characters' journeys throughout the play are a bit flat and their emotional scenes lack the depth that the play's other characters have. Overall, Stalens' cast delivers delightful performances as the youth of the 1960's eager to the change the world.
Point of Contention's All the Girls Love Bobby Kennedy transports the audience back to 1960's and motivates them to change the world just as the actors aspire to do within the play. This show is perfect for those who adore the time period and coming of age stories of young women. If you want an evening of courage, inspiration and nostalgia from an ensemble of young and determined actors, this play is just the play for you.
Rating: ★★★
All the Girls Love Bobby Kennedy continues through November 20th at Prop Thtr, 3502 N. Elston (map), with performances Thursdays, through Saturdays at 8pm and Sundays at 3pm. Tickets are $15, and can be purchased by phone (773-326-3631) or online at BrownPaperTickets.com. More information at pointofcontention.org. (Running time: 85min with no intermission)
All photos by Austin Oie 
---
artists