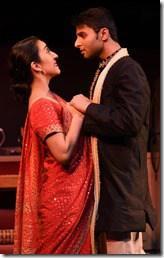 A Widow of No Importance
Written by Shane Sakhrani
R. Christiansen Theater, 2433 N. Lincoln (map)
thru Feb 21  |  tix: $20-$30   |  more info
  
Check for half-price tickets  
  
---
An unfunny effort that ends just when it's getting interesting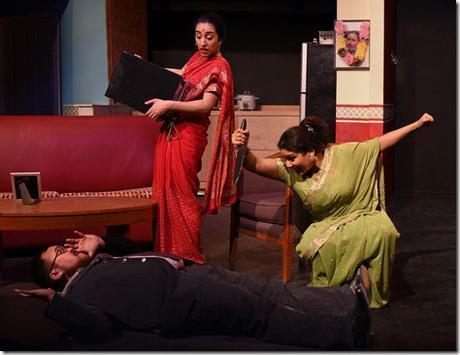 Rasaka Theatre Company presents
A Widow of No Importance
Review by Clint May 
If the idea of mingling incestual overtones with sitcom-style writing seems a strange choice for theatre, you'd be right. Rasaka Theatre Company's Midwest premiere of Shane Sakhrani's romance is a baffling mash up of Oedipal tension with a comedic style reminiscent of an average Big Bang Theory episode.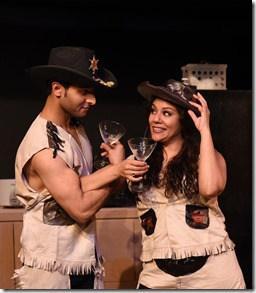 Now living in the twilight of her own life somewhere around the age of 50, Deepa (
Alka Nayyar
) lives only to see her daughter Tara (
Vahishta Vafadari
) married. At 25, she's practically an old maid who will have to settle for a gay sham marriage at 30 if she doesn't act fast. Daily prayers to Krishna illuminate Deepa's inner struggles. To keep her daughter away from the nightlife of Mumbai, she'll give up more and more things that give her pleasure, be it sweetening her tea or even the tea itself. Widows being viewed as an anathema in her upscale neighborhood, she has voluntarily made herself superstitiously agoraphobic for two years since her husband's death.
Her only visitors in her exile are a local matchmaker Lalita (Priya Mohanty) who—because this is 2010—uses a photo album in place of Tindr to help Deepa "swipe" through options for a life Tara has shown no interest in. A recently divorced neighbor and friend of her children's Vinod (Anand Bhatt) shows up frequently to enjoy Deepa's excellent cooking.
Following a dark night of the soul, Vinod eventually owns up to the fact that Deepa was his first crush at 12 years old and still holds her in his heart after two decades. This doesn't bode well when Tara (initially written off as a replacement match because she "views Vinod as a brother") begins to notice the meek accountant blossoming, little knowing why. As it turns out, Deepa is not so dead inside after all and returns Vinod's affections after a little prodding. Vinod encourages her to stop reading Mills and Boon romance novels and write one of her own. Tara meanwhile reveals a similar interest in creative writing and applies for grad school in America, a place of high divorce rates where she'll find her love among the stars (the literal kind, not celebrities). Eventually the love triangle is revealed and it all comes to a head when Deepa's son (Arif Yampolsky) returns to take her to Singapore to live out her remaining days as a glorified babysitter.
There's a throwaway gag near the end when Deepa mistakes the movie "Harold and Maude" for "Harold and Kumar." It's a movie Vinod had suggested they watch, perhaps to put Deepa's mind at ease about a younger man and an older woman being romantically involved. That'd be sweet if not for the key difference—Maude in the story is in no way a crossover mother figure for Harold. There's something unsettling about a scene with Vinod and Deepa role playing as cowboys, as if combining her trashy romance novels with the games he might have played as a pubescent man admiring his best friend's mom.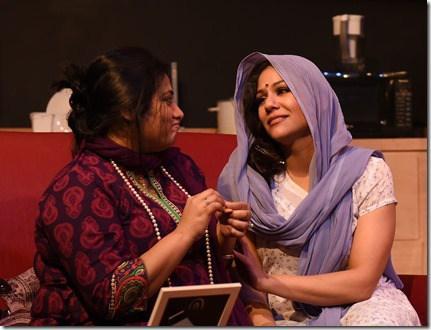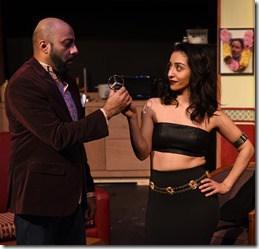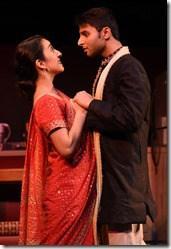 Maybe if the story had started nearer to the big reveal instead of all the cliché setup. When the emotions start to pour out in the latter half of the second act, things actually get interesting. Just how can Deepa ask her son to accept her relationship when he reminds her that that's not the kind of man she herself raised him to be? What does a mother owe her children when they've grown up and have lives of their own? Character evolution comes fast and furious to get everyone in place for that romcom ending, but don't get me started on that vulgar last line.* If you want to say something about second chances for an older woman (and 50 isn't that old), why did Vinod need the historical baggage? Wouldn't it say more if he was a brand new character in her life that fell in love with contemporary Deepa, not a guy who may be trapped in a young man's fantasy? It really doesn't add much to the story while creating rot in its foundations.
Humor is obviously very subjective, but if I had to put my finger on why Widow didn't get many guffaws from this critic, it would be the sheer made-for-TV artificiality. It's all "setup/payoff" instead of humor that flows organically from the absurdity of the situation. Case in point: When Tara wants "magic" with the man she marries, Deepa retorts that she should marry Harry Potter (insert laugh track). There's very little depth to anyone's motivations, which may have helped soften the strangeness at the core. It wants to be a comedy of manners and cultural clashes not unlike those of Oscar Wilde (who inspired the title), but Sakhrani's script flits from farce to slapstick to drama as if trying to please all comers. While Bollywood has always owed a debt to American influences, this whole thing feels more like an Indian restaurant chain catering to American tastes.
Director Lavina Jadhwani tries admirably to breath life into the proceedings, but there's just no chemistry to spark from the words or the cast that can overcome primal unsettlings (and I consider myself a pretty open-minded guy, but kin-group aversion is pretty ingrained). Everyone is too over the top to be taken seriously in their desires, and their 11th hour attempt to get serious is jarring even as it offers up the most tantalizing bits. That said, Alka Nayyar is still a very magnetic stage presence I'd love to see in another show.
As Aziz Ansari points out in his highly recommendable Netflix series "Master of None," there's a lack of diversity on TV and that extends to the stage of well. Rasaka provides a valuable perspective to Chicago's theatrical tapestry. A Widow of No Importance just isn't the right show, as it isn't as transportive or culturally enriching as one would expect.
Rating: ★★
A Widow of No Importance continues through February 21st at Victory Garden's Richard Christiansen Theater, 2433 N. Lincoln (map), with performances Thursdays and Fridays at 8pm, Saturdays 4pm and 8pm, Sundays 3:30pm.  Tickets are $20-$30, and are available by phone (773-871-3000) or online through PrintTixUSA.com (check for half-price tickets at Goldstar.com). More information at RasakaTheatre.com.  (Running time: 1 hour 50 minutes, includes an intermission)

Photos by Scott Dray
---
artists
cast
Anand Bhatt (Vinod Thadani), Priya Mohanty (Lalita Daswani), Alka Nayyar (Deepa Kirpalani), Subhash Thakrar (Chirag Dadlani, Sandeep Chugani), Vahishta Vafadari (Tara Kirpalani), Arif Yampolsky (Manoj Kirpalani)
behind the scenes
Lavina Jadhwani (director), Kamal Hans (artistic director-producer), Alka Nayyar, Anish Jethmalani (co-producers), Eric Vigo (lighting design), Kaitlyn Guerrieri (stage manager), Damian Wille (production manager), Gregory Pinsoneault (scenic design), Sara Heymann (properties design), Gary Nocco (costume design), Matt Reich (sound design), Scott Dray (photos)
16-0125