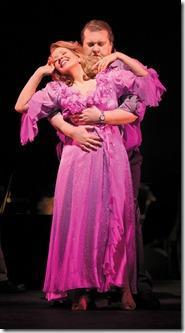 A Streetcar Named Desire  
By André Previn (music) and Philip Littell (libretto)
Conducted by Evan Rogister
Directed by Brad Dalton  
at Civic Opera House, 20 N. Wacker (map)
thru April 6  |  tickets: $84-$289   |  more info
  
Check for half-price tickets 
  
  
   Read entire review 
  
---
Williams' story shines in steamy opera adaptation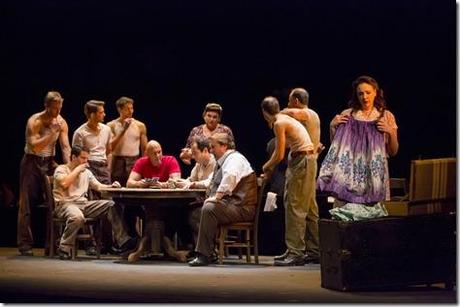 Lyric Opera of Chicago presents
A Streetcar Named Desire
Review by Katy Walsh 
Lyric Opera presents the Chicago premiere of A Streetcar Named Desire. Blanche is a faded southern belle. She resonates old-fashion sophistication and a prudish nature. She is visiting her younger sister in New Orleans. Stella is happy to see her. The beer-drinking and poker-playing brother-in-law is not as welcoming. In a one bedroom apartment, Stanley resents Blanche cramping his style. As Blanche tries to find a new life in the French Quarter, Stanley exposes her past life. A Streetcar Named Desire transitions into a perfect steamy, hot opera.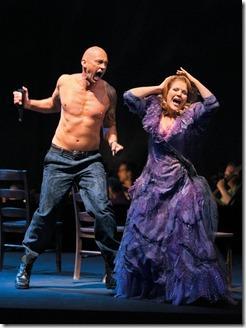 Playwright
Tennessee Williams
' iconic play ignites on the Lyric Opera stage. Composer
André Previn
uses sultry melodies with hints of New Orleans jazz to provide a powerful opus for the family drama of secrets and deceit. The libretto by
Philip Littell
sounds so similar to the play or movie script it's easy to forget that this isn't the play. The play vs. opera illusion is reinforced by a bare bones theatrical look. The majestic scenery that is the Lyric hallmark is missing. It's simply chairs and tables in the forefront and the orchestra behind them. The production features the musicians out of the pit and onto the stage. Tennessee Williams would approve. His story, along with Previn's composition, is the focal point…and it fills the stage. The music and the acting intertwine together for this fluid synergy. The performers often exit and enter around the musicians. The visual continually symbolizes the marriage of play and music into an opera.
Previn premiered this opera in 1998 in San Francisco with Renée Fleming (Blanche). He wrote the role specifically for Fleming's voice and temperament. And fifteen years later, Fleming delivers her signature role with diva flourish. Fleming's performance is hauntingly bittersweet. Returning as her suitor from the world premiere, Anthony Dean Griffey (Mitch) courts her with endearing charm. Haughty Fleming and clunky Griffey amplify their contrasting personas for a memorable pairing. Bringing the lust-filled passion, Susanna Phillips (Stella) and Teddy Tahu Rhodes (Stanley) radiate such an intimate connection that their desire consumes the audience too. Phillips is a standout for her intermittent humming that has this lingering afterglow contentment. Rhodes and his shirtless cast mates provide the hearty masculine overtones to illustrate Williams' underlying yearning eroticism. Ooh-la-la!
With limited seats available, A Streetcar Named Desire is the hottest ticket in town.
Rating: ★★★★
A Streetcar Named Desire continues through April 6th at Civic Opera House, 20 N. Wacker (map).  Tickets are $84-$289, and are available by phone (312-332-2244) or online through their website (check for half-price tickets at Goldstar.com). More information at LyricOpera.org.  (Running time: 3 hours 15 minutes, includes two intermissions)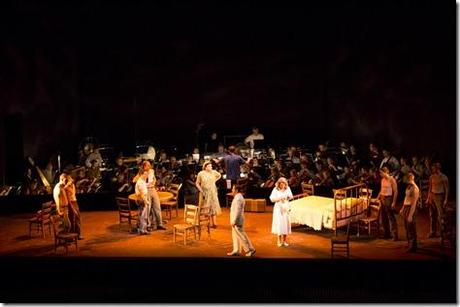 Photos by Todd Rosenberg Photography/Lyric Opera of Chicago 
---
artists
cast
Renée Fleming (Blanche Dubois), Susanna Phillips (Stella Kowalski), Teddy Tahu Rhodes (Stanley Kowalski), Anthony Dean Griffey (Harold "Mitch" Mitchell), Victoria Livengood
behind the scenes
Evan Rogister (conductor), Brad Dalton (director), Johann Stegmeir (costumes), Duane Schuler (lighting), Todd Rosenberg Photography (photos)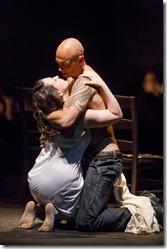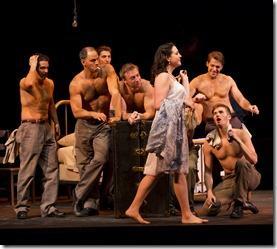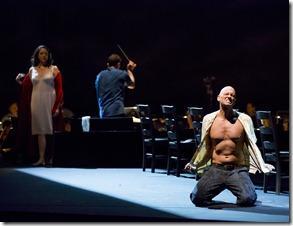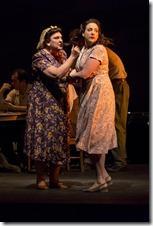 13-0364