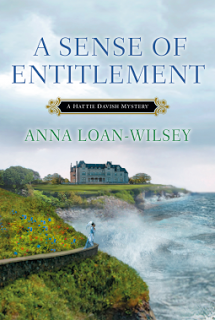 Description (from cover):
'Traveling secretary and dilettante detective Hattie Davish is bringing her talents to a small New England town whose wealthy residents have more secrets than they do money...
When Hattie Davish's job takes her to Newport, Rhode Island, she welcomes the opportunity for a semi-vacation, and perhaps even a summer romance. But her hopes for relaxation are dashed when she learns that members of the local labor unions are at odds with Newport's gentry. Amidst flaring tensions, an explosion rocks the wharf. In the ensuing turmoil, Mr. Harland Whitwell, one of Newport's most eminent citizens, is found stabbed to death, his hands clutching a strike pamphlet. All signs point to a vengeful union member bent on taking down the aristocracy, but Hattie starts digging and finds a few skeletons in the closets of the impeccable Whitwell mansion. As she strikes down the whispers spilling out of Newport's rumor mill, she'll uncover a truth more scandalous than anyone imagined--and a killer with a rapacious sense of entitlement...'
My thoughts:
This is the third installment of the Hattie Davish mystery series and it is quite the entertaining read. I couldn't put this one down. The author creates another well-rounded mystery that is suspenseful and intriguing. I love Hattie's character as she is humble, a working woman, but she has a sense of right and wrong and she seeks out justice not just for murder victims, but for people who are down in life. Hattie's character has a wonderful and caring heart, but her inquisitiveness seems to get her in trouble. She can't help but stumble over dead bodies and leave well enough alone. She is smart and determined to find justice for everyone at no matter the cost. 
Hattie's employer, Sir Arthur, is unexpectedly called back to England for an ill family member when they arrive in Newport for the summer season. Sir Arthur's wife has no need for Hattie's services, so she arranges for Hattie to be a society madam's social secretary. Hattie soon finds herself out of her depths as she is not used to arranging parties and social events. However, due to Hattie's determination to do her job well, she soon learns and finds herself right in the middle of society gossip. When another society madam's husband is found dead, her employer asks Hattie to do some snooping. Of course, Hattie is eager to please her new employer and begins investigating the murder. She has to navigate society and class, labor strikers, and servants to discover who is responsible.
I really enjoyed this book a lot. I have to say it is probably my favorite in this series so far. I really like the way the author has developed Hattie's character and I am anxious to read the next one. I love the mixture of suspects and clues that the author gives to the reader and it kept me guessing until the very end. I will be hosting a stop on the A Deceptive Homecoming blog tour on August 1. A Deceptive Homecoming is the next book in this series and I cannot wait to read it and find out what happens next for Hattie. Make sure that you come back to see what I think about that book. If you love historical mysteries, then this might be a series that you should check into.


Overall Rating: 5


Title:  A Sense of Entitlement
Author:  Anna Loan-Wilsey
Series:  Hattie Davish Mystery #3
Publisher:  Kensington
Publication Date:  June 24, 2014
Pages:  336
Genre:  Historical Mystery
Get It:  Amazon; Barnes & Noble
Disclaimer: This book was given to me by the publisher, through Netgalley, in exchange for my honest review. I reviewed this book without compensation of any kind. All thoughts and opinions are solely mine.