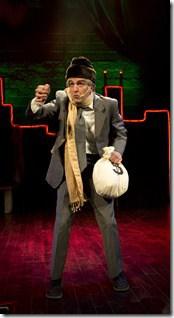 A Q Brothers' 
   Christmas Carol  
By GQ, JQ, Jackson Doran, Postell Pringle
Chicago Shakes, 800 E. Grand (map)
thru Jan 3  |  tix: $20-$48   |  more info
  
Check for half-price tickets  
  
---
Hip hop holiday spirits are must-see in this "ad-RAP-tation"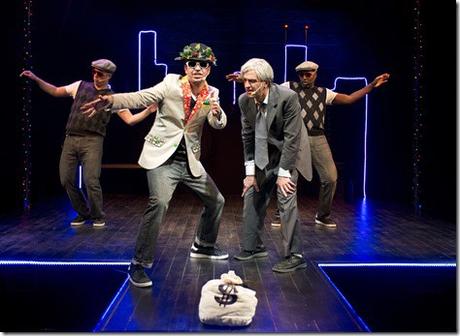 Chicago Shakespeare Theater presents
A Q Brothers' Christmas Carol
Review by Clint May 
Move over Polar Express, a soul train is barreling down the tracks for a funky holiday ride to hilarity. Returning to Shakespeare Theater after a smash debut in 2014 (it was workshopped in 2013), The Q Brothers and gang return with their own deliriously clever spin on the Charles Dickens classic. You know all the story beats but you've never heard them set to a light-hearted rollicking rap rhythm stuffed to the brim with pop culture nods, homages to the greats, running gags, backup dancing, wordplay, rhymes and heart that drops the mic on other Carol remixes.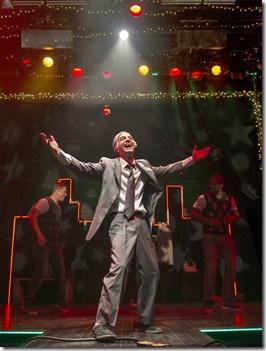 Ebenezer "Ben" Scrooge (
GQ
) is now a corporate megalomaniac in the vein of Trump (he even considers buying the presidency in a nod to current events) who rose up the ranks from humble beginnings as an accountant for a mom and pop wig shop. Poor nephew Fred (
Jackson Doran
) and his partner still implacably try to get Uncle Ben to their yuletide party, but all to no avail when a bag of money must be coddled as a near-literal wife. When Jacob Marley (
JQ
) returns from beyond the grave as the Bob of the same last name—Jamaican music is his contrapasso in hell—he sets Scrooge on the journey we all know and love.
First to the past (Postell Pringle, styled as Sir Mix-a-Lot) to see how his nerdy math-loving ways bonded him to friends and a lady love he'd eventually alienate in the pursuit of wealth. The present (overseen by JQ) witnesses the Cratchit's extremely humble and absurdly comical minimum wage existence cooking up some "great smelling" corn for Christmas dinner. Lil Tim (JQ) is an earnest kid who just wants to be a DJ spinnin' at the club while dealing with an increasingly obscure litany of maladies (there's a similar gag in Twist Your Dickens, but this crew does it better). And of course, the future, where a lonely death awaits and the record scratches to a halt just long enough to give a withering elucidation of the source of Scrooge's "Chris-my-ass-mis" 'tude.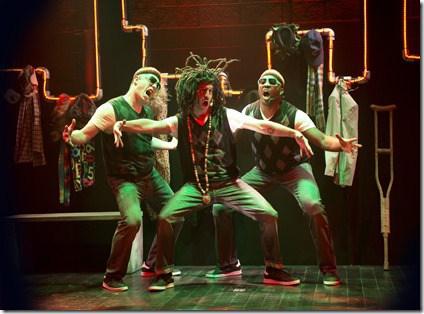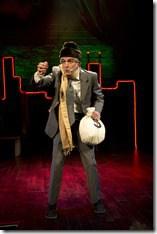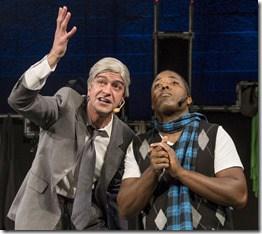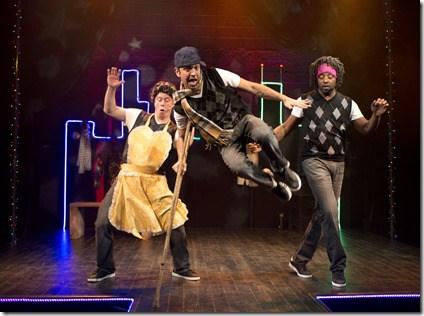 Carol takes nary a breath once DJ Super Nova—perched in the mezzanine—starts the beat and drives it through the appropriately succinct runtime. The cleverness and craft of this epic rap battle are evident throughout. You don't need to be a hip hop hipster to feel your toes start tapping, though it certainly wouldn't hurt. The entire four person cast (and co-creators) playing multiple roles is on point, but the Brothers Q themselves are the first among equals, with JQ winning just a bit harder with the sheer number of major/minor characters he must inhabit, including some priceless Lil Tim choreography and a bespectacled Belle that's worth the price of admission.
The joining of Chicago Shakespeare and the Qs has proven wildly successful, pitching a perfect line between artistic reinterpretation of classics and crowd-pleasing panache from their takes on Othello to their Much Ado About Nothing. A Q Brothers' Christmas Carol extends this winning formula and kindles a new holiday tradition. What could have been a pandering gimmick or a shameless cash grab becomes instead some of the most fun to be had in a theater this or any season.
Rating: ★★★★
A Q Brothers' Christmas Carol continues through January 3rd at Chicago Shakespeare on Navy Pier, 800 E. Grand (map), with performances Tuesdays-Fridays at 7:30pm, Saturdays 6pm and 8:30pm, Sundays 3pm and 6pm.  Tickets are $20-$48, and are available by phone (312-595-5600) or online through their website (check for half-price tickets at Goldstar.com). More information at ChicagoShakes.com.  (Running time: 75 minutes without intermission)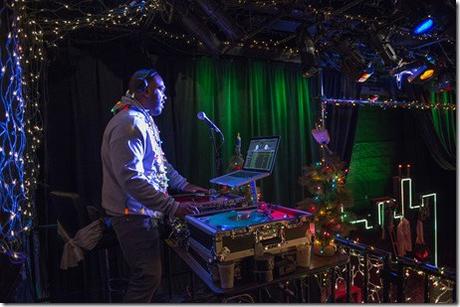 Photos by Michael Brosilow 
---
artists
cast
GQ (Scrooge), JQ (Marley, Belle, Present, Lil' Tim), Jackson Doran (Fred, Dick, Wilkins, Mama Cratchit), Postell Pringle (Past, Bob Cratchit, Martha Cratchit), DJ Super Nova
behind the scenes
GQ (creator, director), JQ (creator, director), Jackson Doran (creator), Postell Pringle (creator), Rick Boynton (CST creative producer), Anacron (choreographer), Scott Davis (scenic and costume design), Jesse Klug (lighting design), Greg Hofmann (associate lighting designer), Palmer Jankens (sound design), Melissa Veal (wig and make-up design), Michael Brosilow (photos)
15-1206