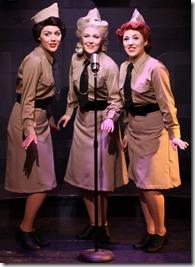 A Musical Tribute
   to the Andrews Sisters
Conceived by Fred Anzevino and David Heimann  
Directed and Choreographed by David Heimann
at No Exit Café, 6970 N. Glenwood (map)
thru July 27  |  tickets: $24-$34   |  more info
  
Check for half-price tickets 
  
  
   Read review
  
---
Entertaining and upbeat, it's the perfect summer escape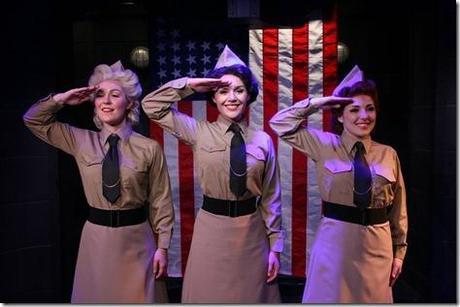 Theo Ubique Cabaret Theatre presents
A Musical Tribute to the Andrews Sisters
Review by Catey Sullivan 
Theo Ubique doesn't break any new ground with its revue of Andrews Sisters music. There's little that's edgy or terribly thought-provoking about the wholesome harmonies of the trio whose tunage will forever be associated with World War II and patriotic heroics. But that doesn't mean the show isn't entertaining. Directed and choreographed by David Heimann, A Musical Tribute to the Andrews Sisters is fun, upbeat and defined by the impossibly tight, bright vocal blend that Patty, Maxene and LaVerne Andrews made their signature sound.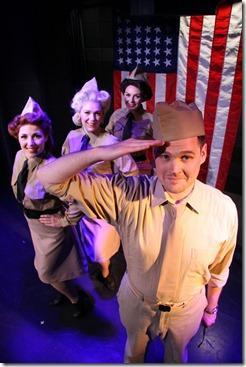 The production is a charming salute to the American songbook, chock full of some 30 songs by greats including George and Ira Gershwin, Johnny Mercer, Harold Arlen, and Cole Porter.
Conceived by Heimann and Theo Ubique's Artistic Director Fred Anzevino, A Tribute to the Andrews Sisters takes the form of a USO show. Our host for the evening isn't one of the sisters but William Lucas in the role of a Bob Hope-ish emcee whose ability to sell corny jokes ("I don't know why people are so annoyed with their congressmen. It's not like they're doing anything.") is matched by his ability to deliver a soaring tenor that is alternately heartbreaking ("I'll Be Seeing You") and endearingly silly ("Oh, How I Hate to Get Up in the Morning"). Lucas is terrific, whether he's saluting the troops or frolicking about in a pair of faux lederhosen.
But the marquee players here are of course the trio playing the Andrews. Sarah Larson, Jordan Yentz and Casi Maggio make for a game, bright-eyed ensemble and create an appropriately retro mood outfitted in costume designer Bill Morey's GI-Jane khaki skirts and (in the second act) subtly glimmering evening gowns. Each gets a turn in the spotlight as they jitterbug, jive and polka (that last with audience participation) through a fast-paced lineup of Andews' hits and lesser-known gems. They're at their best when all three voices blend together, and that blend is indeed impressive under the music direction of Alex Newkirk and backed by the orchestrations of Aaron Benham.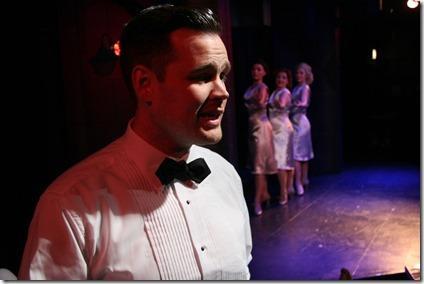 Newkirk mans the keyboards while Anthony Scandora keeps the percussion snappy on drums and Jared Montgomery boogies on trumpet. It's only a three piece ensemble, but the boys in the band make it sound a whole lot bigger. Montgomery – who is slated to be replaced by Derek Fitting later in the run – set the stage on fire opening night with a blazing trumpet solo worthy of the crowd-pleasing "Boogie Woogie Bugle Boy". And when the three of them let loose on that polka section, it's with a sound and a tempo infectious enough to make even a curmudgeon break out in a grin.
A Tribute to the Andrews Sisters is filled with corny gags and charmingly goofy moments – there's even yodeling for goodness sakes. But in the wake of the 70th anniversary of D-Day, there's something especially moving (and timely) about the show. Anthems including "The Marines Hymn" and "The Caisson Song" ring with a significance that's impossible to miss. And if you're more in the mood for a beer barrel polka, well, you won't be disappointed either.
Rating: ★★★
A Musical Tribute to the Andrews Sisters continues through July 27th at No Exit Café, 6970 N. Glenwood (map), with performances Thursdays at 7:30pm, Fridays and Saturdays at 8pm, Sundays 7pm.  Tickets are $24-$34 (dinner beforehand for $25), and are available by phone (800-595-4849) or online through their website (check for half-price tickets at Goldstar.com). More information at Theo-U.com.  (Running time: 1 hour 50 minutes, includes an intermission)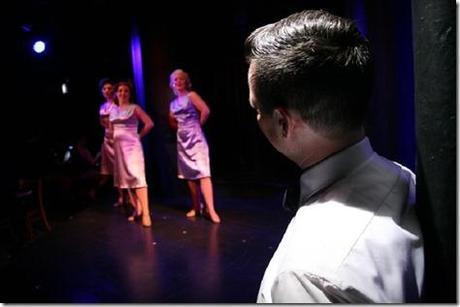 Photos by David Heimann
---
artists
cast
Sarah Larson, William Lucas, Jordan Yentz, Casi Maggio (ensemble), Jenna Schoppe (understudy)
band
Alex Newkirk (piano), Anthony Scandora (drums), Derek Fitting, Jared Montgomery (trumpet)
behind the scenes
David Heimann (director, choreography, co-conceiver, photos), Fred Anzevino (co-conceiver, artistic director), Alex Newkirk (music director), Adam Veness (scenic design), Jess Goings (lighting design), Paige Keedy (props design), Bill Morey (costume design), Michael Buonincontro (wig design), Christopher Logan (asst. director, asst. choreographer), Aaron Benham (music arrangements), Paige Keedy (production stage manager), Adam Webster (general manager), Rebecca Butler (box office manager), John Olson (publicist), Jeff Predmore (box office assistant).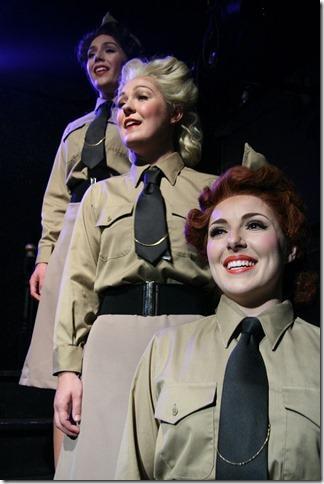 14-0604