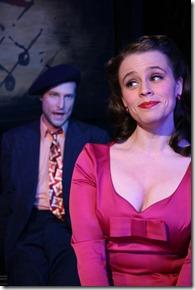 A Cole Porter Song Book 
Music and lyrics by Cole Porter 
Directed by Fred Anzevino
at No Exit Café, 6970 N. Glenwood (map)
thru July 21  |  tickets: $25-$34   |  more info
  
Check for half-price tickets 
  
  
   Read entire review
  
---
It's delightful!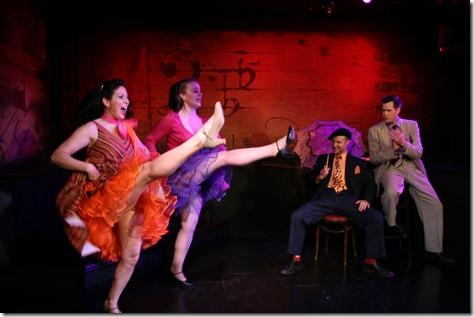 Theo Ubique Cabaret Theatre presents
A Cole Porter Songbook
Review by Katy Walsh 
The evening starts with the low smoldering of the bass.   After a few moments, finger snapping adds a little mystery and rhythm to the sound.  Then, the company arrives one by one to drawl out "Too Darn Hot."  The song goes from sexy complaint to tap-dancing, girl-twirling, big-bold spectacle.  Cole Porter is in the house.  Theo Ubique Cabaret Theatre's tribute recognizes the catalog of work by composer-lyricist Porter.  A Cole Porter Songbook showcases his renowned Broadway hits from Kiss Me, Kate and Anything Goes, alongside his lesser known work from stage and film. 
At words poetic, I'm so pathetic
That I always have found it best,
Instead of getting 'em off my chest,
To let 'em rest unexpressed,
I hate parading my serenading
As I'll probably miss a bar,
But if this ditty is not so pretty
At least it'll tell you
How great you are.
– 'You're The Top' from Anything Goes
Porter had a sense of playfulness. As a wordsmith, his lyrics are witty and honest. As a composer, his melodies can be it's-delightful-it's-delicious-it's-de-lovely peppy or night-and-day-you-are-the-one romantic. The show gives a nod to both aspects of Porter's portfolio of personality. The musical direction and zestful piano playing of Aaron Benham (who also wrote the musical arrangements) keeps the tempo bouncy. The four-member ensemble harmonizes and solos with fervent conviction. Sometimes, the blending of the 3-piece band and the singer(s) is a fine-tuned collaboration, especially the more fun-loving songs. Other times, the music seems to compete with and overwhelm the singing, especially apparent in "I Get a Kick Out of You". Jill Sesso's sweet ballad doesn't quite match the robust, merry cadence of the band. Later, Sesso counters the band with her feisty and seductive rendition of 'Let's Behave.' Sesso's ability to belt out her parts help level the band vs. singer competition.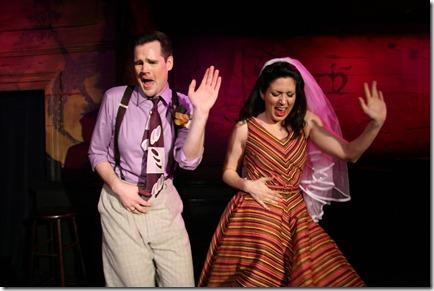 This show is plenty of fun. It has all the elements for success. Director Fred Anzevino adds his special touch to the entertainment.  He chose singers that can act. Christopher Logan and William Lucas sing "Brush up your Shakespeare" with blue collar panache. Sesso and Sierra Nibbe bring their flirtatious game as they match up with a romantic target, both or either or none. There is plenty of love and lust to go around.
The most impressive aspect of this show is the physicality of the movement during the singing. Always smiling, this foursome implements Choreographer David Heimann's dance moves with impressive effortlessness. At one point, Logan cartwheels and jumps onto a short wall, performing the acrobatic feats with precision, all without missing a song cue. Heimann interjects a lot of 1930/40s synchronized tapping, can-canning, and Charleston-ing. At a few points, Sesso and Nibbe jump and interlock their legs around Logan and Lucas' waists. The stunts are completed with the broadest, cheeriest smiles ever. It's marveling!
A Cole Porter Songbook got under-my-skin. It's a feel good, old-fashioned charmer.
Rating: ★★★
A Cole Porter Songbook continues through July 21st at No Exit Café, 6970 N. Glenwood (map), with performances Thursdays at 7:30pm, Fridays-Saturdays at 8pm, Sundays 7pm (no shows June 9 and June 30).  Tickets are $25-$34, and are available by phone (800-595-4849) or online through Tix.com (check for half-price tickets at Goldstar.com). A 3-course meal, before the production, is available for $25. More information at Theo-U.com.  (Running time: 2 hours 15 minutes, includes an intermission)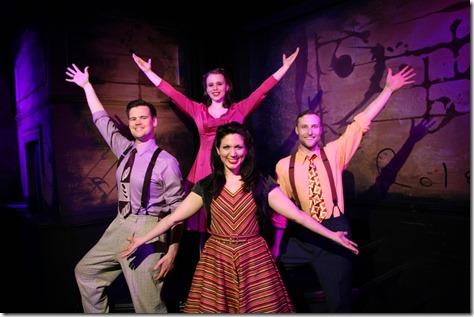 Photos by David Heimann
---
artists
cast
Christopher Logan, William Lucas, Sierra Nibbe, Jill Sesso
band
Aaron Benham (piano, conductor), Alan Trachtenberg (bass), Anthony Scandora (drums)
behind the scenes
Fred Anzevino (director), Aaron Benham (music director, music arrangements), David Heimann (choreography, photos), Bill Morey (costumes), Adam Veness (set design), Michael Nardulli (lighting design), Paige Keedy (props design, stage manager).
13-0609