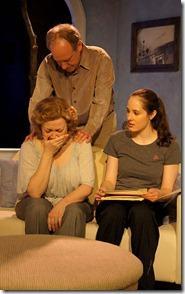 A Body of Water 
Written by Lee Blessing  
Directed by Mary Reynard  
at Redtwist Theatre, 1044 W. Bryn Mawr (map)
thru April 27  |  tickets: $25-$30   |  more info
  
Check for half-price tickets 
  
  
   Read entire review
  
---
How do we know who we are?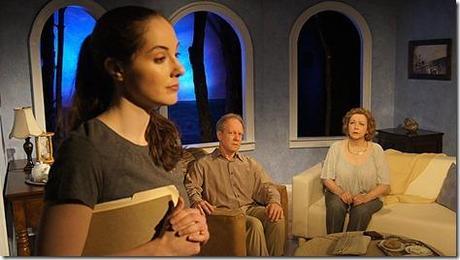 Redtwist Theatre presents
A Body of Water
Review by Joy Campbell
In this quirky show by Lee Blessing, a middle-aged couple (Brian Parry, Jan-Ellen Graves) wakes up every day having no recollection of who or where they are. Drawing on reason, deduction, physical clues, and the occasional memory flash, they try valiantly to piece together a story that would explain why they, current strangers to themselves and to each other, would wake up naked in the same bed with no idea of how they got there or, in fact, of anything that transpired before that morning. Their attempts are alternately funny and touching, and employ the most unique use of kitchen tongs ever seen on stage.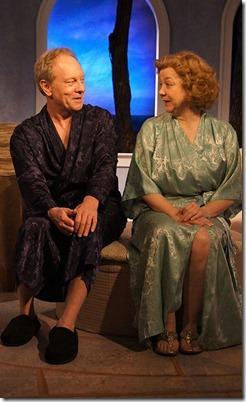 Lee Blessing called
A Body of Water
his "puzzle play," meant to be felt rather than understood, and in this it is successful. The script offers us lots of riddles, but its point is not in giving us answers; it's in the questions it raises along the way: What is the nature of identity? Are we responsible for a past we can't remember? Are we the same people if we can't remember who we are? Does who we were persist somewhere inside us even if we have no conscious awareness of it? How do we construct who we are?
Adding to the disorientation is the entrance of Wren, (Stella Martin) a young woman whose role and intentions shift and, like the nature of the couple's amnesia, are never really explained. Is she benevolent? Sadistic? Pitiable? Which of her explanations of their situation is the truth? By keeping us constantly uncertain, the play gives us a sense of what it must feel like to live in a world of dementia and memory loss, of an identity stripped of history and having no context but the present. Of being at the mercy of others to tell you the truth about yourself, and having none of it matter the next day. The premise is somewhat reminiscent of the movie "Memento," only this time we have no viewer's omniscience, and are just as confused as the protagonists. Like the couple pondering the glimpses of the water that can be seen from their house, we wonder whether the bits of information that are revealed – sometimes complementary, sometimes contradictory — belong to a single entirety.
The success of a story that is not carried by plot or action lies in its characters and their interactions. Blessing's script is written with an ear for natural dialogue, and for the kind of humor that's found in everyday human exchanges, in awkward honesty and honest awkwardness. There are times, however, when it stretches credulity: when Wren appears and clearly knows them, rather than pump her for information they desperately want, the couple initially defensively pretends to know who they and she are. When she gives them their purse and wallet for them to see their identities, they hesitate; neither choice is believable; both are obvious and clumsy attempts to perpetuate the premise.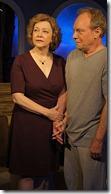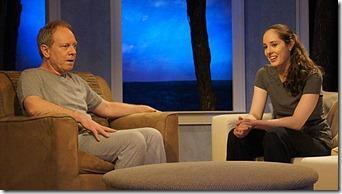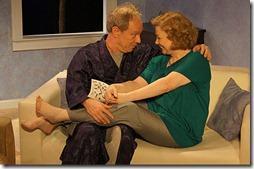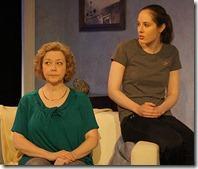 In Moss, Brian Parry gives us an upbeat, energetic man who takes on the situation with a sense of fun and optimism. In contrast, Jan Ellen Graves' Avis is a tentative, self-conscious woman who responds to much of Moss' cajoling and suggestions with doubt and pessimism. While the two personalities provide a good contrast to play off one another, Graves' negative reactions are a bit too much on the sour side, and put a damper on Parry's energy. The pacing of their exchanges also falls into a bit of a rut; given that they are a real-life couple, the initial lack of stage chemistry is surprising, but as the show progresses, they seem to find their groove, and Graves begins to sparkle. As Wren, Stella Martin gives a good, natural delivery, although as the only one who knows who she is and what's going on, Wren's various tales show her as the real actor in the scenario, and opportunities for some good variety and strong characterization go unclaimed.
If you need a clear storyline or at least a resolution that provides answers, A Body of Water may not be for you. But if you enjoy the intellectual tease of a conundrum, that tantalizing itch of uncertainty, you may find an odd satisfaction in this unusual and open-ended work.
Rating: ★★★
A Body of Water continues through April 7th at Redtwist Theatre, 1044 W. Bryn Mawr (map), with performances Thursdays-Saturdays at 7:30pm, Sundays 3pm.  Tickets are $25-$30, and are available by phone (773-728-7529) or online through their website (check for half-price tickets at Goldstar.com). More information at Redtwist.org.  (Running time: 90 minutes without intermission)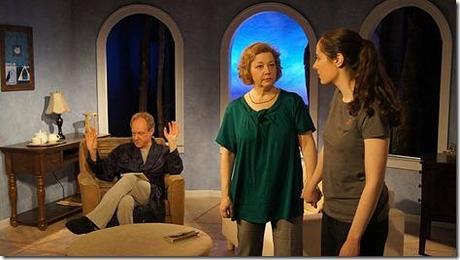 ---
artists
cast
Jan Ellen Graves (Avis), Brian Parry (Moss), Stella Martin (Wren)
behind the scenes
Mary Reynard (director/vocal coach); Matt Dominguez (assistant director); Lauren Yarbrough (stage manager); Allison Queen (assistant stage manager); Justin Castellano (production manager); Frank R. Sjodin (technical director); Nick Mozack (set designer); Christopher Burpee (lighting designer); Olivia Leah Baker (costume designer); Nick Gajary (sound designer); Jeff Shields (properties designer); Garvin Jellison (master electrician); Alan Weusthoff (set builder); Eileen Rozycki (scenic charge); Kevin McDonald (dramaturg); Jan Ellen Graves (design, marketing program, producer); Charles Bonilla (box office manager); E. Malcolm Martinez (box office assistant); Johnny Garcia (assistant producer); Michael Colucci (producer)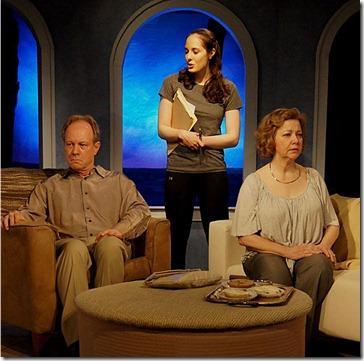 13-0304