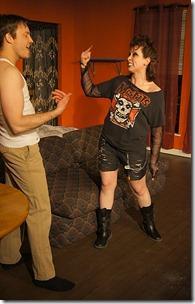 44 Ways to End
   Your Sex Life
Written by Scott Woldman  
Directed by Jason Fleece
at Redtwist Theatre, 1044 W. Bryn Mawr (map)
thru April 5  |  tickets: $15 (BYOB)   |  more info
  
Check for half-price tickets 
  
  
   Read review
  
---
A wry look at how dudes mess things up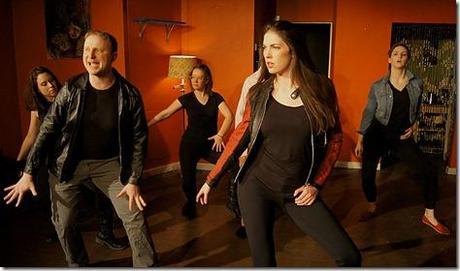 Redtwist Theatre's Dark Red Series presents
44 Ways to End Your Sex Life
Review by Kat Hey
Life is all about expectations. Love is all about relationships. How many times have you heard these adages and wanted to punch the giver of such sage advice because they have a kernel of self-recognition? 44 Ways to End Your Sex Life reflects on the millennial cynicism ever beneath the search for love.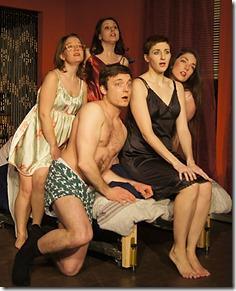 Scott Woldman has written a wry and mostly funny look at how dudes mess up when it comes to women. It is a series of vignettes done by a very talented ensemble. J. Christopher Brown, Becky Blomgren, Clare Cooney, Nick Mikula, Jill Olson and Sarah Sapperstein sing, dance, and do the horizontal bop.
The writing is from a man's point of view and possesses tinges of misogyny and an unfortunate (perhaps unknowing?) racial undertone. The bouncy music sings a litany of women's names and traits in the background and each skit is introduced in the manner of "_____ was a nihilist". Woldman puts a lot of characteristics into 80 minutes. Catholics, Jesus Freaks, women with an affinity for vegetables in strange places, women with pocket vibrators, women with guitars, and my least favorite – the Scary Black Woman. It was also inferred that the Scary Black Woman was a whore. The cheating husband talks to the third wall like Clint Eastwood and the presidential chair. It put me off because it is a stereotype that I hoped was left back 'in the 70's with the Rolling Stones' "Some Girls". It could have been funny but was made too serious to be a satire or a swipe at a sacred cow.
The other downer skit was the "Teenage Mom" with the screaming baby in the next room while she tries to get it on. She says that baby is only hungry and her willingness to ignore it made me cringe like only a reality show vignette could.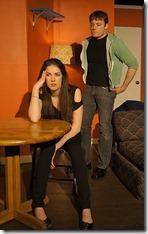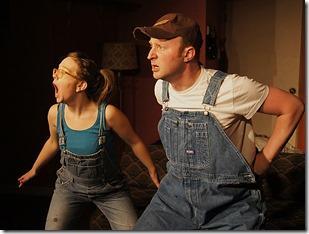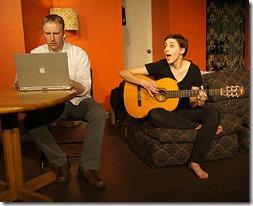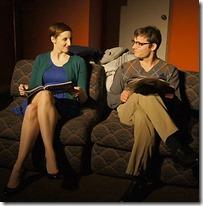 Fortunately, the engaging ensemble bounces back from the serious moments and goes for the rapier wit and parody. The show becomes an adult variety show with songs about gonorrhea and a hysterical version of "Total Eclipse of the Heart". The lyric-'turn around' is put to effective and sidesplitting use. There is more than a wink to the wandering eye and clueless behavior of men even when they try to do the right thing. (I loved the earful the wife gives to her husband for giving the sex eye to a woman while he was asking her to renew their vows.)
My personal favorite is "The Scientologist Girl" featuring Nick Mikula. Here it is made plain the lengths that a man will go and then won't to get some action. It is a great cast that can make a funeral funny and then throw some zombie action at you. We ended the evening laughing and that is what makes a late night adventure in theater worth braving during the colder months.
Rating: ★★½
44 Ways… continues through April 5th at Redtwist Theatre, 1044 W. Bryn Mawr (map), with performances Fridays and Saturdays at 10:30pm.  Tickets are $15 (BYOB), and are available by phone (773-728-7529 ) or online through their website (check for half-price tickets at Goldstar.com). More information at Redtwist.org.  (Running time: 80 minutes, no intermission)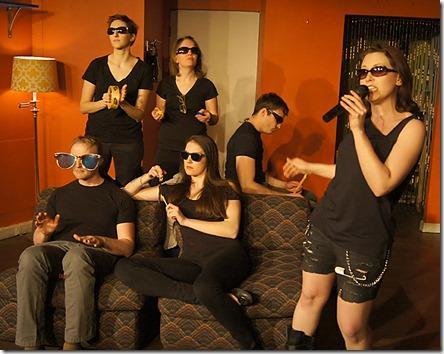 Photos by Jan Ellen Graves
---
artists
cast
Becky Blomgren, J. Christopher Brown, Clare Cooney, Nick Mikula, Jill Olson, Sarah Sapperstein
behind the scenes
Jason Fleece (director), Allison Queen (stage manager), Olivia Leah Baker (costume design), Eric Vigo (lighting design), Nick Gajary (sound design), Jan Ellen Graves (graphic design, co-producer), Kelly Maryanski (choreographer), Jessie Chappe (casting director), Charles Bonilla (box office manager), E. Malcolm Martinez (box office associate), Johnny Garcia (box office associate, associate producer), Michael Colucci (co-producer)
14-0250