Contributor: Henry T.
Written by Jacqueline Hoyt
Directed by Matt Shakman
Prominent guest stars are hit-or-miss on this show. The previous episode had yet another visit from Louis Canning (Michael J. Fox) and it didn't work. This one featured the return of Elsbeth Tascioni, the eccentric attorney played by Carrie Preston. The case she was involved in seemed too coincidental to be ripped from the headlines (prominent competitive cyclist Lance Armstrong admits to using PEDs) but that could be easily ignored as the episode went along.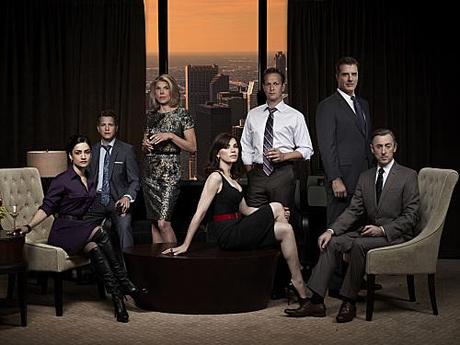 The case, even without much direct involvement by Elsbeth, did have a very convincing, almost tragic, outcome in it. That hasn't occurred in many of the cases presented this season. The drama quotient is increased by this, which is welcome. It counter-balances the ongoing gubernatorial campaign storyline that is starting to wear somewhat thin. Peter may yet win another election, but his opponent's strategy is to paint him as someone who bends to special interests rather than make his own decisions. The argument lacks differing position, something that is common with many real-world and fictional elections.
Since Maddie is only an occasional guest star, it's hard to devote much depth to the material at hand. Maybe things can be changed as each episode airs; One episode is mainly showing the political side while the next focuses on the legal side. The show has done that before so we know it can handle the task.
Lockhart-Gardner wouldn't have anything going on if Elsbeth didn't call Alicia to ask for a favor. It's very sweet for Alicia, then Will, to come to Elsbeth's rescue after she's thrown in jail on trumped-up charges of verbally attacking another lawyer. Not a side people see from these normally unflappable lawyers. Here's a case where things start small, then slowly escalate into something that both Will and Alicia have difficulty to handle. Will thinks the accusation of an athlete doping will be a formality to be easily dismissed, only to find more complications as he faces a three-judge panel.
The twist is that the entire panel speaks French, as does Will's opposition. It's amusing to see Will in a more uncomfortable position and the case's outcome to be in doubt. It doesn't last long because Diane surprisingly speaks fluent French. I would've liked to have seen Will staying uncomfortable while working a case, but the story has to move along. The reveal that the athlete was taking a drug cocktail because she was pregnant made a lot of sense. She has a legitimate explanation for her drug test results producing a false positive for doping. Only, she can't have it be public because her parents would disapprove of her abortion and it might affect the competing status of her boyfriend.
It's a story from "The Good Wife" that finally has some meat to it. The sideplot of Alicia trying to get Elsbeth out of suburban jail supplied some much-needed comedic material to balance the drama of the case. Elsbeth is a very competent lawyer, but she doesn't possess a thought filter and some would see that as mentally unbalanced. She is saved by a no-nonsense judge who sees past the silliness of holding her in jail for the weekend on some circumspect charges. At the end of the day, everything turns out okay and Eli will use Elsbeth to defend him in his campaign investigation by the Justice Department.
I just didn't hold much interest in the political side of this episode. It's brought up that Peter was showing racial bias in some way that Maddie was going to attack. It's not blown up to the degree that many expected, although I did like that Peter's magic touch didn't extend to the speech to the minority rights group. Geneva and Peter have an honest and pointed discussion on Peter's alleged racial bias within the SAO, and it's surprising for a character to lay out the pattern of personnel movement so clearly when it had been brewing for about a year now.
Geneva makes many salient points, particularly advocating the return to promotions based on a meritocracy rather than who he's friendly with, and Peter seems to change his tack afterwards. It's not clear if Maddie will continue down this course or switch modes of attack, but it at least keeps the political race interesting. Less so is how the show continues to move Eli away from being Peter's campaign manager due to the Justice Department investigation. Jordan is a new character and he hasn't made much of an impression so far. Eli and Jordan clashing on tactics did grab my attention, but that was brief and Eli seems to want to step away from the campaign by the end.
The show continues to shuffle characters around until they fit a certain position, which keeps things from getting stale. This time, the political story took a backseat to an interesting Case of the Week. The show doesn't always follow this track so I think it would be better to get more balance as the season goes along.
Score: 8/10