Contributor: Henry T.
Written by Keith Eisner
Directed by Michael Zinberg
How remarkably better this episode is by excising Kalinda's ex-husband from the narrative entirely. It frees up Kalinda to do what she does best: Investigate little details of a case or, here, to clarify the inaccuracies of the "story" of Peter sleeping with the young campaign worker. Despite its rather goofy title, "Don't Haze Me, Bro" is a well-balanced episode that advanced both Peter's campaign storyline (though the complications are getting repetitive) and an entertaining, if lightweight, Case of the Week. The ending is still the same (Lockhart-Gardner wins), but there were challenges that led to that satisfying end. At this point, "The Good Wife" can do these kinds of episodes on a regular basis, yet change up the formula enough to keep it from becoming stale.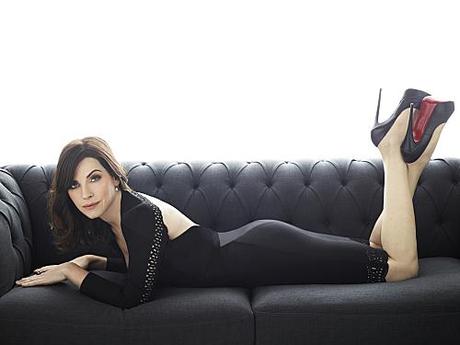 There isn't much indication as to who is winning the gubernatorial campaign between Peter and Mike Kresteva, but Peter seems to be humming along well enough. I'm betting that's why Eli can't understand why this story with Peter's alleged affair with a campaign worker persists. Alicia denies any and all pertinent facts about the story. Kalinda is sent to the hotel where the affair took place and finds that a person can only have access to Peter's room by acquiring a special key. The campaign worker didn't have that special key, and as such, could not have been anywhere near Peter on the night in question. Caught in the lie, both the campaign worker and reporter who wants to break the story sticks to their guns.
This story apparently has legs if you can believe the ending. I don't know how much stock both Eli and Peter will have in this mysterious blogger, but the ominous voice on the phone ruined what was otherwise an enjoyable part of the overall plot. Also not helping things is Jackie, newly released from the hospital after her mini-stroke, and tasked with giving campaign speeches to senior citizens. For me, Jackie has never fully worked as a villain, partly because neither Alicia or Peter are that scared of her, and because the writers have never taken the character in one consistent direction. Her descent into senility as a result of the stroke is amusing to a point, though. Seeing imaginary bugs (despite such obvious CGI) may be step one of a long process towards putting Jackie in a retirement home, which would be something that she really doesn't want. It's unclear if that's what Peter or Alicia would want.
This case had a nice progression to it. A college freshman was killed, drowned by one of his older teammates. The kid's parents are suing the university for failure to prevent a prevalent culture of hazing. Lockhart-Gardner represents this side, while an attorney named Andrews (John Glover) represents the university. There's a nice rhythm of give and take between both sides. First, the senior killed the freshman because he thought he was gay. Hate crime legislation is just starting to take shape so that lends a bit of real world credibility to the storyline. Once Diane and Alicia defeat that argument, Andrews moves to another one. It becomes a black-on-black crime, which seems initially to be the way Andrews wins the case. But given that Diane gets charged up by seeing the empty remains of the previously-occupied 27th floor of their office building, she cannot be denied on this one.
The verdict turns on the fact that the freshman was in a rival fraternity of the one the senior is a part of and that's what spurred on the drowning/hazing. Game, set, match. The firm gets a six million dollar settlement, which goes a long way towards keeping it out of bankruptcy. Diane is so pumped over the victory that she declares that they will take over Louis Canning's firm, then expand to Washington DC and New York. I don't know if she's serious on all of those points (maybe just going after Canning's firm), but it's a small treat to see Diane revel in a big victory.
One of these days, Lockhart-Gardner isn't going to keep this winning streak going, so that makes any victory they can get that much sweeter. The trustee could go right for the gut unexpectedly so Will and Diane have to load up on the cases that will help their cause. Reductions in office space have already begun (putting Cary and Alicia in the same office space provided some necessary comic relief for a pretty tense episode), and I get the feeling that isn't the end of it. For now, we'll just have to see where all of this is going to end up.
Score: 8/10