Contributor: Henry T.
Story by Shintaro Shimosawa
Teleplay by Shintaro Shimosawa, Eric Charmelo, and Nicole Snyder
Directed by Guy Bee
I don't think I've ever been so bored and confused at the same time with any show than this one. It's incredible how convoluted Siobhan's manipulation of her world is, and yet there's no visible way for me to care about what happens, or what the ultimate outcome may be. If she planned this out so early in time and the key aspect of it was that her twin sister (who's being pursued by a gangster/killer) assume her life, someone has to question why she would leave behind a bevy of secrets like bread crumbs for said sister to eventually find. This show works in strange ways, apparently. That description can also be applied to the Juliet rape subplot, which just proved that the show is completely off the rails at this point.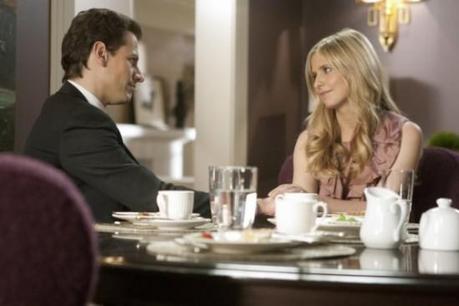 Siobhan basically lays out her entire plan to Henry in this episode. I can't say I'm real surprised by it, simply because it's the most logical action to move the plot forward. The real problem I have with it is that Siobhan has to go to such great lengths to explain her plan instead of getting things in motion. A lot of things have to go right in order for her to get away with stealing from her husband, and it seems the only discernible action that occurred in the episode was that Tyler called the SEC to investigate Andrew's firm. I'm wondering how the show will dramatize an audit of Martin-Charles to fit with the soapy tone they're trying desperately to emulate. Siobhan's long-term goal is still not within sight. She may not get too far if her twin sister succeeds in her investigation of Siobhan's secret life.
Everything Bridget discovers in her drive around New York with Siobhan's regular chauffeur isn't as big as the show tries to make it seem. I thought Siobhan's return to New York would give the plot some clarity or focus. I was wrong on that point. When we're with Siobhan, it feels like we're ten steps ahead of Bridget. Then the show switches to Bridget, and it feels like we're behind the plot because Bridget can't see the whole picture. The plot keeps spinning its wheels in place like this, and there's never a sense that it really moves forward. So I have to wonder if the actions of any of the characters will lead to something tangible. It all seems motivated by money more than anything else, which is a flimsy excuse for a show to build itself around.
Not that Andrew is going to have much money to throw around with what ultimately happened to Juliet in this episode. When it was revealed that the sexual assault complaint against Juliet's teacher was false, and that it was all a plan for Juliet, Tessa, and the teacher to get millions, I wasn't sure what I felt. I knew Juliet was lying through her teeth, but throwing two more people into that lie as a blatant attempt for a money grab confirmed to me that the show can't take anything that involves Juliet seriously.
The writers can't stick with something consistently when it comes to her, whether it's dabbling in drugs, or rebelling against her parents. What's next may involve murder, as it's a tried tradition to have no honor among thieves. Juliet might scheme with Mr. Carpenter to get rid of Tessa, then turn against her teacher. He did mention that they were restarting her trust fund again, and Juliet is going to want that for herself and not split up between other people. The show hasn't seemed brave enough to go down those kinds of paths with plots like these so the wait for the next bombshell to drop continues.
My enthusiasm for this show remains low. It would be nice if any of the plot points it presents built any sort of momentum. That just hasn't happened in a long time. It has all gotten so confusing, to my amazement. Siobhan has thrown her lot in with Henry, she's still upset with Andrew, which throws him when Bridget sees him later, and I am still unsure of where all of this is going. I think Bridget and Siobhan should meet face-to-face, have everything out in some big argument that blows up the current plot (which hasn't been working for a while now), and start all over. That would be more interesting than what's been shown on the air so far.
Grade: 5/10