Contributor: Gregg Wright
(Ed: I'm not sure what happened with this review; both Gregg and I remember it being on the site at one point, but it subsequently disappeared. Perhaps the site is now haunted? Whatever the case, here is a re-issue of the review!)
As any viewer of this show knows by now, every episode begins with a prologue showing us a double-murder committed in the house. This episode's prologue (which seems to differ from that formula in a couple of important ways) is, in my opinion, the best one yet. It's not often that you see a television episode begin with a chilling depiction of a school shooting. I liked that the director exercised some restraint by not showing any actual blood or gore in the shooting scene. It might have seemed a bit exploitative if he had, and possibly have had less of an impact overall. Regardless, I'm sure a significant number of viewers were offended by the scene anyway.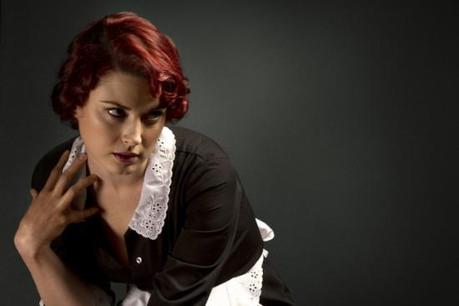 Something I'm really appreciating about this show is how well it seems to pace out its reveals. New information is doled out just often enough to make each new episode just as interesting as the one preceding it (if not more so). This was the perfect time to further explore Tate's history and his connection with the house, considering what was revealed and hinted at in the previous episode. Additionally, this is the perfect time to begin further exploring Violet's relationship with Tate and her unusually strong connection with the supernatural.
The scenes involving Tate and Violet were excellent. The suicide scene might have been my favorite scene of the show thus far. I'm still rather indifferent toward Ben and Vivien (though they both seem to play an important role in the mythology of the show), but Tate and Violet have both become surprisingly sympathetic and interesting characters. The acting is generally good in this show, but I'm surprised to find myself so impressed by the two youngest regular cast-members. Evan Peters has impressed me since the pilot, but Taissa Farmiga hasn't really had a chance to prove herself until this episode. And Tate is arguably even more compelling than ever.
Tate isn't even aware that he is dead, and isn't aware that he committed mass murder. Basically, the Tate we know is probably a lot like the Tate pre-shooting. It makes sense that ghost Tate would be suffering from severe psychological issues, but still has the potential to be a generally good person. It may be that the house itself caused those psychological issues, or at least may have contributed to whatever finally pushed Tate over the edge. But if Tate had had Ben's therapies/drugs and his relationship with Violet while he was alive, he might never have gone on the shooting spree that day.
The "Piggy Piggy" aspect of the episode was interesting, and ended with an unexpected, ironic twist, but I really don't know what to make of it in the larger context of the show. What does it add? Ben's client didn't die in the house, so he can't exactly come back as a ghost. The coverage of Vivien's baby seemed more obviously relevant. Constance seems aware that Vivien is going to give birth to some sort of demon baby (or perhaps the Antichrist himself, further strengthening the ties to "Rosemary's Baby"), considering the weird raw foods she's giving Vivien. Speaking of which, she must be in a really weird state of mind to actually want to eat those raw brains. The baby has that effect on her, I guess.
In the past few episodes, "American Horror Story" has quickly evolved into something far more interesting than what it initially appeared to be. The excessive genre homages and distracting camerawork/editing are both no longer a problem, and the intriguing mythology of the show has had a chance to unfold. Early on, the show felt like a big mess of ideas, which was more derivative and amusing than genuinely interesting. There was a lot that felt like weirdness simply for the sake of weirdness. But now I seem to grow more positive about the show with each new episode.
Rating: 8/10