Contributor: Henry T.
Written by Hank Chilton
Directed by Allan Arkush
Three episodes in and I feel like there is trouble brewing with this show. I watched this episode and it was at times maddening, frustrating, and dull, sometimes feeling all of that in one scene. It seems like the writers are still struggling to find out what works and what doesn't within the overall story. I don't know what to make of it. Siobhan's manipulation was supposed to be the saving grace from the plot with Bridget in New York. It seems they are going ahead with the piecemeal approach to that narrative, saddling Siobhan in Paris to seduce a random handsome guy who sits down at the bar she frequents. The Bridget side of the plot is, yet again, supposed to pick up the slack, but it struck me as uninteresting for the second consecutive episode.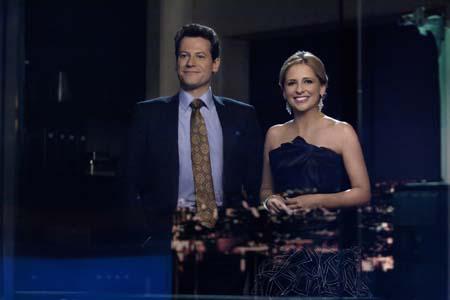 I know we're supposed to root for Bridget since she's the lead on this show. I'm not sure if it's the uninspiring writing or Sarah Michelle Gellar's stoic performance or a combination of both, but it's difficult to identify with a character as shallow as this one. It was mentioned in a previous episode that Siobhan's job is to sit on the boards of various charities. She doesn't do anything during much of the day. While she was trying on Andrew's customized dress, I had the thought that the overall plot of this show is one of a stylized fictional version of "The Real Housewives of New York", an absolutely abominable reality show. Siobhan and her friends and lovers are straight stereotypes of the people who populate that show.
Bridget continues to try to act like Siobhan, but came off looking and sounding like a woman who had just come out of a long coma. She doesn't act like Siobhan normally acts and the characters around her react with indifference. Sure, there's some drama involving Agent Machado and some perceived danger that she's in, but all of it is oddly cut short for no particular reason. We don't find out why the mystery guy wants the burner phone in Bridget's possession and the lone scene with her and Agent Machado is mostly for show. All of this is going on, yet it doesn't seem to register to Bridget. Would she be overwhelmed by all of the drama in her twin sister's life? That is a question that needs to be explored more as the series continues. Meanwhile, Malcolm is tortured by Bodaway and his thugs. That subplot is so completely disconnected from the rest of the episode that it felt like unnecessary padding.
I have to think the ultimate motivation for Siobhan to pull this con on her husband and twin sister is that she became bored with her rich lifestyle. She needed to play this game with everyone to jolt herself awake. Or that she really needed to get far away from Andrew, as indicated by her past visits to the divorce lawyer. Now that she knows about her impending pregnancy, maybe the writers can integrate her more naturally into the narrative. (Just no more icky shots like the one that ended this episode where it focused on a pregnancy test, please.) She can't hide behind fancy drinks and one-night flings with random guys.
Siobhan's manipulation game has to clash in some way with whatever mysterious game Andrew is playing. That's a good way to explore the subplot going foward. I have found that I'm really struggling to identify what the show's narrative thrust might be. What is going to move the story forward? Showing what a rich and perky lifestyle Siobhan/Bridget is living in right now feels really hollow. The repetitive flashbacks add nothing to the narrative. There's no style or verve, nothing so far for me to invest in. It also doesn't help that there seems to be only little noticeable emotional differences between Bridget and Siobhan. Give the characters more interesting things to do or I fear this series may never get to where it wants to go.
Grade: 5/10