Contributor: Gregg Wright
I can see why it would seem like a good idea to do a Mozzie-centric episode that explains some of his back-story. I can't be the only viewer who would occasionally wonder: just how the heck did Mozzie get this way? To a certain extent, I worried that giving away too much of Mozzie's history would destroy the mystique of the character. And it's possible that it will, in the long run. But it's impossible for me to say at this point.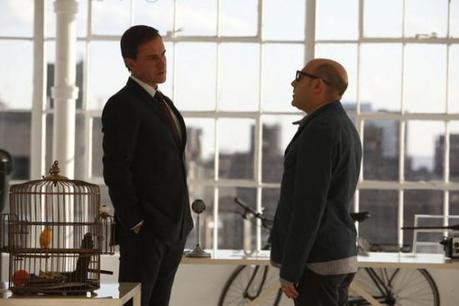 The flashbacks worked better than I might have expected them to. I liked the choice of giving them a slightly exaggerated feel, resulting from the story being told from Mozzie's perspective. I think it ends up actually adding to Mozzie's mystique. And somehow, at the same time, it gives Mozzie a pretty believable origin story. Mozzie was an orphan, initially, and ended up in the care of an Isaac Jeffries, who is played by Ernie Hudson in a disappointingly short scene at the end of the episode. Don't promise me Ernie Hudson in the credits and then give me such a short scene with him! I was hoping for a more substantial guest role, like Billy Dee Williams got last year.
I could say more about my continued disappointment with the myth-arc this year. But regardless of how I feel about it, the episode was probably the best of the season so far. It probably helped a bit that the case-of-the-week so directly related to a main character. Also, you know that one scene in which Peter and Neal have to fake an argument in front of everyone? Good scene. I think it highlighted the veiled tension between Peter and Neal better than anything else has so far this season. I like that their improvisation wasn't perfect, and that you're not quite sure if what they're yelling at each other is what they're really feeling or not. I had to laugh when Neal made the crack about Peter's "hot wife", and we see Peter's reaction to it. You can see "don't go there, Neal" firmly plastered on his face.
There's a somewhat sloppy attempt to infuse the episode with a theme that relates to the myth-arc, and it comes in a bit later than I would have liked. But an attempt is better than nothing. They've been vaguely pushing this theme since the start of the season, the idea that Neal and Mozzie have become more emotionally-connected with their current lives than they realize, but it's never really come through that well. It's not surprising that Mozzie is more sentimental than he lets on. I'd have a hard time imagining him leaving Neal at this point. The two are practically inseparable. So I think that whatever choice Neal ends up making, Mozzie will go along with it, eventually.
As I've said often enough, I'm still disappointed with the current myth-arc. I've mentioned that the relatively strong myth-arc was what kept the show from falling into the "generic procedural" bin, but that may not have been entirely fair. At its best, "White Collar" has also stood apart from other procedurals by attempting to give as many cases-of-the-week a personal-connection or some basis in character development, which is essentially what we got this week. It's worked for episodic shows before, like "The X-Files", which very successfully explored some current aspect of Mulder and Scully's psychological state in many of its stand-alone episodes. Doing the same thing with the Neal/Peter partnership would be a smart move. And tying that in with the myth-arc might make me more interested in said myth-arc.
Rating: 8/10