Contributor: Gregg Wright
Might this be the best episode of "Merlin" so far? Looking at the episode from a purely critical standpoint, it's not quite as strong as it could have been. And there are logic issues. But by this point in the show, and considering all of the great story choices, the resultant episode feels like a tremendous success. After the episode was over, I was extremely pleased at how much the show had progressed. A lot of it has been a long time coming. I would have preferred that more time had been spent setting up this outcome, but the result manages to be satisfying nonetheless.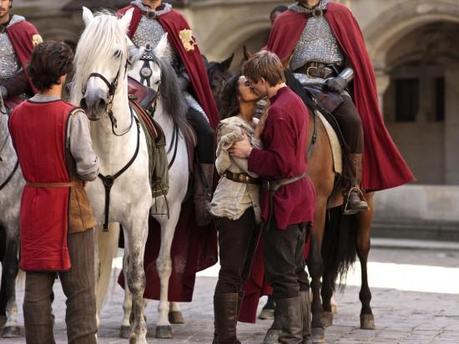 I've spent a lot of time in these reviews outlining my wishes for the show and explaining my disappointment at the show's apparent lack of direction. Or perhaps it's not so much the lack of direction, but how long the show took to actually go somewhere. What I really wanted was a heavier emphasis on the classic Arthurian elements, like Excalibur, the Lady of the Lake, the great reign of Arthur as King of Camelot, and his adventures with the Knights of the Round Table. I'm not enormously familiar with the original lore, but there are certain elements of it that have become rather iconic in the public consciousness. I've been very eager to see "Merlin's" story take on these famous elements and characters. But for the most of its run, these elements and characters have felt sidelined in favor of increasingly boring episodic plots.
So upon finishing my viewing of the episode, I practically breathed a sigh of relief and said to myself… "IT'S ABOUT BLOODY TIME!" If this season had ended with the promise of more of the same (much like the previous season finale), I don't know if I'd have been able to remain interested and keep watching. But since it didn't, I feel much more optimistic about the show's future than ever before.
I still think that it's taking far too long for Arthur to learn that Merlin is a wizard. But considering the fact that Arthur may finally end up ruling over Camelot, the possibility of this occurring is not as remote as it once was. I'd be very interested in seeing a shift in the official attitude toward magic take place in Camelot. Arthur is clearly still heavily influenced by his father's hatred and distrust of those with magic, but he is younger and much more open-minded than his father. And his growing respect for Merlin (which really needs to be emphasized much more greatly in the following season) would likely serve as the perfect catalyst for this change.
Of course, despite all the healthy changes taking place on the show, there is always the fear that the show will find some way to backtrack. It seems hard to believe that they could manage this, considering how strongly they seem to be pushing in a specific direction. So I'll remain optimistic. But the possibility of disappointment is hard to ignore completely, given how often "Merlin" has relied on unbelievable plot points to sabotage progress in the past.
Rating: 9/10