When I first heard that the producers behind "The Tudors" were coming out with a new series, I was very happy. I thought "The Tudors" was very well done, at least within the context of its premise, and the first season in particular was a deft example of audience manipulation. It covered Anne Boleyn's seduction of Henry VIII, but did so in a way that effectively seduced the audience in the process. It was potent enough to keep me invested in the series to the very end, though it never matched its first season glories.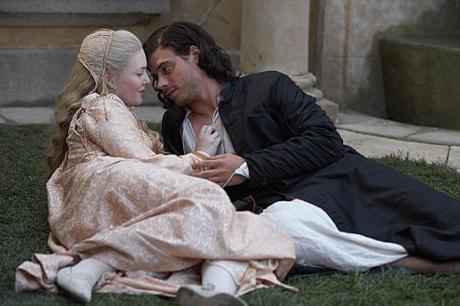 The Borgia family is at least as ruthless and cunning as Tudor-era politics, so it sounded like fertile storytelling ground. So why does this series premiere seem so plodding and directionless? It's all simple enough material: Rodrigo Borgia desires power, and that comes in the form of the Papacy. Rodrigo (soon Pope Alexander VI) sets up his family as either agents or pawns. His son Cesare is his main muscle, particularly in this episode. We are also introduced to the lovely Lucrezia, who is a bit closer with Cesare than perhaps she ought to be. (And given that this takes place in 1492, she's also older than she ought to be, which is probably for the best.)
While the general political machinations of the Borgias is legendary, it all has to start somewhere, so the rise of Rodrigo is the logical choice. It gives the writers a chance to show how Rodrigo wears the mantle of innocence and piety (however thin), letting Cesare do the dirty work and arrange the bribes, murders, and other various and sundry. It also introduces Rodrigo's main rival, Cardinal Rovere.
With Neil Jordan involved, this has a design and production quality that should be very familiar to his work. Like "The Tudors", it has excellent set production, costuming, and atmosphere. Jordan directs the premiere (and the follow-up, I believe), and it shows. Jeremy Irons also brings a presence to his subtle portrayal of Rodrigo. His maneuvers during Conclave and shortly thereafter are ruthless and entertaining.
Sadly, at this point, that's as much as I can praise. Jordan's style, while great for atmosphere, is also often slow and overly attentive. Some scenes seem to take forever to unfold. Cesare is so bland-looking that he practically blends into the crowd, even when he is the main subject of a scene; sometimes it's hard to remember who he is! Cesare is supposed to be a lot more powerful and commanding a presence, and he just doesn't come close at this stage of the game.
I'm also a bit confused by the portrayal of Lucretia. Let's face it; Lucretia Borgia is the legendary femme fatale, the scheming seductress! She's probably the best known out of all the Borgias for that very reason. Very little of that comes through in the premiere. In fact, there's little hint of such potential. I'm concerned that Lucretia will be played as an innocent thrust into an unwilling role, rather than an active participant. (Compared to Natalie Dormer's Anne Boleyn in "The Tudors", Holliday Grainger's Lucretia is not even in the running in the Best Seductress category!)
In essence, I'm hard-pressed to imagine that these Borgias were the ones that Machiavelli ultimately took as influence for his infamous book "The Prince". Nor are the seeds of future scheming and debauchery properly planted. "The Tudors", "Rome", "Spartacus", and even "Camelot" all outmatch "The Borgias" at the start.
Writing: 1/2
Acting: 1/2
Direction: 2/2
Style; 2/4
Final Rating: 6/10