I've been looking for a new morning cleanser to add to my Morning Skin Routine and was happy to try something from the 100% Pure line of skincare products. I like the fact that none of their products contain parabens, mineral oil, pertrolatum, sulfates, propylene glycol or behentrimonium sulfate. So I decided to try the Organic Lavender Seafoam Facial Cleanser.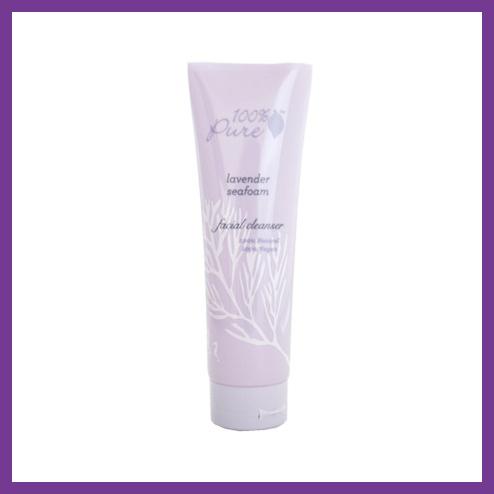 100% Pure Organic Lavender Seafoam Facial Cleanser (3.5oz) $17.50
Ingredients: Seaweeds (Kelp, Sea Lettuce, Spirulina),Green Tea, French Green Sea Clay, Saponified Coconut Oil, Vitamin C (ascorbyl palmitate), Vitamin E (a-tocopherol), Sea Buckthorn Oil, Rosehip Oil, Extracts of Pomegranate, Grapefruit Seed and Rosemary, Lavender Essential Oil, Extracts of Cinnamon, Thyme, Goldenseal and Oregano
This product is vegan, gluten free and all natural. It has the consistency of a very thin clay mask. It foams only slightly, but does clean thoroughly and a little of this product goes a long way. My face doesn't feel overly dry after I use it, but I still wouldn't skip the moisturizer. I do like the light lavender scent and as well as the company's commitment to all natural ingredients. The only thing that I wish is that it was a little cheaper. The good news is  a little goes a long way and the bottle should last me a while.
RATING: 4 Smart!* – Great product, great ingredients, great results. Wish it was cheaper.
You can buy this product here.
*Savvy Ratings: 5=Savvy 4=Smart 3=Suitable 2=Satisfactory 1=Stupid
• Have you ever used this product? What do you think?