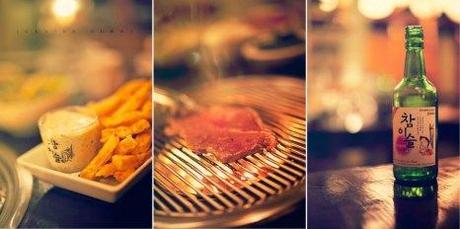 photo by Claire Gunn, printed by the (sort of) permission of Coenraad Groenewald
"I would say, I haven't earned a single cent since I've been back from Korea," sighed Coenraad Groenewald, owner of Galbi Alley, a Korean Barbeque restaurant in Cape Town, South Africa. As I rummaged through my papers, desperately seeking a new angle, the cynicism continued. "Sometimes you think, maybe I should just run away. But then you've made a bit of debt. You've signed contracts and leases and it's like this big block around your neck. Then you don't get customers and it's like; oh, fuck!"
As we chatted away pots clinked, customers chattered and the usual noises of a restaurant in full flow filled in the background at Coenraad's end. I had, rather naively, assumed things to be going swimmingly for my friend and expected Galbi Alley to be bathing in loot. Instead, I was surprised by Coenraad's initial pessimism and riveted by the difficulties of exporting Korean Culture to the West.
Escape from the ESL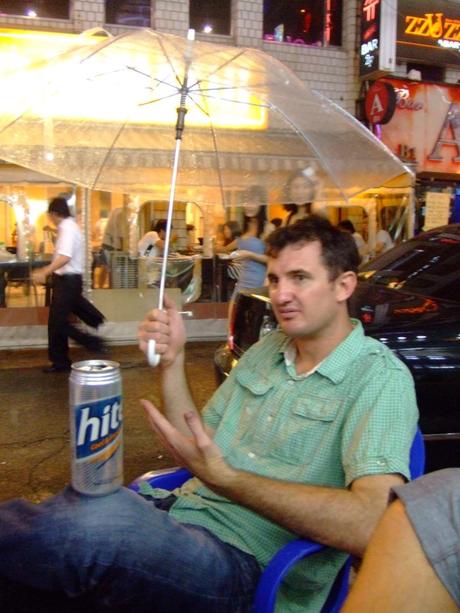 Coenraad, back in his beer drinking days
Coenraad Groenewald and I have known each other since 2009; back when we both taught English at a couple of heinous after-school hagwons in Busan; South Korea's second largest city. Two years had passed since I'd last heard the zealous consonants and fragile vowels of his South African accent. In the intervening years Coenraad had returned to his native South Africa with a bank account bursting at the seams (two and a half years of remorseless saving will see to that!). Collating his finances with long term buddy Lewis Smit, they set up the restaurant Coenraad had had knocking around in his brain these last few years. Together they paid for, set up, got into mountains of debt for and ran the restaurant they named Galbi Alley.
Like many finding themselves a few years deep into teaching English as a Secondary Language (ESL), Coenraad began to wonder what to do with his life. "In the back of my head, I always knew I couldn't do the ESL thing forever," explained Coenraad. And so in his second year illuminating Korean kids in the beguiling ways of English, he began contemplating on what, if any, successful Korean business concepts he should take home with him. With a wealth of singing rooms, beer marts, PC rooms, PlayStation rooms, spas, saunas, indoor screen golf and a tonne more kooky Korean concepts to chose from, he eventually settled on the Korean barbeque experience.
When one clambers into a Korean barbeque place, sits down, places an order, and after nursing down a few shots of Soju (a highly processed alcohol), one is served up strips of raw marinated beef/pork. It is then down to the customer (i.e. you) to grill their own meat on the barbeque centred in the middle of the table. Once the meat is scorched to the predilection of the diner, it is then dipped in a chilli sauce, wrapped up in a lettuce leaf and chowed on down. "Hey," exclaimed Coenraad upon his revelation, "this concept isn't in South Africa, and (we) like barbeques. There might be a gap in the market."
Build it and they will come
But setting up a business, let alone one with the maverick concept of 'cook your own food' is no easy feat. "I didn't expect it to be this difficult to be quite honest. I wrote a solid business plan before I started. It did help, but it was a totally different environment over here."
Back in Korea you'll occasionally find the most ramshackle of a restaurant, sat in an eye sore part of town inconceivably busy. "Exactly," agreed Coenraad with this observation. "You know in Korea, if you open a BBQ place and you have sexy girls dancing outside the doors; you have a little balloon man with his flapping arms; you have a blue truck with speakers blaring 'Free (meat) tonight,' you're in business. It's a completely different environment out here."
It may have worked in The Field of Dreams and also, it seems, in South Korea but the "Build it, and they will come," marketing strategy is ineffective elsewhere. "I wished I'd actually done some market research," Coenraad confessed. "In Korea a lot of people commute. There're always people on the streets. And here people go from their cubicles, get in their cars and go home. I wasn't really prepared for what I had to do this side. The only marketing we've done is make sure that our service and products are good and hopefully, (our customers) will recommend their friends."
Slapping into shape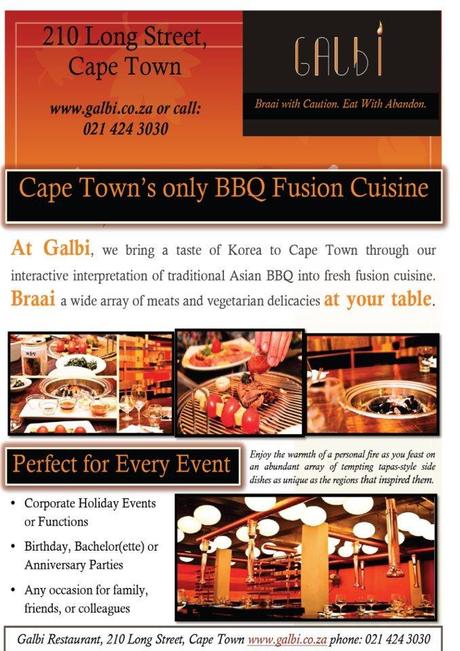 Promotional gear
As it turns out Galbi Alley isn't the first Korean Restaurant to struggle in Cape Town. "I found out recently," he recounted, "that another Korean restaurant failed before because they didn't adapt to the South African Market. You know, putting up a fish tank and a TV on the wall doesn't make you a restaurant here," as it seems to do in Korea.
With this in mind, the boys knew something had to change and if they hadn't, according to Coenraad, they would have been out of business long ago. So the boys moved away from the whole traditional Korean image and instead embraced 'fusion'. "We've got ostrich, kudu and warthog, as well as the more traditional Korean beef. We play around with all different kinds of exotic meats. It's fusion, but we're keeping the Korean part of it."
However Galbi Alley still had a few more culture edges to slap into shape. One of these was the fervent roar of 'Annyeong Haseyo,' aimed towards customers as they waltz through the door – as is how customers are greeted in Korea. "I made a couple of mistakes in the beginning," explained Coenraad. "People would come in and I would say, 'Annyeong Haseyo'. But they were like, 'what?' or 'no, no, no, we're from China. So I'm not doing that anymore."
Of course no self-respecting restaurant claiming to be Korean in any way would be complete without the country's most famous and beloved fermented cabbage side dish: Kimchi. "After a bit of research," said Coenraad making it all sound so easy, the boys are now, rather amazingly, making their own, and "it's doing really well. We're even getting Koreans coming in to buy our Kimchi."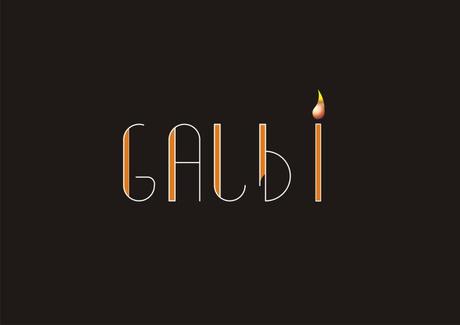 Chic
Money might be tight, but it's the positive feedback that keeps Coenraad going. "Nights when everything runs smooth, there are compliments from the customers and everyone's just enjoying themselves is just really awesome. Maybe one day when the money starts coming in that'll be good too. But I don't really know what that's like at the moment."
The barbeque concept is proving popular with Capetonians and the future, Coenraad insists, "is looking bright. Every month is better than the last. Our weekends are getting pretty busy now and we're picking up actually. I feel a little more confident as to where the business stands." Perhaps Galbi Alley has finally overcome its culture shock, and things will not only begin to run more smoothly, but also the money will soon follow.
A note from the Editor-in-Chimp: I would like to thank Coenraad for his time and apologise profusely for the absurd  time it has taken me to post this article. You the man Coenraad!