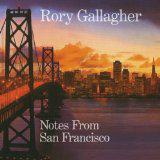 Rory Gallagher - Notes from San Francisco
When Rory Gallagher died from complications following a liver transplant in 1995 at only 47 years old, the music world lost one of its most influential and respected guitarists. Hendrix rated Gallagher as one of the best guitarists in the world and many others like Brian May, Eric Clapton, and The Edge cite him as an influence.  This posthumous two CD release from the Irish guitarist archives features a studio album of previously unreleased material recorded in 1977 which finds Rory in fine form tearing through some fiery blues rock cuts like "Persuasion", "B Girl," and "Wheels within Wheels."  This material is excellent alternative versions of songs from his Photo Finish album and elsewhere.  None of this material had ever been released before and its well worth the price of admission to hear this amazing guitarist doing his thing.
But the real treat of this release is Disc Two which consists of a massively energetic live concert recorded in December of 1979 at The Old Waldorf in San Francisco.  Here it's all put out on display.  Rory could play with the best of them and possibly blow the best of them away.   His command over his six-string is awe-inspiring.  Just listen to him cut loose on "Off The Handle," or feel the intensity of the band reaching the boiling point on "Shinkicker."   All the way through, Tte live album is a smoker.  This really shows what Rory was all about.   The solo at the end of "Tattoo'd Lady" is three minutes of mind boggling, all out Rory Gallagher guitar bliss that must have left the audience breathless and sweating in a post-orgasmic flush.  And the whole recording is of very good sound quality for a 1979 live album.  If you love guitar heroes in the truest sense of the word, you can't go wrong here.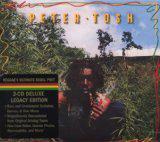 Peter Tosh - Legalize it (Legacy Edition)
Peter Tosh was a galvanic performer and rightful legend of reggae, second perhaps only to Bob Marley with whom he shared a band, The Wailers, and essentially created the music we know as Reggae.  Released thirty-five years ago Legalize It, was Tosh's first album as a solo artist, hitting the stores immediately following the breakup of the Wailers, about the same time Bob Marley released Rastaman Vibration and Bunny Wailer Blackheart Man--and, to me,it has all these years seemed inferior to those two classic records.  While it contained some classic Tosh ideas and protests, it lacked the sharp observation and dangerous edge that Tosh would find with his masterpiece,  Equal Rights.
So when I heard that both Equal Rights and Legalize It were being released as two-disc Legacy Editions, I was clamoring for the former and not so interested in the later.  Equal Rights will get reviewed soon, but today we're gonna focus on Legalize it, in all it's new found glory.   The two CD set is a plethora of Tosh.  CD one presents the original nine-song, 38-minute album, followed by demo versions of seven of the nine songs, all previously unreleased. CD two then presents Tosh's own previously unreleased original mix of the album, the way he was sending it out to major record labels in 1976. Those nine tracks are followed by a previously unreleased alternate version of the title song, and then six extremely rare dubs, only one of which ever actually made it onto an album ("Igziabeher").
Seen today, Legalize It is a legitimate album in Tosh's catalog.  "No Sympathy," trods down the hard-edged, bass heavy, dub-style Tosh would explore so effectively on Equal Rights.  "Igziabeher (Let Jah Be Praised)" should be a true classic of devotional reggae with it's massive bass line and intricate piano runs.  Tosh is in fine voice, his rough tenor finding a truly impassioned vein of a man releasing himself to his spirit.  Other songs like "Burial" ""Whatcha Gonna Do," and the title track might seem a touch lightweight in comparison to Tosh's later offerings but still are strong, easy roots songs.
The demo versions are always a treat, and mix on the Jamaican version actually adds more depth to the album, bringing the vocals into a predominant role.  Just listen to the Jamaican version of  "Igziabeher" and feel the drama in Tosh's voice, with so much more edge than on the original US mix.  In the end, Legalize It has gone on to prove that it doesn't deserve to live in the shadow of Equal Rights.  While not the bonafide classic of Tosh's second album, it's a very strong and enjoyable roots album in it's own right.   And with the bonus material and original Jamaican mix, this is the version to buy.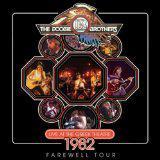 The Doobie Brothers - Live at the Greek Theater 1982
You may not think that a site that reviews Corrosion of Conformity and Henry Rollins would bother to write about seventies smooth rockers, The Doobie Brothers, but I grew up with the Doobies and they'll always hold a special place in my heart.  Maybe it's because I'm from the Doobies hometown in the Bay Area, but no pre-football game beer party ever took place without "Listen to the Music," or "Black Water" or "China Grove" playing on the Camaro's car speakers.   Now, admittedly, I'm a much bigger fan of the harder rocking, more southern jamming style of the early Tom Johnston-led version of the band, than I am the much slicker AM radio ready Michael McDonald years.  But still, the Doobies are the Doobies, so when I got the chance to hear this Live album release from their last tour in 1982, I wasn't gonna pass.
And I'm glad I didn't.  Playing before a revved up hometown crowd at the Greek Theater at the University of California, Berkeley, The Doobies tear through a set of their greatest hits sounding far from a band that was on the verge of breaking up.   With Patrick Simmons still leading the way, the band rips through some cooking versions of "Listen to the Music," and "Rocking' Down the Highway," and "Long Train Runnin'"  With these old classics, all penned by Tom Johnston, it's easy to remember just how good the early Doobies were.  Groovy, rocking, melodic.  These songs had it all.  Sure they might not have been heavy, but they fit somewhere between the Eagles, BTO, and the Allman Brothers with great playing and choruses you could sing all day.  "Black Water," is rightfully a band classic, and I still dig the laid-back Mississippi vibe, slack guitar, and accapela breakdown.  And then there's "Jesus is Just Alright," a Doobies classic that I can never get enough of, with it's heavier riff, killer harmony vocals and sing-forever chorus.
Even the Michael McDonald stuff gets a good spin here, sounding surprisingly vibrant live, away from all the studio gloss.  As an added bonus, original Doobie, Tom Johnston comes out on stage to play the closing with the band, tearing through another version of "Listen to the Music."  Good stuff.  A companion DVD of the whole show adds the visual fun to the music and makes it clear why The Doobie Brothers really were one of the mainstays of early classic rock radio. 
--Racer