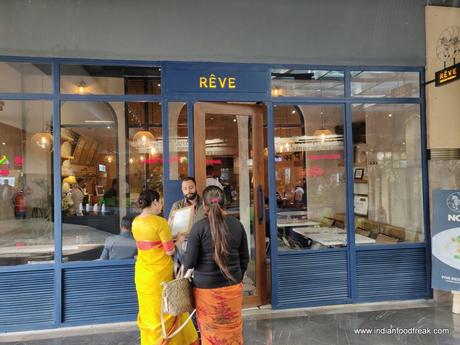 Aerocity can easily be termed the Hotels city and it is the one stop destination for travellers, given its close proximity to the international airport . Once a hotel hub it is now also becoming a hub for stand alone restaurants. A visit here is convenient to people traveling from both Gurgaon and Delhi and even if one has to drive through traffic all seems worth it with the liveliness around. With coming of the Worldmark buildings that houses corporates, various restaurants, outlets for shoppers etc there is an added buzz to the locality. A visit to 'Reve' meaning dream in French is what brings me to Worldmark 1 today and I realize this is also the only building there with a food court. Reve is a French cuisine restaurant with modern touches added to a few dishes.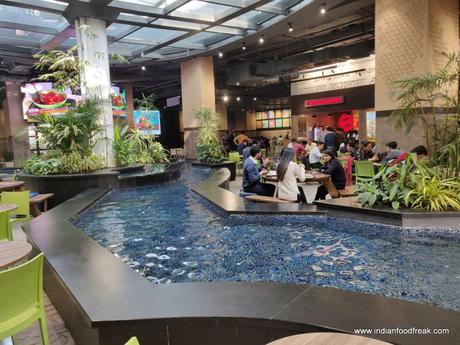 Located at the lower ground of the building Reve looks dreamy, true to it's name. The interiors wear an authentic non fussy look and one instantly feels that French Connect. High ceiling, rustic walls, wooden columns, glass frames, glass pendant lights giving a chic look which is typical to French setting. With seating capacity of approximately 40 people the restaurant wears a warm and cosy look with music that is apt to the ambience.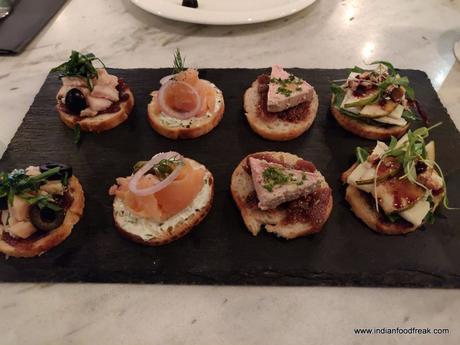 Bon appetit ! The meal begins on an excellent note with a Canape platter consisting of heirloom tomato and boursin, brie and caramelized pear, smoked chicken, caramelized onion and goat cheese, liver parfait and fig jam, fig and onion jam. The small baguette slices are toasted well with the tasty toppings, each one appealing to the taste buds. Me and my friend thoroughly relished this platter. Roasted cauliflower soup follows next. Cauliflower has been roasted in the oven and combined with candied walnuts and blue cheese crumble. All the ingredients gel well here with flavours complimenting each other.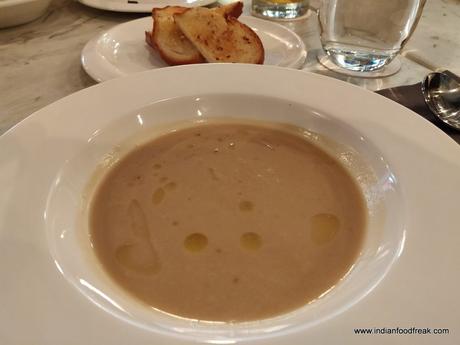 Chicken cordon bleu bites are presented in their modernised version. These smoked ham, gruyere (a tangy cheese), dijon mustard bites have an excellent crispy layer which has a double coating of flour, egg and bread. Salad nicoise which originated in the French city of Nice is a salad that appeals to most palates with tuna, beans, nicoise olives, potato, soft boiled egg, red onion and cherry tomato as the ingredients.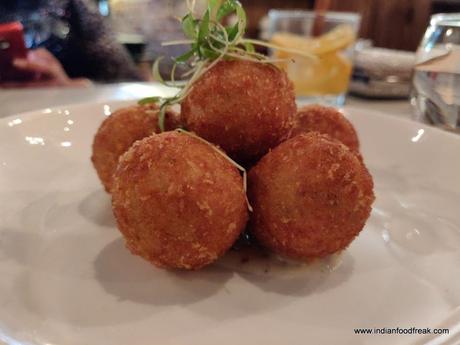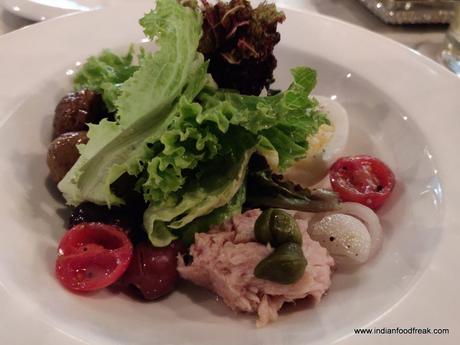 Mushroom pissaldiere is the restaurant's take on pizza to cater to the Indian palate. French flat bread with tossed mushrooms, artichokes, gruyere, onion topped with truffle olive serves as a lovely eat that would be quite relished by children too. Mille feuille (layers of flaky filo pastry) is typically a dessert. But Reve serves it as a savoury dish with roasted pumpkin, goat cheese, pumpkin puree and Walnut. It is probably the only dish I would not order again on a next visit even though i like the flavours as it was very cumbersome to eat.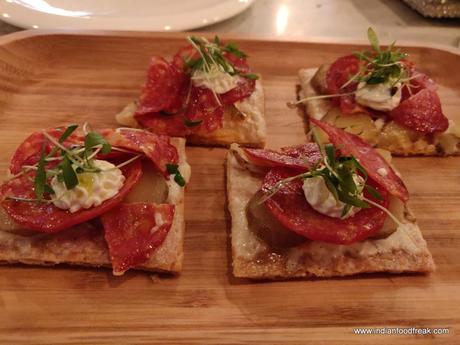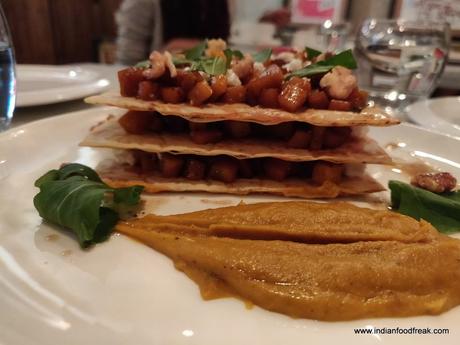 Le Dessert: The end of the meal was as good as the beginning of it. Vanilla custard profiteroles with kiwi and sweet lime gave a couldn't get better close to the meal experience. 'Reve' is a must visit and I for one am certainly going back there again very soon.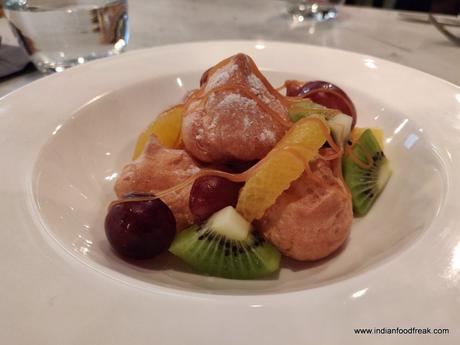 Ratings (Out of 5)
Food: 4.0 | Ambience: 4.5 | Service: 4.0 | Overall: 4.0
Meal for Two: Rs 1500 | Wheel Chair Friendly: Yes | Credit Card: Yes | Alcohol: Awaiting License
Address: R- 2 , Worldmark 1, Lower ground floor, Aerocity, Indira Gandhi International Airport, New Delhi 110037 | Phone: 011-40396708
Disclaimer: This review was done on an invitation from the restaurant. Due judgment and care has been applied by the author to remain objective and unbiased in the review, but readers need to consider this review keeping this fact in mind