Being eco-friendly doesn't necessarily mean to look colorless or impersonal, and the following reusable bags prove it "eloquently".
Due to the noble idea they have been made for and the vibrant colors they have, these reusable bags create such positive vibrations and mood that made me fall in love with them at first sight.
When I wear them, they provoke smiles, compliments and conversations about why we need to go for reusable bags and usually make my eco – consciousness very "contagious".
The Reusable Bags I Love
Envirosax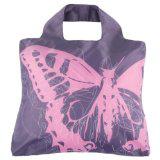 This company offers a great variety of stylish reusable grocery bags that are strong (can hold the equivalent of two supermarket plastic bags), washable and eco-friendly. They are usually made of organic, natural, recycled or reused materials.
This Butterfly Bag (on the image above) is made of polyester, but I still call it eco-friendly at least because it is reusable and will surely replace thousands of plastic bags over its life.
There are a few more things I like about this brand:
- the beauty of Envirosax bags makes them "multifunctional". I use mine for groceries, books, gym clothes, kid's toys, and even for going to the beach;
- their reusable bags make a very practical and fashionable gift;
- they have a fun series of reusable bags for kidsthat can be a good chance to teach and motivate them to re-use.
BUILT Gourmet Getaway Lunch Bag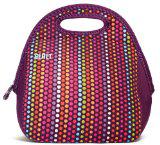 BUILT reusable bags are made with neoprene rubber fabric (vinyl and lead free). They are washable, stain-resistant, protective, insulating (up to 4 hours) and foldable. You can find them in as many patterns as you can possibly imagine.
Looking so smart and fashionable, my BUILT bag has an equal success when used for the office, the beach and when traveling.
Deluxe Organic Cotton Reusable Bags by Simple Ecology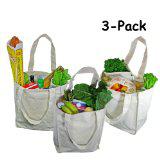 Though these organic cotton (GOTS certified) totes do not have the colorful patterns of the above reusable bags, they worth being mentioned here due to their interior dividers (including bottle sleeves), sturdiness, durability, and very simple (no-advertisements) look. I use them for groceries, bottles, my laptop and as a gift.
Why Choose Reusable Bags?
- nearly 380 billion plastic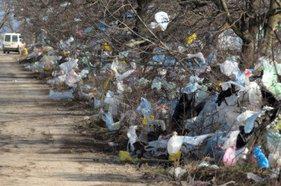 bags are used in the US every year. This is more than 1,200 bags per person, per year;
- Americans use more than 10 billion paper bags per year. To produce them, approximately 14 million trees are cut down every year;
Do you want more facts?
- plastic bags are often mistakenly ingested by animals, which results in death;
- paper bags carry high water, energy and pollution costs.
And we are not over yet…..