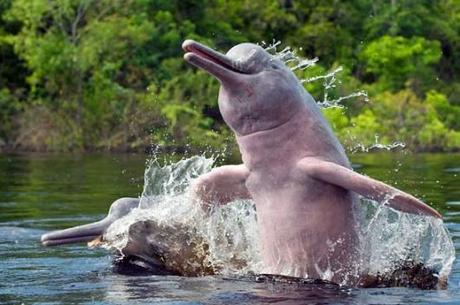 Last year parts of the Amazon rainforest were enduring one of the worst droughts in history. The levels of the river were at record lows and the wildlife in the area was severely affected.
The population of pink dolphins in a remote part of the Peruvian Amazon was reduced by nearly half as the water in the Samiria River fell dramatically. Along a 12 mile stretch of river the population of 250 fell to approximately 140.
However since the drought recovery, conservation experts have discovered that many of the species have recovered much faster than anticipated. The pink dolphins themselves have seen their numbers increase by 10% compared to last year.
Pink dolphins are regarded by conservationists as something of a phenomenon, their colour for example cannot be explained by anyone. They are also the only species of dolphin to be able to move their neck horizontally as well as vertically.
Like their distant cousins the sea dolphins they are described as curious and intelligent. They evolved after their ancestors became trapped between 10 and 20 million years ago as their region of the Amazon became an inland sea area.
If you want to get involved with some marine conservation then why not get in touch and see how you can make a difference.