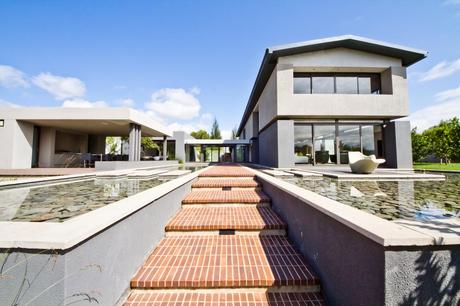 Visitors approach the home via a brick walkway, which is flanked on either side by shallow, rock-bottom ponds.
Located not far from Johannesburg, South Africa, the Blair Atholl Estate is a residential community structured around outdoor recreation, from its mountain bike trail to the golf course designed by retired pro Gary Player. It makes sense, then, that Peet and Hanli Snyders' house, located on the banks of a river that winds through the development, also revels in nature.
The topography makes the property feel like "a world within a world," according to Peet. Visitors must park on a slope and then descend toward the house, which is almost invisible from the road. 
The residents asked architects Johan Wentzel and Grete van As of W Design Architecture Studio to let the surrounding environment inform the design. The nearby Crocodile River is referenced by a shallow pond, which casts shimmering light into the home. Windows in the bedroom and bathroom are positioned low to make it appear as though the outdoors flows directly inside. An indigenous grass–planted roof, equipped with a drip irrigation system, finishes the house.
The Snyders' sanctuary thrives on this balance of nature, according to Peet: "You can hear the river, but not see it, the wild grass grows on the roof, but not on the lawn."