08/23/2011 – by Cynthia Wright
It only took how many years (and his retiring) but retired NBA All-Star Tim Hardaway has decided to come out in support of LGBT rights.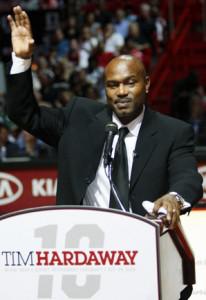 Courtesy of Sports Illustrated
In an event sponsored by the "No Recall" group, Hardaway stepped up and delivered a speech that discussed why everyone should be allowed to have domestic partner benefits.
Excerpted from Sports Illustrated:
"It's not right to not let the gays and lesbians have equal rights here. If I know El Paso, like they came together when the 1966 team won a championship and Don Haskins started those five [black] guys, I know the city will grow and understand that gays and lesbians need equal rights." (Hardaway was referencing UTEP's 1966 national championship team when coach Don Haskins' all-black starting five made history by beating Adolph Rupp's all-white Kentucky squad.)
Hardaway – who knows a thing or two about denouncing LGBT rights being that only four years ago, he openly discussed his hatred of gay people on a Miami radio show. A backlash soon followed with Hardaway apologizing and promising to go to therapy. At the time, most felt that Hardaway was trying to not ruin his image completely but most feel that last Thursday's outreach is probably truly genuine.