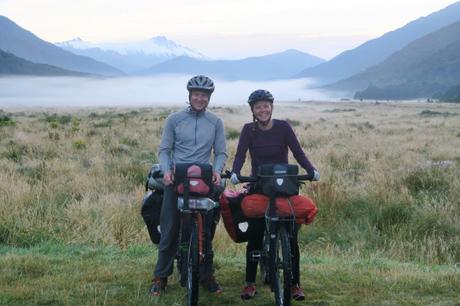 I haven't written in a while because I haven't been taking pictures. And I haven't been taking pictures because it didn't feel as if I would be telling the whole story. A week along the west coast of New Zealand represented an accumulation of frustrations that we have experienced throughout the country – a lack of dirt roads or alternatives to busy highways, crowded camping, and the sheer numbers of tourists absolutely everywhere – and though the region was geologically fascinating, with glacier covered mountains just meters away from the sea, we had a hard time enjoying it. 
New Zealand is busy, busy in a touristic way I couldn't have even imaged possible. There are camper vans parked on every street corner, hundreds in every campsite, and thousands every single day on the road going every which way. It can be hard to even meet a local in so many towns (at least down here in the South Island) as the number of tourists far exceeds the number of locals. In fact, statistically there are more foreigners a year who come to New Zealand than the actual number of residents. And we too are tourists, adding to those numbers.
Freedom camping is illegal in most areas of New Zealand as the sheer numbers of campers would quite literally destroy the place, and though this is perfectly understandable, is does take away our favorite part of cycle touring; finding a totally isolated place high on a mountain or down by a river to cook dinner, watch the sunset, and fall asleep as the day turns to night. Instead, we find ourselves camping among dozens (and sometimes hundreds) of others all crammed together, sometimes literally only a foot or two away, and since a vast majority of the camper vans are driven by those under 25 (with a large percentage being 18/19 year old Germans) it's quite common for someone to be playing their music at midnight. 
After speaking with multiple other cyclists who cycled throughout the country ten or twenty years ago they all say the same thing – it didn't use to be like this, and they won't be coming back again anytime soon.
We are disappointed by the lack of dirt roads or highway alternatives as we had been lead to believe that we could do much of the country following a route – the Aotearoa – described as "similar to the American Great Divide." After a week or two along it we figured out it wasn't anything like the true dirt road/single track mountain biking great divide of the U.S. so we have been creating our own route ever since, though, out of necessity, we have ended up back on it many times. We aren't the only ones who feel mislead either. We have met a dozen or so full suspension mountain bike/fat bike bikepackers expecting mostly dirt roads/single track who are thoroughly unimpressed. Though there are a handful of really wonderful mountain bike routes, the reality includes a whole lot more paved busy highways than any of us could have imaged.
We are spoiled. After cycling through the Andes and the Himalayas we have high standards, especially when it comes to free camping in beautiful places and high difficult passes on quiet roads through the mountains. And it certainly hasn't all been negative. We loved the Molesworth station and St. James route in the northern part of the South Island, as well as many different sections of the North Island (which we now realize is much less busy). And the country is visited by six million people every year for good reason; it really is beautiful, the kiwis really are incredibly friendly, and there really is a lot to do in terms of outdoor adventures. And the rivers. The rivers are stunning. I have never seen so many clear, clean, colorful rivers in my life.
If someone was to ask, we wouldn't recommend cycle touring New Zealand, not in the traditional way anyways, but with a self-contained camper van (self-contained vans can camp for free whereas nobody else can), packrafts, a backpacking backpack, and mountain bikes with a bikepacking set up we think New Zealand would be a great country to visit during the off-season. From April – December there are multiple trekking routes which open up to mountain bikes, plus, all of the other trekking routes see a huge decrease in users meaning you would actually be able to find yourself a bit of solitude. With a self-contained camper van you would be able to pull off and camp in a whole lot more places, plus, you would be able to drive between the mountain biking loops where riding isn't all that great anyways. And with packrafts you could explore (and fish!) all of the breathtaking rivers throughout the country.
Since we are lucky enough to be here, spending time together on an extended vacation doing what we love, we are most certainly going to make the most of it even if it isn't what we had expected. Along the west coast we figured out that by waking up at six we were able to enjoy the ride for a few hours before the herds of camper vans began their daily migration, and I have begun trail running before or after our rides which has allowed me to explore trails without a single other person on them, and watch sunrises or sunsets from various scenic locations. We are also planning out our next month to include some mountain biking routes, as well as some other adventures that should take us much farther away from the traffic (there will be packrafts involved)!
The only three pictures I took this week: us at sunrise enjoying the mountains and momentarily quiet roads (at the top of the page), a photo (no added color) which shows one of the amazing sunsets we got to witness, and a random mountain who happened to get his photo taken.