JAWBONE STATION – A very large, impassioned and concerned crowd filled Jawbone Station's conference room during a three-hour townhall-style hearing on Wednesday.
The subject: the Fremont Valley Preservation Project proposed by AquaHelio, LLC and its impact on the water supply in the Cantil region.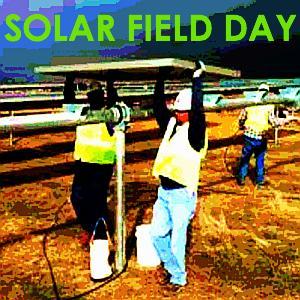 More than 150 people tossed questions and threw out concerns and theories as county planning officials and AquaHelio representatives attempted to provide answers and took comments.
The Fremont Valley Project is a solar, water banking and water extraction plan on 4,800-plus acres in the Cantil area of Kern County. The plan calls for building photovoltaic solar fields on four sites, banking up to 220,000 acre-feet of water per year into the ground basin, and extracting up 114,000 acre-feet per year from the native groundwater.
Lorelei Oviatt, Kern County's planning director, and her planning chief, Craig Murphy, kicked off the meeting and were quickly met with questions.
Murphy said the plan initially began as a solar project, which would generate up to 1,008 megawatts of energy. As the ball got rolling on starting an environmental impact report — required under California Environmental Quality Act — AuqaHelio added in the water banking and water extraction elements.
Three separate elements exist in one overarching project — more than 7,000 pages long with its addendum.
The county circulated its notice of preparation for the draft EIR in November 2012, and more than a year later, completed the first set of response to comment phases. The draft EIR hit the county planning commission on Dec. 26, and was continued to Jan. 23.
The project goes before the Board of Supervisors on March 18. Oviatt said that the project initially was planned for a Feb. 25 date before the board, but will be pushed to March to consider additional information.
Oviatt said up front that she would recommend the project to the county planning commission — with a set of conditions.
"After the planning commission makes its decision, its recommendation then becomes mine as I carry it to the Board of Supervisors," Oviatt said.
Most residents in attendance were concerned about the water extraction and the water banking — two elements that conjured up serious concerns in a region where water is a scarce resource.
Some residents challenged how Oviatt could "objectively recommend this project when it was still in its beginning stages."
Oviatt responded by stating her recommendations were in the staff report for the Jan. 23 planning commission.
"I have made a recommendation based on the evaluation of this project," Oviatt said. "I have no financial interest in this, own no stocks or bonds … I take into account jobs and other things the Board of Supervisors tells me to look at."
Full story by City Editor Jack Barnwell at ridgecrestca.com.
* * *
The project's Environmental Impact Report can be viewed online at pcd.kerndsa.com/planning.