The Obama presidency began on a promise of being the most transparent administration ever.
The reality, like every promise of "hope and change" from this president, turns out to be quite different. Instead of transparency, the Obama administration is opaque and hostile to the Constitution's First Amendment promise of a free press.
Months ago, on March 21, 2014, New York Times' foreign policy reporter James Risen had called the Obama administration "the greatest enemy of press freedom that we have encountered in at least a generation," warning that the White House seeks to control the flow of information and those who refuse to play along "will be punished."
The latest incident of non-transparency happened last Monday, Sept. 29, 2014, when Michael, oops, Michelle Obama was in Minnesota to stump for Wisconsin Democratic candidate for governor Mary Burke.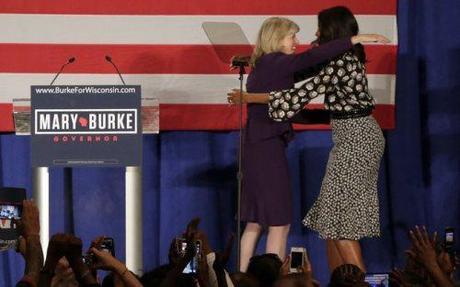 Mary Burke and Mooch embrace
Meg Kissinger was at Mooch's speech, reporting for the Milwaukee Journal Sentinel, Wisconsin's well-known newspaper. Kissinger took to her Facebook page and Twitter to describe what happened.
She said aides for both Mooch and Burke banned her from talking to members of the crowd.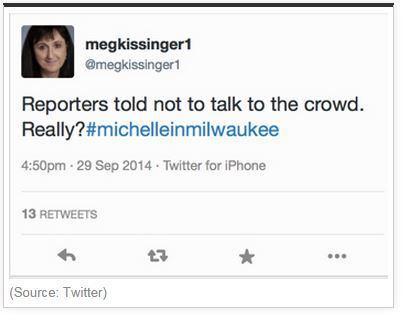 Kissinger also reported the ban in her article for the Journal Sentinel:
At the Burke event, a number of people in the crowd were upset about a lack of seating. Several people, including a woman using two canes, complained that she had nowhere to sit.

Reporters and photographers were cordoned off in a central area with chairs and tables. Several people in the crowd asked if they could have extra chairs reserved for the media — but reporters were initially forbidden from handing them over. Eventually, some of the Burke staff gave the extra chairs to attendees.

Burke and White House staff also told reporters not to talk to people in the crowd before the event.
Makes you wonder what Mooch and Burke fear would be revealed if reporters talked to the crowd . . . .
Note that Kissinger, despite feeling "creeped out" by the ban, did not protest. Instead, like the good sheep she is, she obediently complied.
Baaaaaa!
What good is the First Amendment's promise of freedom of the press if the press willingly muzzle themselves?
Such is the state of the Fourth Estate in Obama's Amerika.
So much for the check-and-balance role of the free press as envisioned and institutionalized by our Founding Fathers.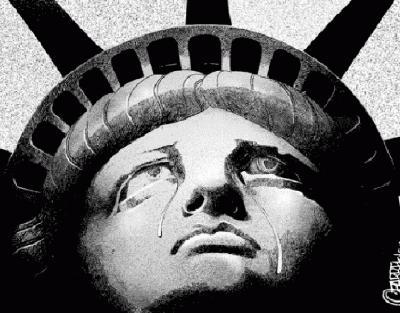 H/t The Blaze
~Eowyn