Small businesses have a crush­­­—and it's for Valentine's Day
The holiday for sweethearts, with roots going back to ancient Rome, certainly showered businesses with love in 2014—to the tune of $17.3 billion in revenue, according to the National Retail Federation (NRF), a trade advocacy group.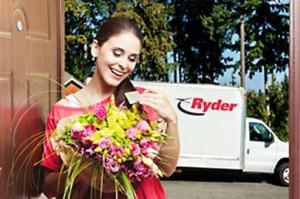 Fast forward to 2015, and many small businesses stand poised for an even greater payday. After 2014 holiday season sales grew nearly 5% year-over-year, the NRF peg 2015 per-person spending at around $133.
What's more, trends in two major Valentine's Day-related industries—flowers and candy—promise to make February 14th extra sweet this year for delivery-based businesses, in particular.
Valentine's Day, which falls on a Saturday, is the No. 1 purchase occasion for fresh-cut flowers, according to IPSOS-Insight FloralTrends. In recent years, that's equaled about $1.7 billion in sales. Most of that ends up on the shelves of local florists, convenience stores, and grocers—and all of it travels by truck at some point.
Roughly 80% of the fresh-cut flowers sold in the U.S. start their journey from fields in Latin America. This means that the entire supply chain (most critically the last miles of delivery) must maintain a steady 35 °F climate to stay rosy red. That temperature also holds for another increasingly popular V-Day delivery item: fresh lobster.
As the final link in cold-chain logistics, refrigerated vans and light-duty trucks are in very high demand starting about two weeks before February 14th. That means reservations must be made early to ensure profits are maximized during this busy time.
What about sweets? The National Confectioners Association says that candy— overwhelmingly chocolates—is a $1+ billion opportunity on Valentine's Day. That figure grew by nearly 2% in 2014, and is expected to inch up again with the improving economy. This year, business margins will benefit from parallel drops in gasoline and cocoa prices coinciding around V-Day.
Businesses that rely on rental trucks to complete hectic Valentine's Day deliveries have some critical factors to watch. Having a roster of safe, reliable delivery drivers is one. Routes and traffic is another, as roads are clogged with other delivery vehicles and millions of lovers heading out for romantic dinners.
But one variable that's really hard to weather predict is February weather.
On Valentine's Day 2014, heavy winter snow and ice blanketed much of the eastern U.S., causing widespread delays in last minute deliveries. It's advisable to plan for bad V-Day weather in parts of the country. It's also wise to make sure that rental vehicles are well maintained and have robust mobile and 24-hour emergency roadside assistance. That way, flat tires won't stop you from sharing the love.