from Desmog Canada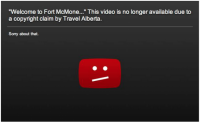 DeSmog Canada recently revealed Andy Cobb and Mike Damanskis – two political satirists in the spotlight for their ongoing spoofery of the Alberta tar sands project – had an Indiegogo fundraising promotional video for their upcoming "vacation" to the Alberta tar sands ordered removed from YouTube due to an alleged copyright violation.
Alleged because under U.S. legal precedent (YouTube is a U.S. company), it's almost impossible to claim copyright damages for parody and/or satire. That won't keep Travel Alberta, the province's tourism bureau, from trying.
"The original inspiration for our project is that industry PR around the tar sands seems like a cross between a travel ad and oil company ad, inviting us to 'come to Alberta' and see for ourselves," Mike Damanskis told DeSmog. 
Demanskis has provided DeSmog with a copy of Travel Alberta's complaint, a screenshot of which can been seen below.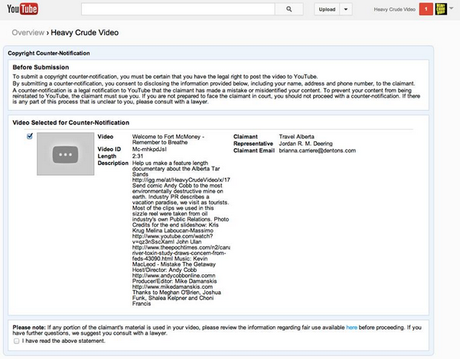 As the screenshot portrays, Travel Alberta is being represented by Denton for this complaint, a firm formed with the merger of international law firm Salans LLP, Canadian law firm Fraser Milner Casgrain LLP and international law firm SNR Denton in March 2013.
Under-explored thus far in the saga: the relationship between Denton and Big Oil.
A DeSmog investigation has revealed Denton is a major corporate firm representing Big Oil in all facets of its operations, from upstream, to midstream to downstream. Further, the attorney-of-record issuing the complaint, Jordan R.M. Deering maintains an attorney-client relationship with Big Oil. Fraser Milner Casgrain also formerly lobbied on behalf of Big Oil and also represented infamous climate change denier Tim Ball in court. 
Representing ExxonMobil Tar Sands Project, Enbridge Northern Gateway Pipeline 
Denton has "made the case" for many oil and gas industry clientele and works closely both with tar sands producers and also pipeline companies bringing the product to market. 
One of Denton's major clients for the past year and a half has been Enbridge, concerning the company's controversial Northern Gateway Pipeline set to carry tar sands crude from Alberta to the coast of British Columbia at Kitimat. From there, diluted bitumen ("dilbit") will be shipped to predominantly Asian export markets. Northern Gateway – by and large – is Canada's version of the controversial Keystone XL pipeline and has encountered fierce resistance.
Denton explains of its legal role for Northern Gateway on its website as "advising on all aspects of the proposed dual pipeline…and the marine terminal at Kitimat…Counseling the client during environmental assessments and National Energy Board proceedings and providing advice with respect to negotiations with aboriginal groups and governments, shipping and navigation reviews, commercial structuring, finance and construction." 
A dues-paying member of the Alberta Chamber of Resources and the Canadian Association of Petroleum Producers, Canada's largest oil and gas lobby, Denton also enjoys another powerful client: ExxonMobil, the "Private Empire."
Exxon's the subject of Cobb and Damanskis' first tar sands-centric satire poking fun at Exxon's massive Pegasus tar sands Pipeline spill in Mayflower, Arkansas, which aired on primetime on "The Rachel Maddow Show," as seen below.
After being denied a water permit by the Alberta government in May 2008 for its Kearl tar sands project, Imperial Oil - 69.6% owned by ExxonMobil – claimed the delay would cost the corporation through representation by Fraser, Milner Casgrain LLP. 
"The effect for my client is profound," said Fraser lawyer Munaf Mohamed, representing Imperial/ExxonMobil. "It took nine months to get this piece of paper. What is significant to the sting of the lash? If we can't commit the (permit) now, (the project) gets pushed out a year or more."
Production of 110,000 barrels per day of tar sands officially began for the Kearl Oil Sands Project in April 2013. Imperial and Exxon have big plans in the months and years ahead for the Project.
"Kearl is a historic development for Imperial," Rich Kruger, Imperial Oil chairman and CEO stated in a press release. "Kearl is the largest project we've ever undertaken and the beginning of a period of substantial growth for the company that will see us double production to more than 600,000 barrels per day by about 2020."
Deering's Clientele, Denton's Lobbying Record, Climate Change Denial
According to her biographical sketch on the Denton website, Jordan R.M. Deering served as "Counsel to BP Canada in connection with its US$1.67 billion agreement to sell its Canadian natural gas liquids business to Plains Midstream Canada." 
Fraser Milner Casgrain itself has lobbied on behalf of Syncrude Canada, Nexen, Enbridge, ExxonMobil and BP according to Canada's federal lobby registry.
Court records also show Fraser Milner Casgrain represented infamous climate change denier Timothy Ball in his high-profile defamation case against University of Lethbridge Professor Dan Johnson and The Calgary Herald.
Cobb and Damanskis React
Cobb and Damanskis told DeSmog they're not surprised about the cozy relationship between Denton, the Alberta government and Big Oil. 
"I'm not sure 'surprised' is the term I would use to describe my reaction, there's not much these guys can do that will surprise us," said Cobb. "Given the breadth and magnitude of BS that the industry has kicked up to obscure their activities, it's hard to know what would be surprising. These sorts of shenanigans seem more expected than unusual."
Damanskis, in the meantime, has filed a counterclaim with YouTube, a process that takes 10-14 days for review.
"We haven't broken any laws, so this really just comes down to intimidation," Damanskis said. "They want to silence us the same way they're trying to silence public comment on pipeline hearings."
"They obviously must feel like we pose a threat to them if they're trying to silence us before we even get to Alberta. We don't even have a product to release yet and at this point we're just two guys with an idea that could change public discussion about the tar sands."
Regardless of the muzzling efforts, Cobb says the duo won't be fleeing the scene anytime soon and that they feel emboldened by the fall-out.
"We're going to continue to produce video and develop the documentary. We're not afraid of them, and we're just getting started on the topic," he explained. "A little intimidation won't affect our plans and we will publicize our campaign far and wide."