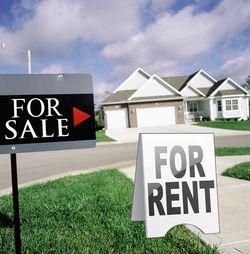 If you are planning a move to the Twin Cities, it makes sense to buy rather than rent from a financial standpoint based on the price-to-rent ratio... but that doesn't necessarily mean buying is the best option for you right now, especially if you haven't lived in the area before.
Here are some questions to ask yourself to help in making your decision...
Do you already know and like the area? As much as many of us love living here, that isn't the case for everyone. If you aren't sure how you will like living in the area or aren't sure which part of the metro area you would like to live in, it may be wise to rent first before commiting to buying a home. Owning a home gives you less flexibility.
Do you plan to stay in the area at least 5 years? If you are thinking of this as a short-term relocation, it could make more sense to rent.  Current projections (always subject to change and with no guarantees!) are that prices will be pretty stable this year, then start to rise again in 2013-2014, rising over 40% between now and 2020. Because of the associated costs that come with buying and selling a home, selling for the same price you bought it for isn't enough to break even when you sell.
Do you have employment here?  If you don't already have a job here, you may have trouble getting a mortgage. If you are planning to move first and find a job after you get here, renting first probably makes more sense. If you already have a job here, do you feel confident it will be a good fit so you will stay here?
If you ansered 'yes' to the three questions above, buying could be a good option for you. Here are some reasons people choose to buy.
Housing affordability is at an all-time high - factoring in home prices and mortgage interest rates this is likely the one of the best opportunities in your lifetime to become a homeowner
Stability - buying a home implies putting down roots and becoming part of the community, creating 'a place of your own'
Consistent housing payments - if you purchase with a fixed rate mortgage, your mortgage payments will remain constant for the life of the loan vs dealing with annual rent increases
Tax breaks - both your mortgage interest and property taxes are tax deductible; new home buyers can be surprised at their savings come tax time
Build equity - although falling property values have caused many homeowners to lose equity the last few years, indications are the market is starting to turn again, with projected growth of over 40% by 2020; that, coupled with your monthly mortgage payments going towards paying off your loan rather than to a landlord can result in equity growth
Owning isn't right for everyone. There are no guarantees and you lose flexibility. But if owning a home is a good fit for you, buying now is a great opportunity.
Sharlene Hensrud, RE/MAX Results - Email - Twin Cities Relocation Realtor