As I mentioned recently in my post Feisty Fear, I have a "slight" fear of driving due to being run over by a car in a pedestrian crossing 20 years ago, my confidence in driving is a bit moody and so it comes and goes. The word confidence in Spanish (confianza) is feminine, did you know that nouns have gender in Spanish? I digress, the fact is that confidence, being female, can be hormonal and so I go through driving and non-driving phases.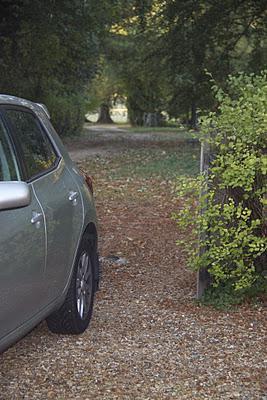 My wheels on an Autumn day
Today I had my first refresher driving class to build my confidence (hopefully once and for all). I did consider cancelling it, I did wonder whether a driving school with a dual-drive automatic car would be better but this instructor had a good reputation so I stuck with him. He arrived right on time, I explained I had LittleT with me and so we had no choice but to take my car (she is in a rear-facing car seat which I have no clue how to install in another car) and so there we went, in my car after a quick explanation of how I was feeling about driving and where I drove and where I didn't drive. He listened, he truly listened. He remained very calm during the whole lesson, telling me whether to turn right or left in a very soothing voice (not soothing enough to send me to sleep but soothing for me not to get too nervous), making me feel very comfortable. We went somewhere I had never driven to before, through streets I had never driven through before and through a million roundabouts of all sizes.
Just as he left he told me that next week we are heading "that way", pointing towards the very busy city of Cambridge, full of scary cyclists and mindless pedestrians. I wonder whether he means that we will be getting on the motorway half way there or that we are going into the city centre, as both are part of my goals, probably best not to know or I will fret.
He has asked me to write down a list of goals, things I want to achieve so that we can accomplish them through the lessons.