August 28, 2014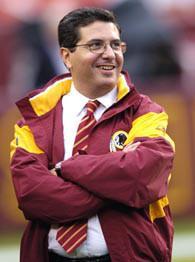 Via CSNWashington: The Washington Redskins organization has "started the process" of designing a new stadium to serve as the team's home, owner Dan Snyder told Comcast SportsNet in an exclusive interview Wednesday.
"Whether it's Washington, D.C., whether it's another stadium in Maryland, whether it's a stadium in Virginia, we've started the process," Snyder said.
"We are going to push forward. We've started meeting with architectural firms. We are in the process of developing because it is a long term that you do it."
The current home of the Redskins, FedEx Field, opened in 1997. Prior to the opening of FedEx, the Redskins played at RFK Stadium, which opened in 1961.
Oh hey rich guy, go ahead and get some. Nothing like continuing to make headlines to make yourself feel good. His team's nickname has kept him in the news over the last few months and now, on the eve of the NFL season, Dan Snyder is letting everyone know that a stadium that is too big and ridiculous but only 17 years old is not good enough for Dan Snyder…and the fans.
You know what though, good for Snyder. If I was dumb rich like this guy I'd want nice stuff too. I'd also be as obnoxious as this guy is as well and honeslty, if he can fit this stadium into DC somewhere I think it would be pretty awesome. Just knock RFK down and start over.
Ps, Daniel Snyder may be one of the most smug looking individuals in the world. I don't know him, never met him but he just seems smug as shit.
Post navigation
← Jon Stewart Puts Fox News On Blast On The Daily Show