I'm really starting to like this teams chances.  Granted, the Mariners aren't that good, their closer has been inconsistent and, oh yeah, the Mariners suck.  But to come back from five runs and win in the bottom of the 9th a day after winning in 15 innings just makes me feel like this team believes.  They are showing they can win any way possible night in and night out.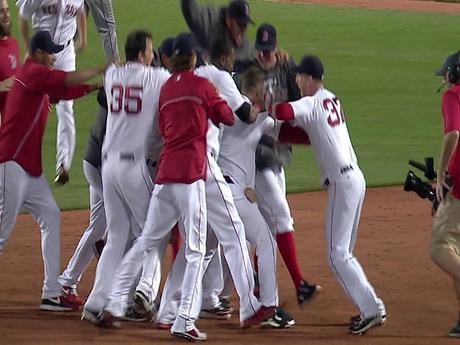 Two things about that video.  1.  Maybe a quarter chub watching the entire thing, and 2.  the reason for the chub is that scene sounds like the Red Sox from the 2004 and 2007 when the fans were into it, the players cared and Don Orsillo sounded genuinely excited to be doing games for the Sox.  Like, I totally wish I was there for that last night.  Old school feel right there.
I imagine Saturday is going to be pretty awesome when Peavy takes the mound for the first time in Boston.  Fans are going to get loud for this guy because we are going to need him for this stretch run.
These guys look like they're enjoying themselves.